Richard (Dick) Berneman, 90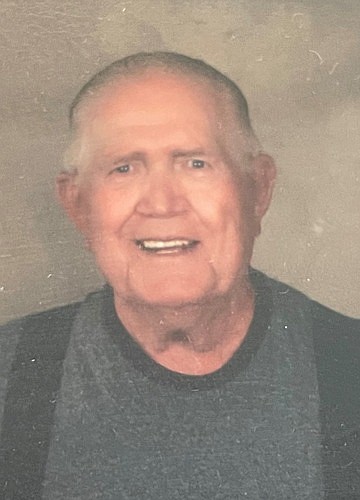 Richard (Dick) York Berneman of Kingston, Idaho, died June 28, 2023, at the age of 90.
A celebration of life will be held Thursday, July 6, 2023, from 5-8 p.m. at the By-The-Way-Suites, 801 Division St., Pinehurst, Idaho.
Dick was born Feb. 11, 1933, in Mason City, Iowa, to Francis and Hazel (Thurman) Berneman. He attended Mason City Schools. Dick served in the U.S. Army and was stationed in Hinterbrand, Austria.
To his union with Frances Decker, they were blessed with six children, Susan Morris, Sandra (Domenico) Marino, Sally (Dan) Bitker, Alan (Nancy) Berneman, Theresa Sellers and Carol (Stephen) Carmack. His grandchildren are Antonio Marino, Teresa Whiteman, Toni Gonnerman, Kelly Francis, Krista Fix, Tiffany Wygle, Joshua and Jacob Berneman, Dennis Sellers, Stacy Burke, Billy Arnold and John Haan. Dick also has 19 great-grandchildren and 10 great-great-grandchildren.
For the last 52 years, he was in a loving marriage with Donna (Bonnie) Wester.
In 1961, he began work as a maintenance painter at Lockheed Aeronautical Company in Burbank, Calif. Due to his quality work ethic, he became an outstanding acting department manager. Upon retiring in 1990, they moved to the Silver Valley and opened Bonnie's Creations Gift Shop in Pinehurst, featuring concrete lawn fountains, benches and birdbaths. Later, he operated By-The-Way Campground.
Dick was a talented mechanic. He was a hard worker, caring supervisor, and role model, often helping friends and family. He dirt-track raced at the North Iowa Speedway in Mason City. In California, Dick enjoyed fishing the ocean, competition drag racing, bowling (once scoring a perfect game), and riding motorcycles. While in Idaho, he enjoyed fishing, hunting, and breakfast at McDonald's.
He is also survived by his brother, James Berneman of Mason City, Iowa. Dick is preceded in death by his sisters, Lorraine Jenison and Kay Schoephoester; and brothers Bernard, Robert (Duke) and Francis.
Memories of Dick and messages of condolence may be shared with his family online at www.shoshonefuneralservice.com. Shoshone Funeral Services, Kellogg, is assisting the Berneman family with arrangements.
Recent Headlines
---