Mary Margaret Amos Carlisle, 88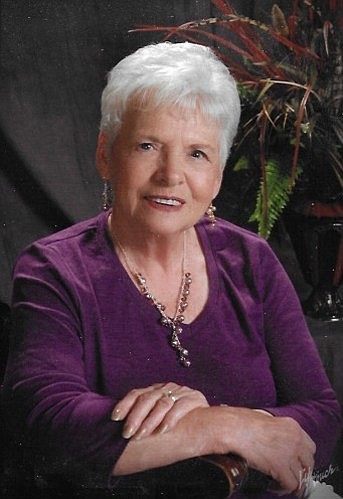 Maggie (or Margie) Carlisle knocked on Heaven's door Friday, July 21, 2023. She was a loving wife, mother, grandmother and great-grandmother. She leaves behind her husband, Bearl Carlisle, who resides at Orchard Crest, Spokane Valley, WA. Her daughters, Lee Sonderman (Ed) of Liberty Lake, WA, Joni Sorenson (Rick) of Spokane, WA, and son, Jim White (Sherri) of Pinehurst, ID, six grandchildren and 11 great-grandchildren will remember her for her unfailing love and kindness.
Born on August 29, 1934, in Salt Lake City, UT, Maggie was raised in Kellogg, ID and married Bill White in 1951. Together they had three children. Maggie's first job was clerking for her uncle at Ben Franklin's in Kellogg. Her next, and favorite, job was "cookbook chemist" at Bunker Hill Assay Lab. Maggie met her husband Bearl at the Osburn Gun Club (ID) and they were married in 1969. They spent the next 54 years together raising and praising "their" family. The Carlisles moved to Post Falls, ID in 1978. Maggie attended North Idaho College and, upon graduation, went to work for, and later retired from, NIC. Upon retirement, Maggie and Bearl relocated to Hayden, ID and were active residents at the Heatherstone Retirement Community. Always a Christian, Maggie most recently worshiped with her brothers and sisters in Christ at Peace Lutheran Church in Post Falls, Idaho.
Spending time with her family was Maggie's greatest joy. She was a talented artist, who loved to play bridge, cards and board games, read, fish and travel. She and Bearl explored Canada, the West Coast and Arizona in their various travel trailers. Maggie cruised to Alaska, around the Gulf of Mexico and visited the Island of Hawaii.
To celebrate Maggie Carlisle's life, please join her family at Peace Lutheran Church, 8134 N. Meyer Rd., Post Falls, ID, on Saturday, August 19 at 3:00 p.m. Donations may be sent to Peace Lutheran Church in Post Falls, ID, or Hospice of Spokane.
Recent Headlines
---