Helen Patricia Feddersen, 97
Helen Patricia Feddersen was born May 11, 1926, in Kellogg, Idaho. "Patty" as she preferred to be called, was the daughter of Helen Gage and Paul Christian Feddersen of Kellogg. Patty was the middle daughter, sandwiched between Janet (b. 1916) and Paula (b. 1937).
As a child, Patty lived in Kellogg, a mining town in Shoshone County, North Idaho where her father was employed as a manager of the Bunker Hill Mines which operated a lead smelter. Her mother, Helen, was very active in the local community and active in the Christian Science Church.
In 1933, at the age of 7, Patty met a young boy, Robert Sterling Neuman (deceased 2015), while attending public school in Kellogg. This boy would ultimately become her husband in the following decade and they would leave the Rocky Mountains to venture across the Atlantic to live, more than once, and eventually settle on the East Coast.
In 1948, Patty earned a B.A. in English language and literature, followed by pursuing an M.A. in 1951 from Mills College in Oakland, Calif. As a grad student at Mills, Patty taught English to Okinawan students from Japan. In 1967, after her divorce, Patty began teaching language arts including Shakespeare and Chaucer (until 1991) at the Arlington School, McLean Hospital in Belmont, Mass.
In 1981, Patty earned a Doctorate in Education from Boston University. The topic of her dissertation focused on lifelong readers living on Martha's Vineyard Island who had not pursued advanced educational opportunities. This degree illustrates her lifelong love of learning as well.
From 1998-2006, Patty taught "English as a Second Language" at Brookline Adult Education in Massachusetts. In 2011, Patty completed her first and only memoir entitled; "Not All for Fun," published by the Harvard Book Store in Cambridge, Mass.
In 2012, Patty moved to the North Hill Retirement Community in Needham, Mass. While living at North Hill, Patty, at the age of 87, grew the community poetry group from six to 33 participants which she enjoyed teaching.
Patty leaves behind two loving daughters and sons-in-law, Elizabeth Catherine Neuman and Don Johnson of Clinton, Mass., and Ingrid Alexandra Neuman and James M. Cain III of Providence, R.I.; as well as two granddaughters, Aliza Miranda Lurie of Atlanta, Ga., and Gemma Louisa Lurie of Los Angeles, Calif.; and a sister, Paula Feddersen of Greenwich, N.Y.
In lieu of flowers, donations to the Nature Conservancy (nature.org) would be most welcome.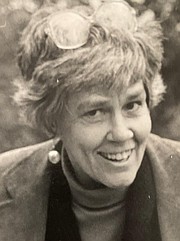 Recent Headlines
---