Shoshone County PA not seeking death penalty for Kellogg homicides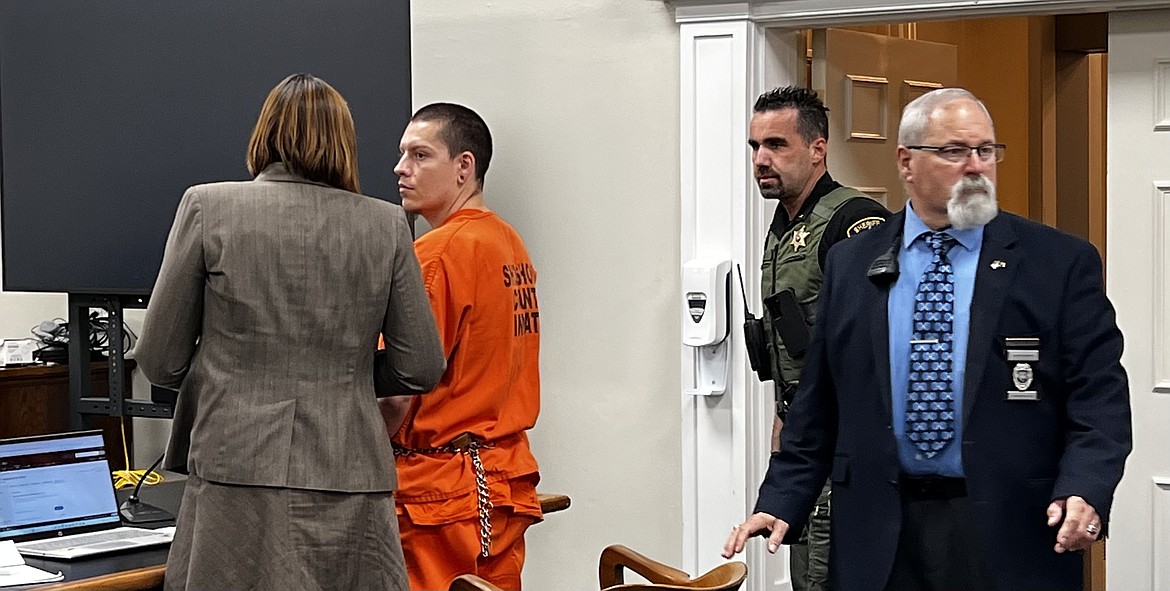 Accused murderer MajorJon Kaylor is remanded into the custody of law enforcement following his first appearance in court on Tuesday in Wallace. Shoshone County Prosecuting Attorney Benjamin Allen will not be seeking the death penalty for Kaylor's alleged crimes.
JOSH McDONALD
by
JOSH McDONALD
Local Editor
|
June 22, 2023 9:38 AM
WALLACE –– Shoshone County Prosecuting Attorney Benjamin Allen will not be seeking the death penalty as a sentencing option for accused murderer MajorJon Kaylor, according to a release from his office.
Kaylor is accused of murdering Kenna Guardipee, 41, Kenneth Guardipee, 65, Devin Smith, 18, and Aiken Smith, 16, at their home in Kellogg on Father's Day.
"After careful consideration and discussion with the victims' family, our office has made the choice to remove the death penalty as a sentencing option for Shoshone County Case CR40-23-970 (State of Idaho vs. MajorJon Kaylor), which will set the path of criminal procedure in this case on course as a non-capital First Degree Murder," Allen said in the release.
Kaylor, 31, was charged with four counts of First Degree Murder and one count of burglary during his first appearance in court on Tuesday morning.
As a result of this decision by Allen's office to take capital punishment off the table, Kaylor will now face a potential maximum life sentence for each count of First Degree Murder.
"This decision comes as a result of careful consideration of the realities of death penalty statistics within our state, as well as discussions with the family members of the victims involved in this tragic event," Allen said.
Currently, the Idaho Department of Corrections is housing eight death row inmates, including one female. Idaho is one of 27 states where an active capital punishment law exists, and since 1977 more than 30 death sentences have been handed down, but in that same span of time, just three executions have been carried out.
According to the probable cause affidavit (PCA), Kaylor and his wife were arguing with Kenna Guardipee and Kenneth Guardipee concerning the behavior of Devin Smith, the son of Kenna and grandson of Kenneth. The Kaylor's believed that they weren't taking the situation seriously concerning some allegedly disturbing behavior that had taken place a few days prior.
According to Kaylie Kaylor, on June 13, Smith was seen naked and masturbating by her and her young daughters while the children were playing in the shared backyard of the multi-family dwelling that they lived in.
According to Kellogg Police Chief Paul Twidt, an investigation did take place and a report was taken that resulted in a request for a misdemeanor indecent exposure charge was submitted to Allen's office. According to Twidt, the request was in the possession of the PA's office on Friday, June 16 – two days before the massacre took place.
"We responded to the call, investigated the call, and the report was done that day and submitted to the prosecutor's office for charges," Twidt said. "I stand by what my officer did, and he did everything he could at the time. Nobody could have foreseen anything like this."
There are no records indicating that the Kaylors ever attempted to file for a protection order between them and Devin Smith.
However, in interviews conducted with other media outlets, Kaylie Kaylor has stated that she believes law enforcement had taken Smith's side and not theirs.
According to the PCA, Kaylor was already armed when the argument began, holstering a .45 caliber pistol after he arrived home from work before heading into the backyard to join his family in watering their plants – it was during this time that the final argument between the Kaylors and Guadipees took place.
After a lengthy exchange, Kaylor shot both Guardipees in their heads at close range – he then made his way into their ground floor dwelling and first killed 16-year-old Aiken Smith, before going into one of the bedrooms and shooting Devin Smith multiple times in the head.
Kaylor then exited the Guardipee/Smith residence, placed the gun, holster, and belt in his truck, and then made a phone call where Kaylie reportedly overheard him telling someone that he had just killed four people.
During the course of the Idaho State Police's investigation, the handgun was discovered in the truck, as well as an empty magazine. According to law enforcement, due to the magazine capacity and empty shell casings found at the crime scene, Kaylor had to deliberately change magazines to carry out the killings.
During Kaylor's first appearance on Tuesday, Allen spoke to the graphic nature of the crime, as well as pointing out that Kaylor admitted to the crime – which included the murder of a child.
"Idaho code does not contemplate a more significant offense," Allen said. "When we look at the actual facts of this case Judge, we see a crime that was committed in a relatively horrific manner in regard to the nature of the allegations and the manner in which it was carried out and the method that was utilized by the defendant during the course of his actions. Admissions were ultimately made to the offenses charged."
Despite his admission to the crimes while at the crime scene, Kaylor has not pled guilty to any of the charges he faces.
Kaylor is currently being held without bond at the Shoshone County Public Safety Building. A status conference has been set for July 3, 2023, at 8:30 a.m. with a pre-trial conference scheduled for 1:30 p.m. that same day.
Recent Headlines
---