Larry Joe Reinhofer, 77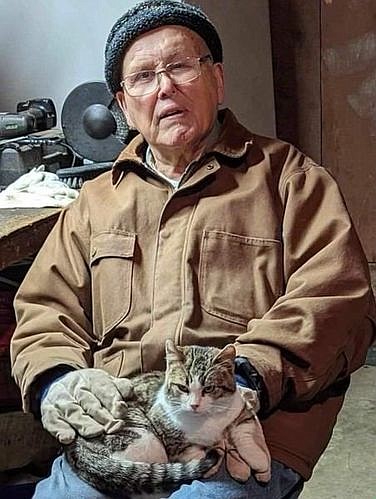 Beloved husband, father, grandfather, brother and friend, Larry Joe Reinhofer, of Cataldo, Idaho, passed away at home June 23, 2023. Son of Fritz and Ada Reinhofer, he was born Nov. 14, 1945, in Wallace, Idaho.
Larry grew up on the family farm in Cataldo, Idaho. It was a hard but rewarding life in many ways. As with many farm kids, learning a good work ethic at an early age was common. He kept that work ethic throughout his life. Larry attended Canyon Elementary and graduated from Kellogg High School in 1964.
As an adult, he worked for the forest service and attended college before he began his 38-year career with East Side Highway District. Larry first met his wife, Wendy Lamphere, when she was 13. They dated years later and married Nov. 15, 1969, they went on to have two beautiful children, Andy and Kristi.
Larry loved his wife and showed it by supporting her passion for quilting; for example, teasing her about how much fabric she already had at home as they were driving to the next fabric shop. He showed his love for his children and grandchild by being proud of their accomplishments.
Larry's big passion was their garden. You could find him outside from early spring to late fall dressed in his denim jeans, cotton shirt, and big brim hat tilling, hoeing, and watering. He loved harvest time. Fresh garden vegetables all summer long, the fruits of their labor. Larry just loved being busy and being home.
"Life should not be a journey to the grave with the intention of arriving safely in a pretty and well-preserved body, but rather to skid in broadside in a cloud of smoke, thoroughly used up, totally worn out and loudly proclaiming, 'Wow! What a ride!'" — Hunter S. Thompson
Larry is survived by his wife, Wendy; son Andy Reinhofer (Ann) of Richland, Wash.; and daughter Kristi Reinhofer (Jeff Frey)of Coeur d'Alene, Idaho; granddaughter Harlee Barken (Jake) of Coeur d'Alene, Idaho; John Reinhofer (Terri) of Wenatchee, Wash., and Sue Reinhofer Jones (Kevin) of Amelia Island, Fla.; as well as numerous nieces, nephews and cousins.
Larry was preceded in death by his parents, Fritz and Ada Reinhofer; sisters Wanda Rickett and Julie Riley.
The family suggests that memorials may be made to the charity of the Donor's choice. At Larry's request, no funeral or memorial service will be held.
Memories of Larry and messages of condolence may be shared with his family online at www.shoshonefuneralservice.com. Shoshone Funeral Services, Kellogg, is assisting the Reinhofer family with arrangements.
Recent Headlines
---