Community petitions for Wallace skate park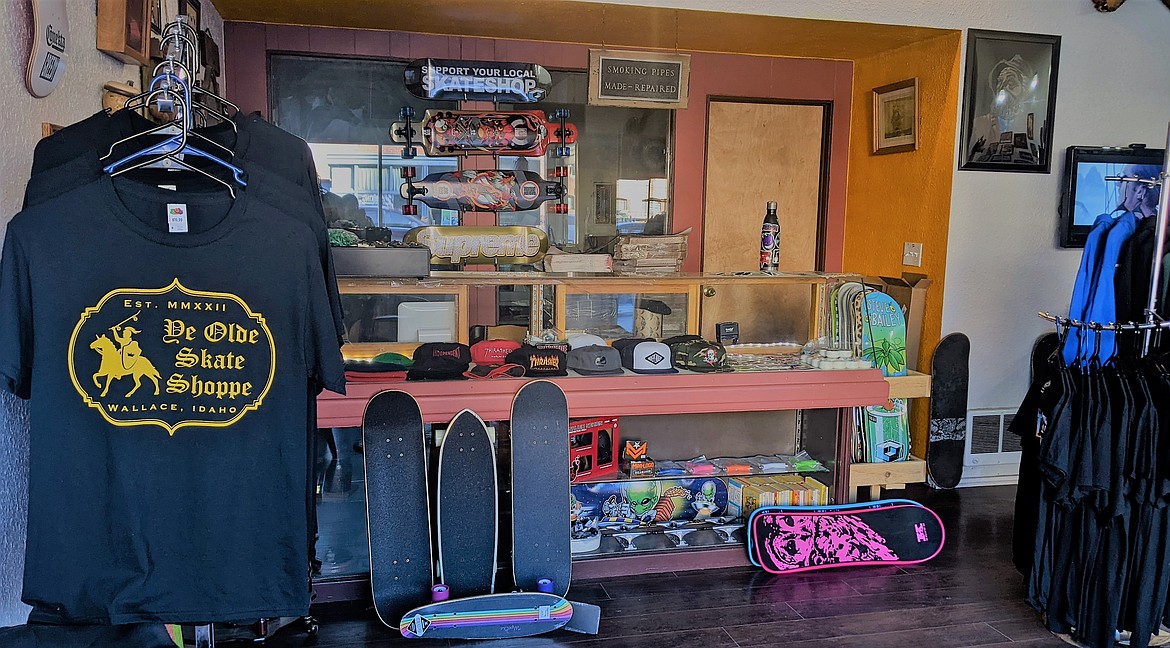 Suzi Quincy's skate shop, Ye Olde Skate Shoppe, at 508 Bank St. in Wallace is the primary location to sign the petition to bring a skate park to Wallace.
Photo by MOLLY ROBERTS
by
MOLLY ROBERTS
Staff Reporter
|
March 3, 2023 5:10 AM
WALLACE — "There's nothing for these kids to do."
This common statement has always been floating around the Silver Valley, yet it seems even more prevalent now. But that doesn't mean no one is doing anything about it.
Business owners like Suzi Quincy, who owns Ye Olde Skate Shoppe, and Q's barber shop in Wallace, are looking to bring more amenities to the Silver Valley, not just for kids but for everyone, like a skate park.
Quincy has skated every day for almost 20 years before moving to Wallace and realizing there weren't a lot of skateable lands.
"It started with kind of selfish reasons; I want to be able to skate."
Quincy has a one-stop shop for everything a skater needs, including merchandise from popular skate companies like Thrasher and Girl Skateboards.
"Now kids are getting on their boards and riding in the streets, annoying locals," Quincy said. "So I want to give everyone, not just kids, a place to go skate or just hang out."
Quincy explained that there is a huge gap, as skate crews visit Missoula, Oregon and Washington, and that there is untapped potential in the Silver Valley for a park.
"My skate crew take trips all the time and stop in every town with a park. So it's a good tourist pull as well," she said.
The next step in Quincy's plan is to collect around 1,000 signatures from the community to petition for a skate park. "Right now, I'm around 700 signatures. There are places to sign in every bar in Wallace and my skate and barber shop. Some other places like 'The Parlor' in Kellogg have them as well."
Quincy has contacted nearby cities like Superior, Mont., and Alberton, Mont., to get statements from their advocates and mayors, further explaining, "When I get my ducks in a row with my signatures and my statements and proposal, I will go to the city council. I'm really close to that step."
She also explained that she has contacted skate foundations like The Peak Foundation through Alberton and The Skatepark Project, formerly the Tony Hawk Foundation, and has been in contact with one of the founders of the band Pearl Jam, who builds skate parks in Montana.
"I've been working on this for about two years now, and it's just now getting to those final steps, getting everything worked out," she said.
If you would like to sign the petition, there are forms at Quincy's Barbershop and Skate Shop located at 508 High Bank St. in Wallace, visit any bar in Wallace or The Parlor in Kellogg.
Recent Headlines
---