KHS hosts former WWE wrestler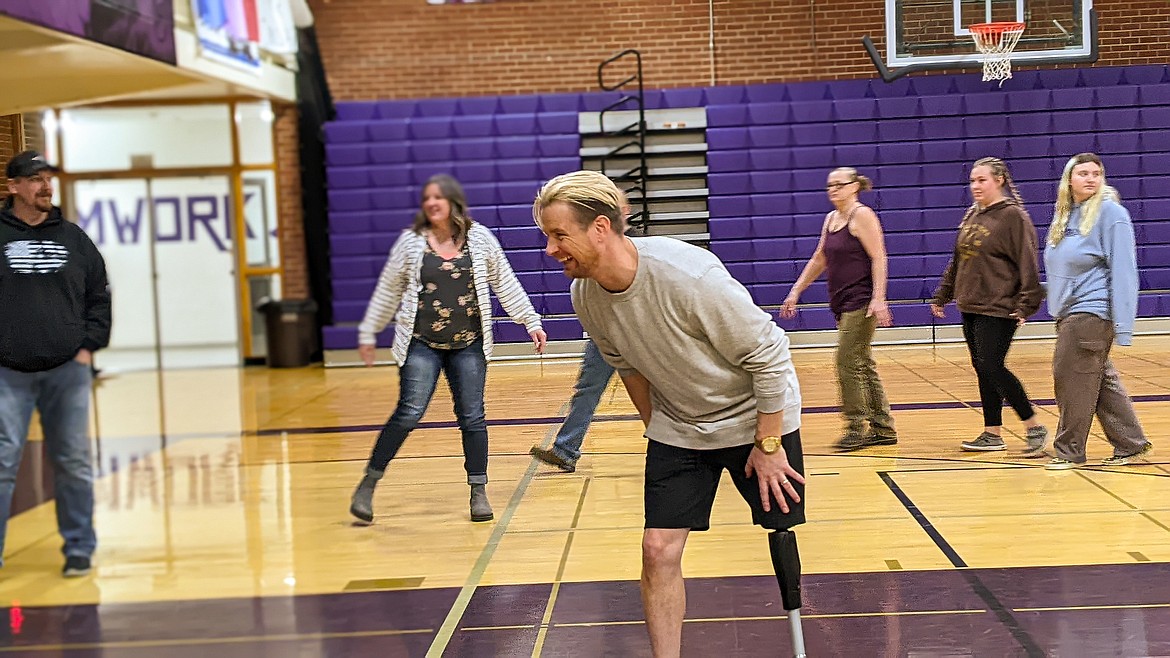 Former WWE Wrestler Zach Gowen visited Kellogg High School last Wednesday, giving motivational speeches and participating in community-building activities.
Photo by MOLLY ROBERTS
by
MOLLY ROBERTS
Staff Reporter
|
March 3, 2023 5:10 AM
KELLOGG — "I was driving from Coeur d'Alene to here, to Kellogg this morning, and it was the most majestic, beautiful view I've ever seen," said motivational speaker and former World Wrestling Entertainment (WWE) athlete Zach Gowen.
Gowen spoke to a crowd of educators, students, parents, and community members this past Wednesday about his story, community building, and getting everyone up and moving in a group activity. The event was held thanks to the efforts of GearUp Coordinator Helen Kitchen, Kellogg High School and the Youth Engagement Company, CoolSpeak. A free meal was provided to attendees thanks to local businesses Grocery Outlet, Barney's Harvest Food and Yoke's Fresh Market.
"Please give a round of applause to Ms. Helen for making this happen. It feels great to be here and work with the students and staff, and now to meet some of the community of Kellogg," Gowen said.
GearUp stands for Gaining Early Awareness and Readiness for Undergraduate Programs and focuses on increasing college and career readiness for underserved communities.
"GearUp works with underserved communities and allows students to receive additional education through advisory," Kitchen said. "This can be scholarships to go to college, whether a technical, or trade school, or community college. Even if they aren't interested in going to college, I provide them with life skills, financial budgeting, and whatever they need to be able to be successful after they graduate from high school."
Events like the one with Gowen are a part of what GearUp and Kitchen bring to the school, as well as support and resources to the students who need it most.
"I love doing these community events because for me this is where the magic happens. Where parents and educators come together and are working towards the greater good. Which is raising these kids, turning these little monsters into productive citizens of the world," Gowen said.
Gowen is charismatic and personable, making him easy to listen and talk to as he began to tell his story of losing his leg to cancer at 8.
"It all started when I was 8, and I sprained my left knee playing soccer. That's normally not a big deal, but over the course of the next eight months, my leg never healed," Gowen said. "At 8, I was diagnosed with osteosarcoma, a rare form of muscular pediatric bone cancer."
The doctors eventually explained to Gowen's mother that it could be life-threatening if they didn't amputate his leg, so the decision was made when he was 9.
"I would still argue that my mother made the right choice because even though I lost one of my limbs at such a young age, I'm here, 31 years later, sharing this moment with all of you. And I think that's miraculous and amazing."
Gowen continued to explain the moment his life changed and his dream began.
"We were too poor for me to have any interests or hobbies. But we did have a television set, and there was a certain man on TV that changed my life forever," he said.
The man was the flamboyant 16-time world heavyweight champion Ric Flair, which eventually set Gowen on the path of becoming a wrestler, the only WWE wrestler with an amputated leg.
"I watched this event when Ric Flair won his first WWE Heavyweight Championship, but more significantly than that, when I watched that event, I didn't feel the pain of cancer, or not fitting in, or being different. All of that disappeared when I tapped into the magic of professional wrestling."
Gowen ended, as inspirational as he began, explaining that there is a really big world out there ready to be experienced,
"I'm just trying to open the door in your mind of possibilities of what could happen. There's a really, really big world out there. The last thing you want to do is tell your big dreams to small-minded people."
Recent Headlines
---