Marty and Max: What do you want?
by
MARTY WALKER
|
March 3, 2023 5:10 AM
One of the most popular movie lines of all time is… "If you build it…" Can you finish it? Do you know what comes next? If your answer is, "If you build it THEY will come," then you are incorrect.
In the movie, "Field of Dreams," Kevin Costner plays Ray Kinsella and James Earl Jones plays Terence Mann who was an acclaimed author from the '60s. While they are entering a baseball stadium Terence rambles on about the public wanting him to be involved when Ray stops and asks Terence, "What do ya want?" Terence rambles, "I want them to stop looking to me for answers… begging me to speak again…write again…be a leader. I want them to start thinking for themselves. I want my privacy." Then Kevin Costner points to the concession stand and says, "No, I meant…what do ya want?" Terence slowly turns his head toward the concession stand with the vendors eagerly waiting for his order and he says, "Oh, A dog and a beer." This same precept is shared in other great movies including, "Finding Forester" and "The Notebook," but we will need a longer street for that talk.
I have been fortunate to be part of many winning teams in business. One reason these teams succeeded was that we had a rigorous interview cycle. The trick is to ask your question, and listen. Then confirm what you heard and ask a follow-up question or two. Most folks get their answer and move right on to the next question. For example if you are interviewing for a district manager and the territory is Idaho, Montana and Washington, this is going to require being on the road more than 70% of the time.
A reasonable question to ask a potential candidate is, "how do you feel about travel?" When the candidate answers, "I love to travel," most folks go on to the next question. All you have to do is ask for an example. If the candidate states that they have managed a business with more than 25 IBU's (independent business units) in three states, you are good to move on. However, if the candidate replies, "Oh yes I took my family to Hawaii and Costa Rica this year and we all love to travel." You may want to ask a few more questions.
As the story goes, a young couple with two elementary-age children were looking for a home. They stopped in to view a model home. They were greeted by a young agent who immediately began selling. "There is a new school, just blocks away," "We have the parks, bike trails and so much more for the little ones." The couple left without purchasing the home. A few days later, the same couple returned to the model home, met with another agent, and they bought the home. When the first agent discovered this, he approached the selling agent and inquisitively asked, "What in God's green earth did you say to them?" He replied, "They were looking for a house for the grandparents, and needed to know the proximity of the grocery stores and hospitals." The young agent never asked, "What do ya want." When you are in the market to buy or sell, make sure your agent knows exactly what you want. When you discuss what you want with your agent, make sure to ask follow-up questions to ensure you both have the same vision. "If you build it, HE(Ray's Father) will come."
This week the median list price for Shoshone County is $399,900, with the Market Action Index hovering around 35. This is an increase over last month's Market Action Index of 34. Inventory has held steady at or around 48.
Hey Max — The skies are gray, should I put off my photographs or wait to list?
In the next several columns, we are going to play a little show and tell. We are going to discuss what you should expect from your Realtor and dispel many myths. For example, many homeowners and Realtors alike cancel shoots on cloudy days because they want the deep blue sky with the puffy clouds. Did you know most times this is a mistake. The exception is when there is virtually no visibility or views. When photographing a home on a cloudy day, there are no harsh shadows on the home or scenery, and the interior windows are not blown out and over exposed when shooting inside videos. Please refer to the picture and you will notice the sky is whatever the photographer wants it to be. It is important to note that this applies to photographs of your home and video shoots may need to be rescheduled. Our media team has a vast collection of skies for different seasons and areas. As we have discussed in previous weeks it can be exhausting getting ready to sell. When you are ready to list your home be sure to ask for a blue sky guarantee.
• • •
Marty Walker is a licensed real estate professional and paid consultant. Information shared in this column is of a general nature. For specific questions in relation to your unique property, email to set a time for a consultation. Visit MartyandMax.com or email Martywalker@remax.net.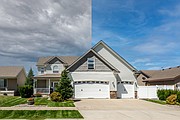 Recent Headlines
---