Local youth embodies patriotism with anthem performances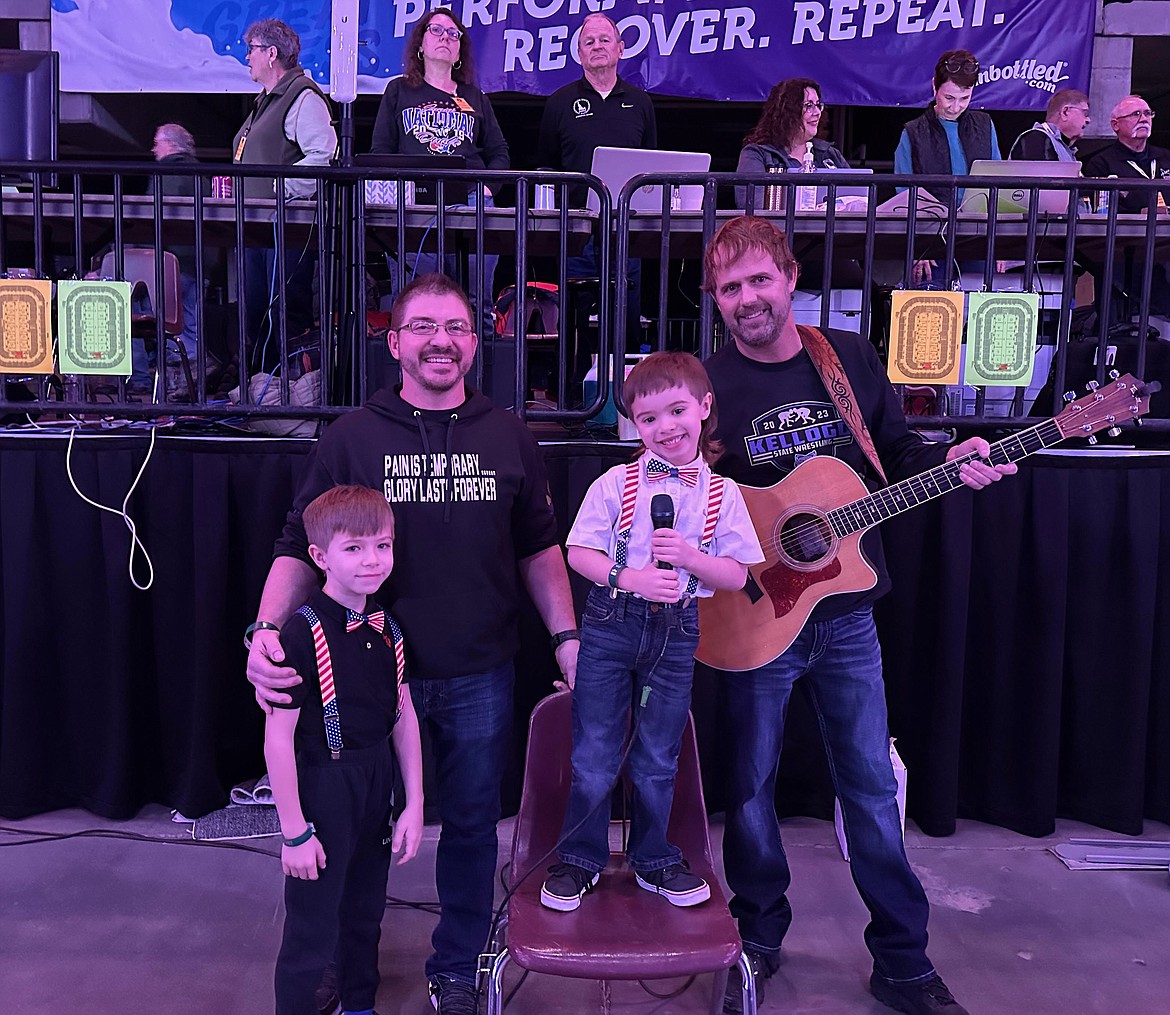 Chris Sverdsten (standing on the chair) is flanked by his brother Todd, his father Chris Sr. (left) and Rusty Wood. The 5-year-old Sverdsten performed the National Anthem at the 2023 State Wrestling Tournament in Nampa in February.
Photo by RUSSELLE STOREY PHOTOGRAPHY
by
JOSH McDONALD
Local Editor
|
March 7, 2023 1:00 AM
NAMPA — The great American poet Robert Frost once said, "freedom lies in being bold."
Perhaps no one embodies this boldness more than local 5-year-old Chris Sverdsten.
During February's state wrestling tournament at the Ford Idaho Center, the Silver Valley youth sang the Star Spangled Banner not just once, but three different times before a crowd of thousands.
What was the young man's motivation for doing this?
To get that answer, you'd have to rewind back a year.
The Sverdstens are a wrestling family through and through, and while watching a tournament last year, the host played a recording of the National Anthem that didn't quite sit well with them.
"We jokingly said to Chris that he could sing better than that recording," Chris's mom Kristina Sverdsten told the News-Press.
Following that declaration, Kristina's husband (also named Chris) shot Kellogg High School Activities Director Heather Goodner a message and asked if they'd give little Chris the opportunity to sing the anthem at the George Wild Memorial Tournament at KHS.
Even with a raging fever, Chris was not to be deterred, he belted the song out and won the hearts of every single person inside Andrews Gymnasium — and once the video began circulating, even further.
That viral video made its way into the hands of Idaho High School Activities Association Director Ty Jones who then reached out to secure Chris's talents for the state tournament.
Sverdsten's harmonic voice, accompanied by close family friend Rusty Wood on the guitar, filled the Idaho Center and once again moved many folks to tears.
Performing runs in the family as Chris Sr. along with Wood, are the frontmen of the popular local band Sverwood — so for Chris Jr. to want to dip his toe into the performing arts should come as no surprise.
The Sverdsten family has several veterans among its generations, which only fuels the pride that Kristina and Chris feel when they watch their son sing.
"To watch him have no fear at such a young age is impressive to say the least, especially to sing this song that holds so much meaning," Kristina said. "Watching and hearing how many people it touched, makes it that much sweeter. We are very proud of our country and those that fought and continue to fight for our freedoms and instilling that in our children is really important to us. This has been Chris's favorite song since an early age, and he now gets to bring it to life in his own way."
While performing any song in front of a crowd causes most people to begin nervous sweating, Chris is steeled by what he's doing — both as a performer and because of what it is that he's singing.
"It makes me feel brave and happy," Chris said. "It's my favorite song because I watch other people sing it, so I wanted to sing it that good too. It makes me very proud of our country."
Chris's brothers Todd and Cody, both expressed their immense pride in their brother as well.
"My little brother is a stud," Cody said. "It makes me feel very proud and gives me a lot of confidence watching him sing."
"It makes me feel amazing and my brother is so amazing," Todd said. "I am really proud of him and want to respect our country."
Kristina echoed her sons with how proud she is, but there is another part of this that touches her in a way that most other mothers will relate to.
"Pure happiness. To watch him embrace something he loves to do with the innocence that he has is refreshing," Kristina said. "Plus, we get the added bonus of watching his brothers be so proud of him. Todd is constantly practicing, hugging, smiling and congratulating Chris every step of the way."
Let's hope that Chris never loses that sense of pride, and keeps giving us memorable performances to look forward to.
The Shoshone News-Press recently shared the video of Chris singing the National Anthem to open the State Wrestling Tournament less than two weeks ago, it can be found on our Facebook page.
Recent Headlines
---