Mary Lou Bilte, 90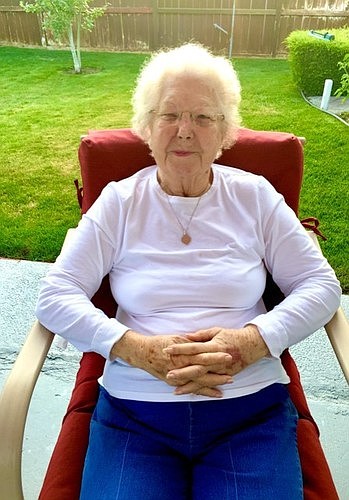 Mary Lou Bilte passed away on Super Bowl Sunday, Feb. 12, 2023. She was 90 years young and so very sweet. She was endearing to everyone that met her. She was an amazing wife, mom, Nana and friend!
Mary Lou was born Mary Lou Wurst on Dec. 30, 1932, in Breckenridge, Colo. She lived in Breckenridge, Wallace, Osburn and Coeur d'Alene. Her young formative years, during the Depression, were spent living in Breckenridge from birth to age 10. As an only child (her younger brother died at childbirth), while in Breckenridge, she lived next door to her three female cousins (Ida Ruth, Alice and June), who were like sisters to her during her lifetime. She went sledding during the winter and picked huckleberries during the summer with her cousins. The house she lived in with her parents (and great-aunt and uncle) was on Lincoln Avenue and is now one of Breckenridge's famous restaurants named "Briar Rose." This restaurant has kept the memory of her great-uncle, John Christian "Christ" Kaiser, and his descendants alive by displaying numerous family photos on its walls. Mary Lou loved telling the story that her great-aunt Ida, who was a teetotaler, would roll over in her grave if she knew that her and Christian's upstairs bedroom was turned into a stunning bar. That always made us giggle.
Her father (Emil George Wurst) and his brother Otto, nephews of "Christ" Kaiser, came from Stuttgart, Germany, in 1923, arriving at Ellis Island Immigration Center in New York when they were 15 and 14. Neither spoke a word of English, but they had letters of introduction and instructions to contact their uncle "Christ." They arrived safely from New York to Denver by train, and were met by their first cousin, Carl, who drove them to Breckenridge, where they lived with their uncle until they were grown men. Emil and her mother (Harriet Charlene Ahern) from Leadville, Colo., eloped after Harriet "borrowed" a nun's car and a girlfriend as her "witness," "escaping" from her boarding school, St. Scholastica Academy. Mary Lou had the best stories!
In 1942, when Mary Lou was 10, they moved to Wallace, Idaho, where she attended public school. For high school, she attended the all-girls Catholic Academy at St. Alphonsus Church. She had a graduating class of six girls, who remained lifelong friends with each other.
Mary Lou first met Steve when he carried her off the ski hill after she had injured her ankle. Shortly thereafter, she saw him at a school dance and thought he was cute. He walked over to her and asked if he could dance with her and she was giddy. Later, Steve walked her home and he won over her heart. They married on Nov. 11, 1951, in Wallace. She was 17, while Steve was just a mere five years older. They moved to Osburn, Idaho, in 1958, where they lived for 40 years. Mary Lou was totally devoted to Steve to the very end. They celebrated 71 anniversaries together. She was an excellent housekeeper and she kept their house "spick and span," as she cleaned the entire house every morning! While their beloved German Shepherd, Hopper, was with them she vacuumed at least three times a day! She was also a great cook and Steve loved everything she made for the family. Her porcelain pig cookie jar was always full of homemade cookies for whomever entered her kitchen. She would even mail them to her son Greg, out of state! They were also Mary Lou's favorite treat, as she sneaked a cookie or two from the freezer every afternoon. She and Steve sat at the breakfast table every morning of their marriage for an hour and a half planning their day. Lengthy dinners were spent chatting about the people they had seen and the day's activities.
Mary Lou was a caring and loving mother and Nana. She never failed to take care of her family, making sure that her boys stayed in line while growing up and later her grandchildren when she and Steve took care of them. Mary Lou still called her boys as adults to get their monthly haircuts! How did she know?
Her first job at age 14 was working as a volunteer nurse's aide. She loved nurturing others. After high school, she worked as a nurse's aide at the Providence Hospital in Wallace. She took time off to raise her two sons, Steve and Greg, and at 33 once again returned to work at the Kellogg Hospital for the 3-11 p.m. shift. She made perfect bed sheet corners at home! Later on, Mary Lou worked as a bookkeeper for the Wallace Exxon gas station and Osburn bulk plant that she and Steve owned in Shoshone County until 1991. She shared bookkeeping duties with her dad, Emil, (who was also mayor of Osburn at age 80!). Imagine, all three of them working together in their cozy office at the bulk plant!
Steve and Mary Lou moved to Coeur d'Alene in 1998. By buying in a new housing development, they were surrounded by many young families, which they loved. Mary Lou would bake sweets and invite the kids in for a snack and the neighbors over for dessert regularly. Steve mentored the youngsters in their neighborhood and helped their neighbors with various home projects. They both gave them countless homegrown fruit, watched their houses while on vacation and always offered friendly conversation. They loved people and loved visiting with their friends. This type of warmth and helpfulness made Mary Lou and Steve the respected elders of the neighborhood and the winners of the 2000 Idaho Spokesman-Review Good Neighbor Contest.
She also followed the Gonzaga University Basketball team. It was a passion that she and Steve shared together in their sweet, welcoming home during retirement. She had all the Gonzaga gear to wear, even slippers, thanks to her nephew and niece!
Mary Lou and Steve's favorite vacation spot was the Oregon Coast. One of her very favorite trips was one that they took with her cousins to Hawaii. She was a voracious reader and loved listening to a variety of music. She listened to Sinatra, Perry Como, Rod Stewart and Tom Petty. She also took great pleasure in cooking and baking for her kids and grandkids and picking huckleberries with Steve. Mary Lou and Steve looked forward to their annual summer and Christmas trips to California to visit family. She adored her great/grandchildren and all her extended family members. She was so kind. We all felt her deep love and affection.
She was baptized, made her first communion and regularly attended Mass in the Roman Catholic Church. Mary Lou said her prayers nightly. She often said "I'm going to say a prayer for you tonight!" and we knew that she would do just that.
Mary Lou will always be in the hearts of the family she left on Earth. She is survived by her sons, Steve (Sue) and Greg (Lauri); her seven grandchildren, Dustan Bilte, Rhonda (Eric) Andersen, Derek (Nicole) Bilte, Alysse (Cody) Allen, Chelsae (Jon) Richardson, Stephanie (Brandon) Sheard and Scott (Brittany) Bilte; and eight great-grandchildren, Ryan Andersen, Pierce and Wells Allen, Colton, Hayden and Bryson (just 12 days old) Bilte, McKinley Bilte and Beckham Richardson. She also was adored by her cousins, as well as countless friends.
In addition to her parents, of German and Irish descent and her beloved husband of 71 years, Steve, preceded her in death by 8 1/2 months. We will miss her immensely and will remember her with fondness often. Mary Lou is with Steve now and is happy and at peace once again. We love you mom/Nana.
The celebration of life graveside for Mary Lou will be at 2 p.m. Saturday, March 11, 2023, at Coeur d'Alene Memorial Gardens, 7315 Government Way, Coeur d'Alene, Idaho). There will be a reception following at a private residence in Hayden Lake from 2:30-4:30 p.m. Please RSVP to Lauri Bilte, her daughter-in-law, at 925-984-3350.
Please visit Mary Lou's online memorial and sign her guest book at www.yatesfuneralhomes.com.
Recent Headlines
---