Silver Valley Sports Recap: Feb. 27 - March 5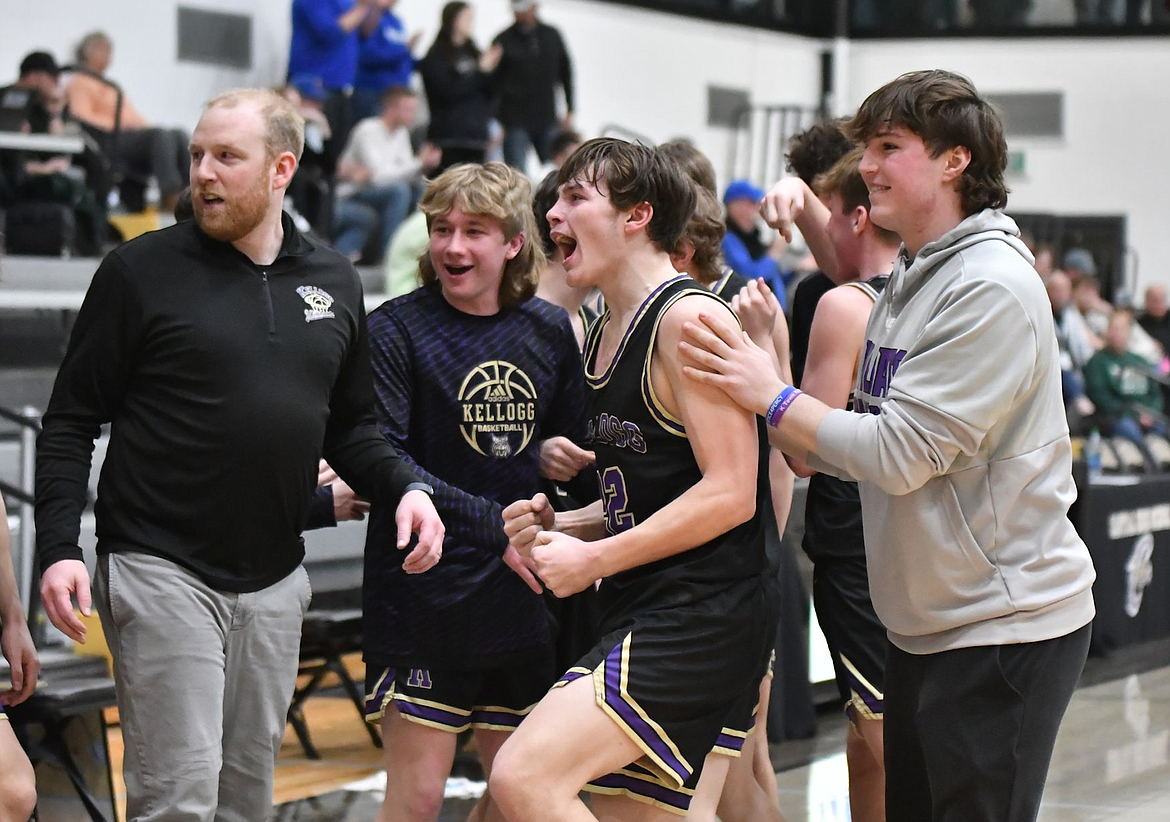 Kellogg basketball player Tom O'Neill can't hide his emotions after the Wildcats knocked off the Cole Valley Christian Chargers in the 2A state quarterfinals.
Photo by SMD PHOTOGRAPHY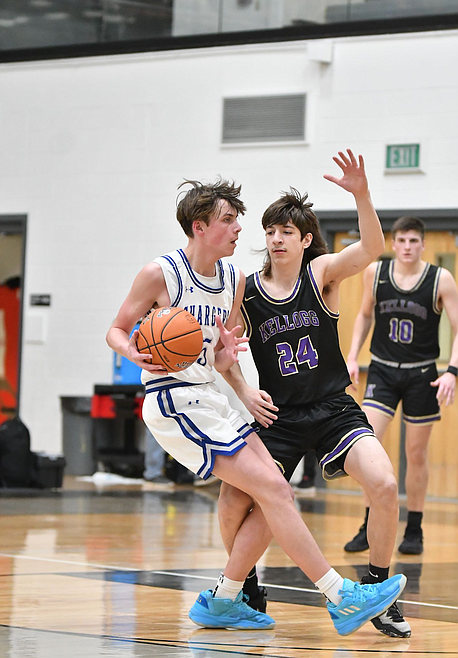 Logan Hendrix cuts his opponent off during Kellogg's 56-48 win over Cole Valley Christian.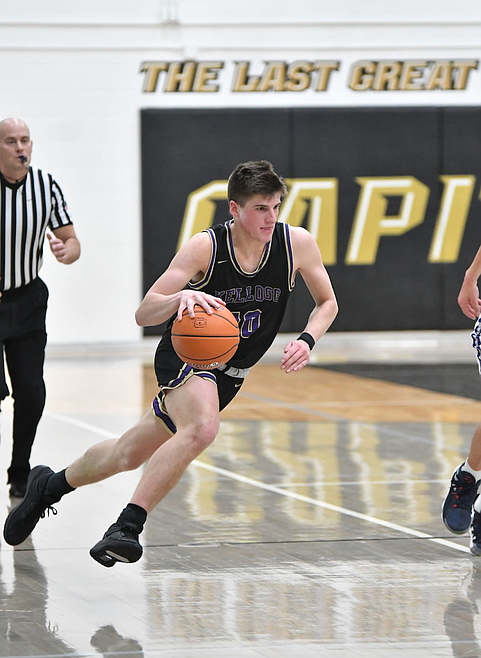 Wildcat Kolby Luna drives to the basket during one of Kellogg's three state tournament games.
Previous
Next
KELLOGG BOYS BASKETBALL
2A State Tournament
• March 2 — Quarterfinals
Kellogg 56, Cole Valley Christian 48
BOISE — Senior Riply Luna had 20 points and five rebounds for the sixth-seeded Wildcats, who used a 15-0 run in the fourth quarter to put away the third-seeded Chargers of Meridian in the quarterfinals of the state 2A tournament at Capital High.
"Everything that he got was within our offense tonight," Kellogg coach Mike Martin said. "He wasn't pressing on stuff and everything was in the flow of the offense. He really took advantage of his opportunities when they presented themselves."
Senior Kolby Luna scored 15 for Kellogg, which scored 23 points in the fourth quarter.
Ben Beglinger scored 14 points for Cole Valley Christian.
Kellogg 13 9 11 23 — 56
C.V. Christ. 10 14 12 12 — 48
KELLOGG — Miller 4, Whatcott 6, R. Luna 20, K. Luna 15, McLean 0, Maciosek 4, O'Neill 2, Hendrix 5. Totals 19-47 13-23 56.
COLE VALLEY CHRISTIAN — Holsinger 5, Graham 3, Beglinger 14, Overton 3, E. Kingery 13, Krogh 0, Kronstad 10. Totals 17-44 7-9 48.
• March 3 – Semifinals
Bear Lake 53, Kellogg 48
BOISE — Senior wing Kolby Luna had 17 points and three rebounds for the sixth-seeded Wildcats, whose upset bid fell short of the second-seeded Bears in a state 2A semifinal game at Capital High.
Kellogg had a 3-point attempt pop out that could have given them a two-point advantage. Bear Lake closed out the game from the foul line on shots by Tyler Beresford, who finished with 11 points.
Senior Riply Luna scored seven for Kellogg.
"Bear Lake gave us some fits for some stretches," Kellogg coach Mike Martin said. "They did a good job of taking Riply away and we just didn't make quite enough plays down the stretch."
Keaton Carlsen scored 14 for Bear Lake.
"Bear Lake made some shots down the stretch," Martin said. "But I'm so proud of my guys for how they fought and competed today."
Kellogg 15 9 9 15 — 48
BearLake 11 12 12 18 — 53
KELLOGG — Miller 3, Whatcott 6, R. Luna 7, K. Luna 17, McLean 7, Maciosek 4, O'Neill 0, Hendrix 4. Totals 15-37 11-14 48.
BEAR LAKE — Beresford 11, Shaul 2, Neal 3, Lloyd 7, Crane 12, Carlsen 14, Wallentine 4. Totals 20-35 10-13 53.
• March 4 – Third-Place game
Kellogg 46, St. Maries 57
BOISE — It was like a Brawl for the Ball. Although, the trophy was for a little more than bragging rights.
Senior Greyson Sands had 17 points, seven rebounds, and five assists for St. Maries in a 57-46 win over the Kellogg Wildcats — a rematch of the 2A District 1-2 championship game, as well as two other games this season — in the state 2A third-place game at Capital High on Saturday.
"It was a fun game," St. Maries coach Bryan Chase said. "It was a full crowd on both sides. It was loud and good for the kids to have that in their final game."
Both schools used to play in the Brawl for the Ball spirit game, but that was canceled last year and not resumed this year.
"(Kellogg) Coach (Mike) Martin and I were talking, even up until midnight (Friday)," Chase said. "The common theme was that we're both usually up until after midnight watching game film. This time, we could just go to bed because we both know each other's tendencies. Sometimes, you don't know the team and you're up half the night. This time, it was more about 'let's get some sleep, roll the balls out, and see what happens.'"
St. Maries finished 19-6. Kellogg, which moved from the 3A classification this fall, finished 19-9.
"We know each other inside and out," Martin said. "Coming into today, it was going to come down to whoever had more left in the tank. Each time we got some momentum, they put together some stops. But I'm proud of how our guys competed all weekend. We knew we could play with anyone in the state and played toe-to-toe with the state champions. It's an incredible group and has been an incredible season."
The Lumberjacks, who were runner-up last season, trailed 28-4 in Friday's semifinal, but battled back to take a lead before eventually falling to state runner-up Melba 62-58.
"The last seven quarters were about as good as it gets," Chase said. "I couldn't be more proud of how far our guys have come this season.
Senior Kolby Luna had 13 points and 10 rebounds, his twin brother Riply Luna 12 points and nine rebounds for Kellogg. Both Luna's are preferred walk-on's to play football at Miami.
"Our guards Jared Badgett and Trace Wicks did a good job on those guys defensively," Chase said. "To hold them to 12 and 13 was pretty good."
In the 2A championship game, Bear Lake, who narrowly escaped Kellogg the day before, knocked off Melba 55-44.
Kellogg 9 10 13 14 — 46
St. Maries 14 18 7 18 — 57
KELLOGG — Miller 9, Whatcott 4, R. Luna 12, K. Luna 13, McLean 1, Maciosek 5, O'Neill 0, Hendrix 2. Totals 17-50 8-19 46.
ST. MARIES — Holmes 3, Sands 17, Badgett 6, Barta 0, Holder 13, Renner 4, Wicks 5, Swallows 1, Hill 8. Totals 20-45 14-19 57.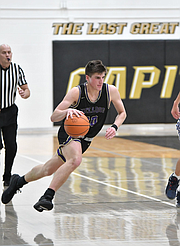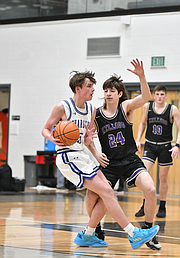 Recent Headlines
---