Marty and Max: How to lose a buy in 10 days
by
MARTY WALKER
|
March 17, 2023 1:00 AM
In the 2003 romantic comedy "How To Lose A Guy In 10 Days," Women's Magazine writer Andie Anderson, played by Kate Hudson, writes a "How To" in reverse. Andie employs a number of dating don'ts that leads her boyfriend to dump her in 10 days.
Stardate October 2021. A very close relative of mine was about to build. They purchased the land. The building plans were approved and the builder was on site ready to move dirt to start building the following week.
All they needed to do was to close on the loan. Midway through the loan process their mortgage broker changed banks and handed this off to another broker. Since the new build was on the other side of the lake, a change in employment was preferred. They called their "new" banker, who would not return a phone call. After days and days of calls that were not returned, they drove an hour to simply have one question answered.
"Since we are closing on our building loan next week, is it OK to change employers this week?" The banker refused to see them. They tracked down his assistant who replied, "Yes, it is OK. Everything has been through underwriting and all employment checks are verified. You will fund next week."
Fast forward one week, where the banker finally called the day before closing and requested an employment verification. When it was discovered that the employer had changed, the dreadful message was delivered, "You no longer have a loan and cannot build."
Instant devastation!
They had already sold their home and were living in an RV at the build site. An immediate call went out to Kim Fisbeck at her new bank. As always she answered cheerfully, "This is Kim." She gathered all the information, and immediately took charge. She partnered with Scott and together they went to work and saved the dream home. COVID hit a few months later, and once the home was built, it doubled in value within a short period of time. Had this build not started when it did, and had Kim and Scott not taken action when they did, the building cost would have doubled and all the equity would have been lost. Today, there would be an empty lot with an unfulfilled dream.
You will hear this often in this column. A wise man learns from his mistakes, but a genius learns from others' mistakes. Based on this, and wanting others to achieve their dream, I reached out to Kim for her advice on a "how to" list in reverse or as I like to call it "how to lose a buy (or build) in 10 ways."
"Kim, what are some of the basic mistakes you have seen that have caused loans not to close?" Can you share How to Lose A Buy In 10 Ways?
1) Use an out of State lender
2) Don't have a preapproval from a lender before submitting offers
3) Don't have a seasoned team (agent, lender, closer)
4) Quit your job or change employers
5) Apply for new credit during the home loan process
6) Close an existing credit account
7) Buy something on credit, especially big purchases like a truck or toy, but can be as small as a furniture or appliances purchase
8) Do not communicate with the lender through the process
9) Lie or falsify information on your application
10) Use a banker or Realtor who lacks character
I have heard from other real estate agents who have commented, "Kim's reputation is that she cares about her clients, and where most bankers give up, she fights for her clients, stays in touch, and is like a dog on a bone when it comes to ensuring the entire process is complete. She picks up the phone and makes things happen."
For more information, resources, and how to contact Kim or Scott, go to martyandmax.com and go to the resources page and you can also meet Kim virtually with her video introduction.
For your free detailed market report, go to the "Market Report and Analytics" page. Coming soon are partner videos for martyandmax.com, recommended resources and business partners. If you have had a great experience with someone in the real estate field, please send me an email and let me know who and how they helped you.
• • •
Marty Walker is a licensed real estate professional and paid consultant. Information shared in this column is of a general nature. For specific questions in relation to your unique property, email to set a time for a consultation. Information: MartyandMax.com or Martywalker@remax.net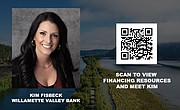 Recent Headlines
---