Dennis 'Denny' Ray Morley, 74
Dennis "Denny" Ray Morley, 74, of Wallace, Idaho, went to be with God on April 30, 2023. Dennis was born May 4, 1948, in Denver, Colo., the son of the late Bernard and Velma Morley.
He was raised in Julesburg, Colo., where he was active in Cub Scouts and Boy Scouts and was a member of the Julesburg First Methodist Church. Denny graduated from Julesburg High School, class of 1966, alongside three of his cousins in the same class. The caption beneath his senior picture read, "He's quiet, he's shy, but there's mischief in his eye!" After graduation, he enlisted in the United States Air Force in September 1967 and was stationed at Lackland Air Force Base in San Antonio, Texas. During his time in the service, he served as missile site security in Wyoming, served in Thailand as security at a bomber base, was a member of the military police at Takhli Air Base in Thailand, and completed his service at Fairchild Air Force Base in Spokane, Wash., in 1971, at which time he had risen to the rank of sergeant.
Denny married Sharon "Sherry" Irene McPeel on June 20, 1971, in Hudson, Colo. He and Sherry lived and played in Coeur d'Alene, Idaho, with many friends. They enjoyed their motorcycles, boat and camping with friends, among many other outdoor hobbies in the beautiful Pacific Northwest. Their daughter, Lisa, was born on their third wedding anniversary June 20, 1974, and their son, Richard Dennis Morley, was born Dec. 11, 1976. In September of 2000, he married Linda Frederick. The couple later divorced.
Denny and his family moved to Wallace, Idaho, in the spring of 1975 and worked at Ace Hardware (building maintenance) for many years. He later worked for Matt at the Star Mine in Burke, Idaho, the maintenance department for Wallace School District 393, and then focused his career of many years on his amazing craft of woodworking. He has done work in so many of the businesses and homes in the Silver Valley as well as in Coeur d'Alene. He was a master craftsman and woodworker and was a perfectionist. He put his heart and soul into every single job that he did and, in true form, was an artist.
In addition to his parents, Denny is preceded in death by his sister, Jane Louise Ewald; ex-wife Sharon Irene Morley-Marquette; and many other friends and family members.
He is survived by his daughter, Lisa Morley; son Richard Morley; three grandchildren, Aspen Morley-Pintler, Mason Ray Morley and Kaden Morley; three great-granddaughters, Haleigh Gallagher, Graceigh Gallagher and Maddison Mahan; his ex-wife, Linda Frederick, and many cousins and friends throughout Colorado and Nebraska.
A memorial service will be held Friday, May 5, 2023, at 4:30 p.m. at the Wallace Elks Lodge #331, of which Denny was a member. Following the service will be a potluck celebration of Denny's life in the Elks Lounge.
Denny Morley is in heaven now and is flying at peace with the angels. He loved Wallace and everyone that lived there.
Memories of Denny and messages of condolence may be shared with his family online at www.shoshonefuneralservice.com. Shoshone Funeral Services, Kellogg, is assisting the Morley family with arrangements.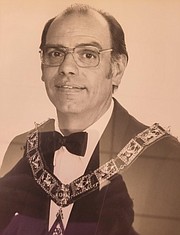 Recent Headlines
---