Dorothy Thielman, 85
May 4, 1937 — April 29, 2023
Dorothy E. (Hayman) Thielman, also affectionately known as Mom, Grandma, Gram, Sis, Aunt Dottie, Aunt Dot and Elizabeth, left this earthly life to be with her Father in Heaven on April 29, 2023. She was born in Two Dot, Mont., to her beloved parents, Thomas William and Dorothy Robertson (Smart) Hayman. Though only residing in Montana during her early childhood years, she cherished her Montana roots. Almost certainly because she loved and valued her relationships with her large extended family. The Silver Valley, especially Wallace, was her treasured home on Earth for over 70 years! She was grateful to live in such a beautiful Thomas Kinkaid picturesque setting among real-life people and events as characterized in the work of Norman Rockwell.
A steadfast Christian and heir of the grace of God, she relished her membership, participation, and many positions within the United Church of Christ Congregational. Her beliefs provided her with a foundation for serving and blessing others. In all things she was thankful and her love for others was unending.
Committed to education, she was a lifelong learner and always a teacher. A graduate of the Wallace High School Class of 1955, a class whose members continued to be close friends throughout the years, she returned to the school district in the '70s with a new task. She had the opportunity to care for many children as the Wallace District No. 331 school nurse and to guide young minds in their nursing endeavors by implementing the district's health occupation program at the high school level. Even after leaving those positions, she later returned to be a school board trustee.
She earned her diploma in nursing at Deaconess Medical Center, Spokane, Wash., in 1958. While continuing to work in various nursing positions, she earned a bachelor of science in education and then a bachelor of science in nursing, both from the University of Idaho, Moscow, Idaho, "Go Vandals!" She later broadened her skills to become certified in enterostomal therapy from Abbott Northwestern Hospital, Minneapolis, Minn. Her experience in the nursing field for nearly 50 years, assisted by her strong faith and caring personality, provided her with the amazing skill to tenderly assist in mending both the physical and emotional wounds of many. Admired for management and leadership skills, she was eventually convinced to enter medical administrator roles, which included director of quality assurance at Kootenai Medical Center, Coeur d'Alene, Idaho, as well as risk management.
From many groups formed between friends to several professional and service groups, her role often surpassed participation to embrace organization, leadership and board member positions. She enjoyed many lifelong interests including poetry and songwriting, oil painting, crocheting, knitting and reading. She created many opportunities to gather with friends and family, travel, and, of course, gamble. Beyond being a woman of many talents, she will be remembered as kind, honest, understanding, fair, generous, intelligent, witty and, above all, loving.
She was preceded in death by her parents, her brothers, Jack and Don Hayman, sister-in-law Sherry Hayman, two nieces, a nephew and a great-grandson. She is survived by her husband of 59 years, John, her brother, Tom Hayman, sister-in-law RC Hayman and Ethel Hayman, her children, John W. (Joannie) Thielman, Christi Thielman, Robynn (Scott) Freiburger, Tom (his love Marcie) Thielman, and Ed (Shelley) Champagne, many adored nieces, nephews, great nieces and great-nephews. She is also survived by 11 grandchildren and 10 great-grandchildren and since she had a contagious love for people, especially children, many bonus grandchildren and great-grands. Each and every one of them filled her eyes with sparkles, her heart with warmth, and her spirit with pure overflowing joy.
During the last 9 1/2 years of her life, she lived with family in Paul, Idaho, as a result of complications from the removal of a brain tumor on Dec. 12, 2013. Due to medical necessity, in the autumn of 2021, she was moved to Autumn Haven Assisted Living in Rupert, Idaho. The loving care provided to her by their staff is greatly appreciated by her family.
A memorial service will be held at the United Church of Christ Congregation at 408 Cedar St. in Wallace on Saturday, June 3, 2023, at 11 a.m. Gathering for family and friends will follow for the afternoon and evening at the Wallace Elks Lodge No. 331, 419 Cedar St. in, Wallace.
In lieu of flowers, donations can be made in her memory to the United Church of Christ Congregational (http://ucc-wallace.org/), Wallace Rotary, Wallace Elks Lodge No. 331, or any other charity of your choice.
She is Loved!
Notices:
Dorothy Elizabeth Thielman, 85, of Paul formerly of the Wallace, Idaho passed away Saturday, April 29, 2023, at Autumn Haven Assisted Living. Dorothy's family will be hosting a local gathering with BBQ & Potluck from 7:00 p.m. Saturday, May 6, 2023, at the Freiburger residence 652 West 500 North Paul, Id.
Memorial services will be held at 11:00 a.m. Saturday, June 3, 2023, at the United Church of Christ Congregational 408 Cedar Street in Wallace, Idaho. Gathering for family and friends will follow that afternoon and evening at the Wallace Elks Lodge #331, 419 Cedar Street in Wallace, Idaho. Arrangements are under the direction of Joel Heward Hansen Mortuary.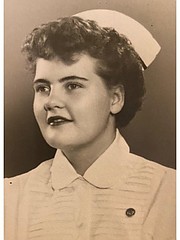 Recent Headlines
---