Route of the Hiawatha set to open next week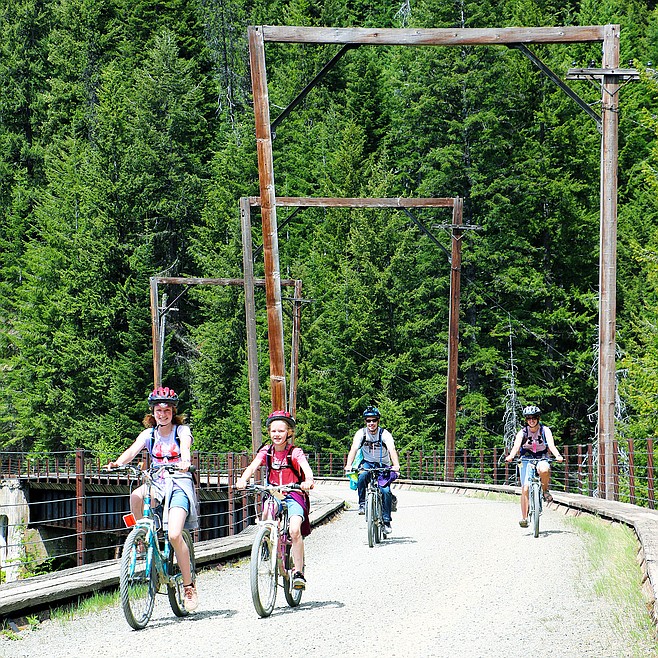 A family crosses one of the seven massive trestles along the Route of the Hiawatha. The 15-mile trail opens next week.
Courtesy photo
by
JOSH McDONALD
Local Editor
|
May 19, 2023 1:00 AM
MULLAN –– Nestled high about the Silver Valley floor, one of North Idaho's most unique attractions is set to open next week.
The Route of the Hiawatha (RoT) is a 15-mile, rails-to-trails experience unlike any other – with its dark tunnels that require special lights to see through, over trestles that are hundreds of feet above the mountain landscape – it is truly a spectacle.
"This was once known as the most scenic section of railroad in the country," RoT director of marketing Matt Sawyer said. "It is now a scenic bike trail."
Sawyer isn't shy about his passion for where he works, and it's easy to see why.
The RoT is one of those activities where riders will experience something new each and every time they ride it – even if they've done it multiple times.
Now a member of the Rails to Trails Hall of Fame, the ride features 49 different interpretive signs that discuss the history of that particular location on the trail, including the history of the railroad, the men who built the railroad, the surrounding forests, the Big Burn 1910 Fire, and even why Taft was called the wickedest city in America.
For those looking to escape the restraints of technology, the RoT might be heaven on earth – especially if you like working up a sweat surrounded by natural wonder.
They also make it easy to get back to your vehicle if you only want to make it a one-way trip.
"No cell service along the path, true wilderness views," Sawyer told the News-Press. "It's a mostly downhill ride with the option to enjoy a shuttle bus ride back to the top for you and your bike."
The Paul Pass Tunnel is another feature of the ride that must be experienced in order to understand just how cool it is – it stretches for 1.6 miles beneath the Bitterroot Mountain Range in both Montana and Idaho.
Annually, the RoT sees 70,000 visitors per season, and since the land that the trail follows is on United States Forest Service land a significant portion of the funds collected goes to preserving the trail, the tunnels, and the trestles.
Sawyer is always trying to figure out new ways to bring more people to trail, and this year he's excited to announce that they have purchased a number of new Marin and Schwinn bikes, as well as several Burley trailers that can be rented.
Along with all of the standard two-wheeled options, riders can rent recumbent bikes, adult tricycles, and tandem bikes.
Riders who are new to the Route of the Hiawatha can expect their ride to take three and a half to four hours and Sawyer suggests beginning rides between 8:30 a.m. and 1:30 p.m. (PST).
Sawyer is also excited to announce that they are bringing back their popular night rides, on June 3, July 3, August 1, and August 30, riders will be able to take in the night sky with nothing more than their headlight to guide them along the trail.
The Route of the Hiawatha officially opens on Friday, May 26, and is open seven days a week.
For more information or to make a reservation please visit www.ridethehiawatha.com.
Recent Headlines
---