Who's up for a planting party?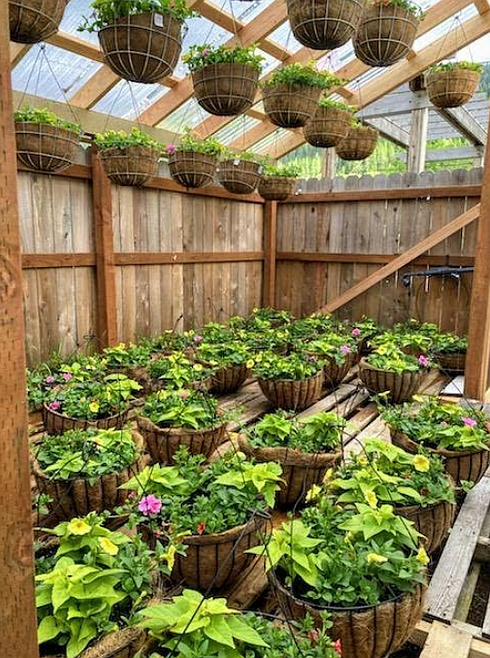 This is what the completed hanging flower baskets in the Wallace Flower Project's greenhouse will look like after they do their planting this weekend.
Courtesy photo
by
JOSH McDONALD
Local Editor
|
May 19, 2023 1:00 AM
WALLACE –– After more than a decade, the Wallace Flower Project Committee has this down to a near science – what they need now is manpower.
"Volunteers are needed to plant more than 2000 flowers in 200-plus baskets and hayracks that will grace the Second Street corridor, Sixth Street Park, and light posts throughout the residential and business areas of Wallace," committee member Janet Feiler told the News-Press.
Once the planting is completed, the baskets are moved into the greenhouse to give them a chance to acclimate to the local climate before they are distributed throughout the city.
The Wallace Flower Project Committee has been the driving force for the summer beautification at the Center of the Universe for the past 13 years – Something that Feiler says wouldn't have happened without substantial community support and cooperative agreements.
"This would not be possible without the support of the city of Wallace, the Frank A.Morbeck Foundation, the Callahan Zeller Foundation, and donations from individuals and businesses," Feiler said. "An arrangement between Hecla and the City provides summer employment for one to three youths whose tasks include daily watering of the flowers."
Purchasing, planting, and maintaining these flowers isn't cheap either – the project annually comes with a price tag of $10,000, which includes the flowers, baskets and liners, soil, fertilizer, greenhouse improvements, and other expenses.
Once the flowers are planted and ready to survive the elements, Wallace city employees and members of the Wallace Jr./Sr. High School Football team will get them placed throughout the town – including placing flower baskets along the wall outside of the Wallace City Pool.
This year, volunteers will plant petunias, calibrachoa (often called million bells), sweet-potato vines, and fountain grass for this year's colorful baskets.
The planting party is scheduled for Saturday, May 20, at 9 a.m. at Weeping Birch Park on the corner of Second and Cypress Streets, no prior planting experience is necessary.
"It's time to get down and dirty for the beauty of Wallace," Feiler said.
The Wallace Flower Project is a nonprofit operating under the 501(c)(3) of the Greater Wallace Community Development Corp.
Donations can be made to the Wallace Flower Project online at www.growwallace.org, or mailed to Siobhan Curet, Wallace Flower Project Committee treasurer, at 823 Residence Street, Wallace, ID., 83873.
Recent Headlines
---