Civic pride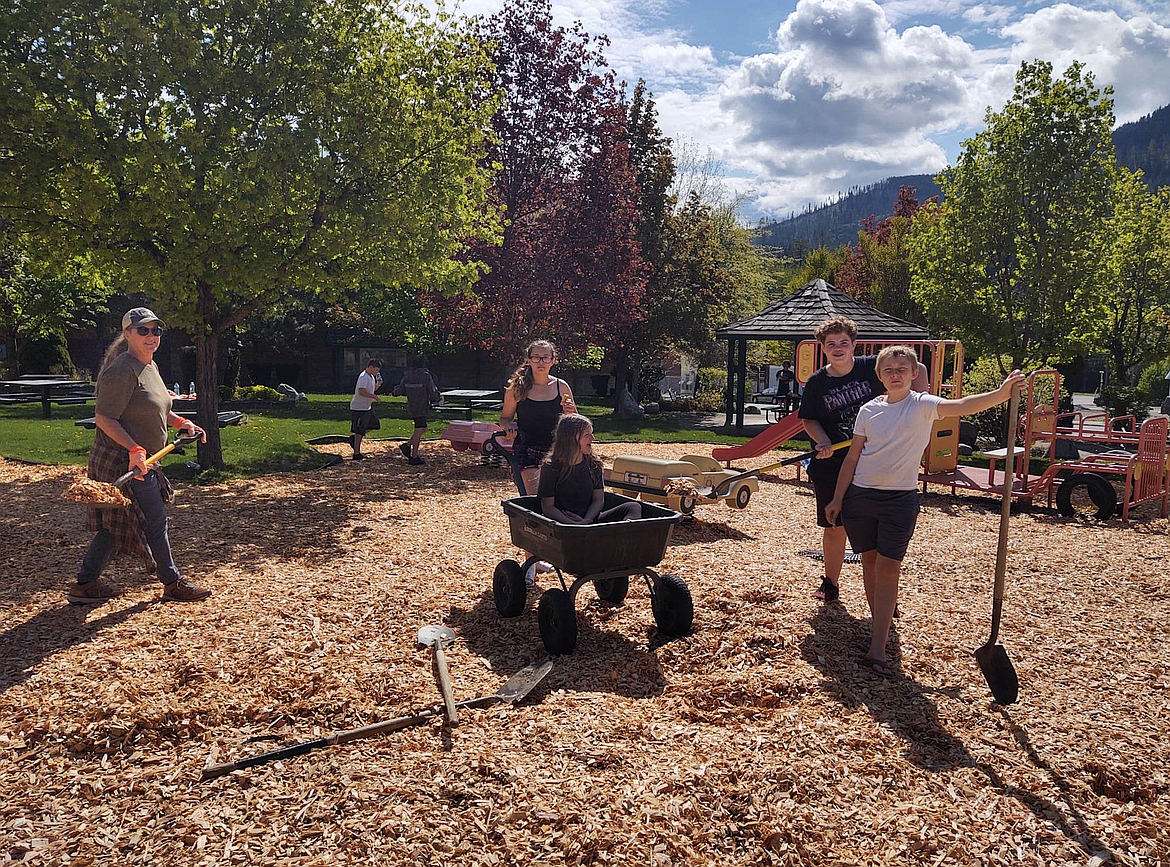 Members of the Mullan Jr./Sr. High School 7th Grade class lay out new wood chips at the playground inside Mullan City Park. Their efforts were part of an annual school district-wide cleanup effort throughout the entire city.
Courtesy photo
by
JOSH McDONALD
Local Editor
|
May 23, 2023 1:00 AM
MULLAN — Mullan Jr./Sr. High School Principal Jacki Almquist loves a good spring cleaning – and even more so, loves when she sees her students giving back to the community that supports them through thick and thin.
Last week, the students participated in the annual town cleanup, where they worked throughout the town sweeping, painting, weeding, planting, spreading bark, and doing minor repairs at the cemetery.
All 83 students in the Mullan School District (MSD) participate in the full-day event, which begins with the students being divvied up into groups for specific projects and then wraps up with lunch and swimming at the Mullan Pavilion.
Almquist and the staff throughout the MSD, believe that the town cleanup project can help instill a sense of community pride in the students – and by giving everyone a chance to contribute, it helps improve the student's ownership of the community while keeping the city looking fresh and improving the overall health of their respective neighborhoods.
This isn't a new tradition for the small district, but it's one that has endured for years and was originally tied to Earth Day.
According to various staff in the MSD, the first time they held the cleanup event was in April of 1974, four years after the first observance of Earth Day. They can't confirm that it was done every year, but they did say that it has been a constant for the past 30 years.
Over the years, as the winter months have stretched deeper and deeper into the year, the event has been moved to accommodate for warmer weather.
"After a long winter, it's nice to have a town that's been dusted off with a good spring cleaning," Almquist said. "The students understand it's a way to say thank you to the town, and they really take pride in doing a good job."
The project is never the same from year to year, and over the past three decades, it's been everything from planting flowers at the John Mullan statue, sweeping and revitalizing the town basketball court, repainting the Tiger paws at John Drager Field, even cleaning up the Trail of the Coeur d'Alenes parking and picnic area.
"The Mullan kids are amazing and hard-working," she said. "They always inspire us."
Recent Headlines
---