Silver Valley Sports: Oct. 30 - Nov. 5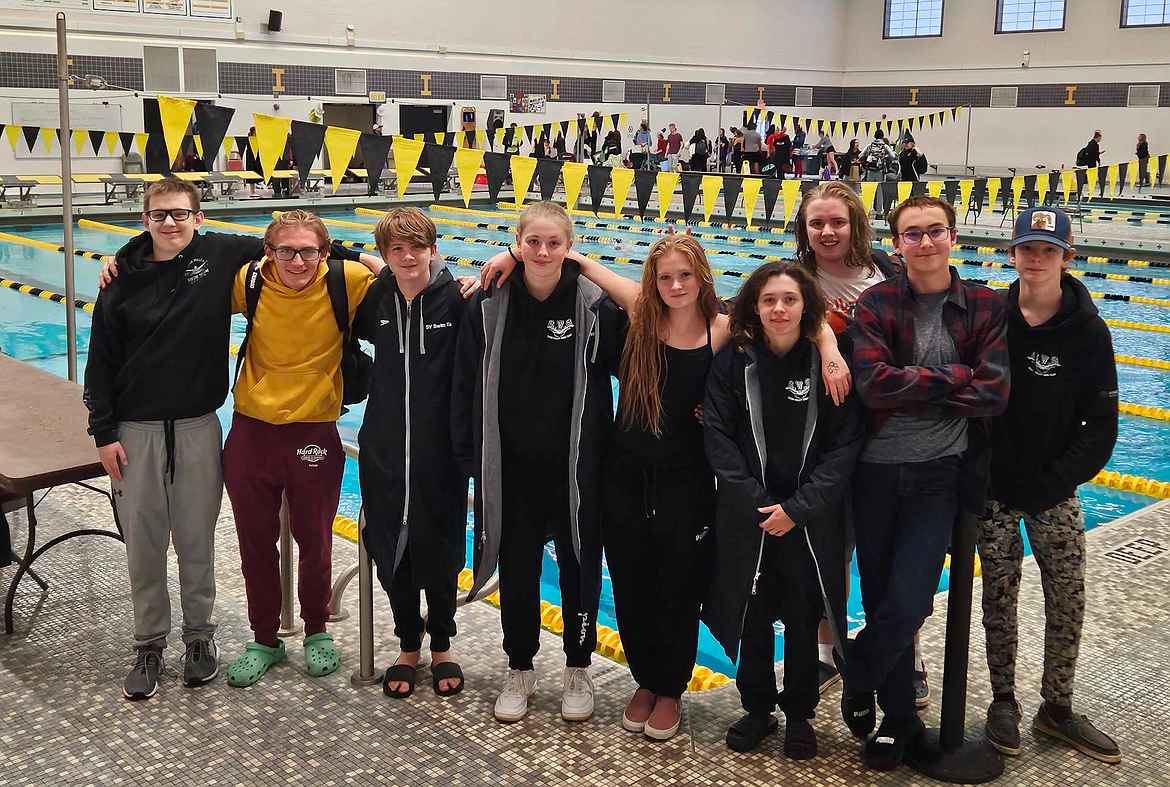 Members of the Silver Valley Swim Team huddle together for one final team photo following their district competition in Moscow. The team had five swimmers make it into wildcard contention, but just missed qualifying for the state meet.
Courtesy photo
|
November 7, 2023 1:00 AM
MULLAN FOOTBALL 
- 11/4
1A D2 Playoff Quarterfinals
Hagerman 54, Mullan/St. Regis 12
MULLAN –– When it rains, it pours. 
There may not be a more appropriate way to describe Mullan's experience this past weekend when they hosted the Hagerman Pirates in the 1A D2 State Playoffs. 
Already down five starters, the Tigers played host to a physical, talented crew from Hagerman in the midst of a near-freezing downpour of rain at John Drager Field.  
The game was a story of two halves – unfortunately for head coach Stetson Spooner and his crew, things started fast and then got out of hand quickly. 
Hagerman marched on their opening drive, using an effective passing game to go 80 yards in three minutes. 
They forced a three-and-out for the Tigers on their first possession and quickly turned that into another to touchdown. 
Mullan senior Kofi Appiah returned the subsequent kickoff 77 yards for a score to get the Tigers on the board. Hagerman responded with another efficient drive and score to go up 22-6. 
On the very next drive for Mullan, freshman Conner Lulis connected with junior Hunter Stolla for a 70-yard touchdown. 
Ending the first quarter at 22-12, it felt like both teams were going to trade scores the rest of the way. 
But that didn't happen. 
Over the next 36 minutes of football, more than 20 penalties were committed, including double-digit personal foul penalties – some on players, others on coaches. 
The Pirates pushed their lead to 38-12 on the backs of runners Martin Gonzales and Ky Kendall, while Mullan's mostly reserve lineup struggled with the game speed. 
In the second half, the Tiger defense stiffened up, but the offense couldn't get anything going.
Mullan only gave up a single score in the second half before waving the white flag late in the fourth quarter and putting in all of their junior varsity players to finish the contest. Hagerman's reserves came in and were able to put up a final score with just seconds remaining in the game. 
"We came out the same way they did, packing the box to eliminate each other's run games in the sloppy weather. Almost daring each other to throw," Spooner said. "They threw early and often, capitalizing on a few big plays and oddly enough we did as well – hitting some strikes including the huge TD to Hunter (Stolla). Toward halftime, they backed off and acknowledged the pass game more trusting their front five to do the job and they did just that."
Spooner has never been one for excuses – Even with five starters missing, he treated the game like an opportunity for the younger guys to step up and go get a huge win in the state playoffs. 
That being said, he definitely believes the game would've gone differently had both teams lined their best athletes up against one another. 
"Having a bigger, senior tight end in James Roe could've helped the run game against those big defensive ends a bit more but you never know. Could've had big, little, or no impact," Spooner said. "That's kind of football. Blake Knoll in the middle really helped us all year against the counter – he is very hard to wash laterally out of his gap, which would've definitely helped in space. I feel like our guys fought hard and took opportunities given to them and missed on just as many."
Despite the loss, the Tigers have nothing to be ashamed of this season – finishing with an 8-2 record and another North Star League championship.
The future of the co-op between Mullan and St. Regis will be something to keep an eye on – due to the restructuring of Idaho's high school athletic classifications, Mullan is scheduled to be in a three-team conference for football along with Wallace and Kootenai. However, the numbers are skewed heavily in favor of the St. Regis, with Mullan likely bringing less than 10 players to the table next season. 
There has been some discussion about maintaining the co-op, but instead of playing under the Idaho High School Activities Association, they would operate under the Montana High School Association and potentially be the tenth team in Montana's Western 8-Man Conference. 
"I think both schools believe in the co-op completely and feel that it's been beneficial for both schools," Spooner said. "That being said, options are being explored. I believe the co-op will remain together, but as far as where – at this point, I don't know just yet."
Spooner and his school's administration will have to look and see if maintaining the co-op, will still allow them to meet the needs of their student-athletes and their families. 
"When looking at all angles and variables of travel time, the safety of students, financial hurdles, and what our student-athletes and their parents want – certain final decisions are obviously still up in the air," Spooner told the News-Press. 
SILVER VALLEY SWIM TEAM
- 10/28
4A District Meet
MOSCOW –– Despite setting seven new personal records, the Silver Valley Swim Team was unable to qualify any of their swimmers for state competition. 
The competition was stiff, with the Silver Valley swimmers going up against athletes from Sandpoint, Moscow, and Lakeland. 
Head coach Bryan Stepro was pleased with how his team performed at the meet, especially with the fierce competition. 
"At the end of the night, the team had five swimmers in the wildcard, but sadly they didn't make it to state," Stepro said.
The team had some serious support throughout the season, Stepro wanted to shout a couple of them out.  
"I need to thank U.S. Silver and Gold and the Galena Mine for the Hoodies that were able to keep the team warm on the bus ride," Stepro said. "And the new warm-ups from Sunshine Silver Mines that kept the team warm at the Moscow pool as we competed against the other 4A teams." 
ALL LEAGUE VOLLEYBALL TEAMS 
ALL-CENTRAL IDAHO LEAGUE
MVP — Maddie Cheney, sr., Kellogg.
Coach of the Year — Stephanie Batchelder, Kellogg.
All-league
Mattie Thacker, jr., Grangeville; Adelai Lefebvre, jr., Grangeville; Brielle Hei, sr., Kellogg; Paige Yrjana, fr., Kellogg; Rilee Diffin, jr., Orofino; Livia Johnson, jr., Orofino; Toni Marinello, so., Priest River; Jayda Storro, so., Priest River; Lily Daniel, sr., St. Maries; Mia Asbury, jr., St. Maries; Ava Stancil, sr., St. Maries.
ALL-SCENIC IDAHO CONFERENCE
Co-Most Valuable Players — Britany Phillips, sr., Wallace; Tia Hendrick, sr., Wallace.
All-league
Tylah Lambert, so., Lakeside; Martina Rivera, sr., Lakeside; Shayla Hill, sr., Genesis Prep; Laya Daniels, jr., Genesis Prep; Jillian Russworm, sr., Genesis Prep; Megan Hull, so., Wallace.
ALL-NORTH STAR LEAGUE
Co-Most Valuable Players — Elouse Shelton, sr., Clark Fork; Autumn Charvez, sr., Mullan.
All-league
Kiera Bohannon, sr., Kootenai; Amie Matteson, so., Clark Fork; Aurora Lane, so., Clark Fork; Amari Printz-Hay, sr., Clark Fork; Lilly Reuter, sr., Clark Fork; Ava Blankenship, so., Mullan; Kara Stahle, sr., Mullan.
Recent Headlines
---