Life lessons and hot showers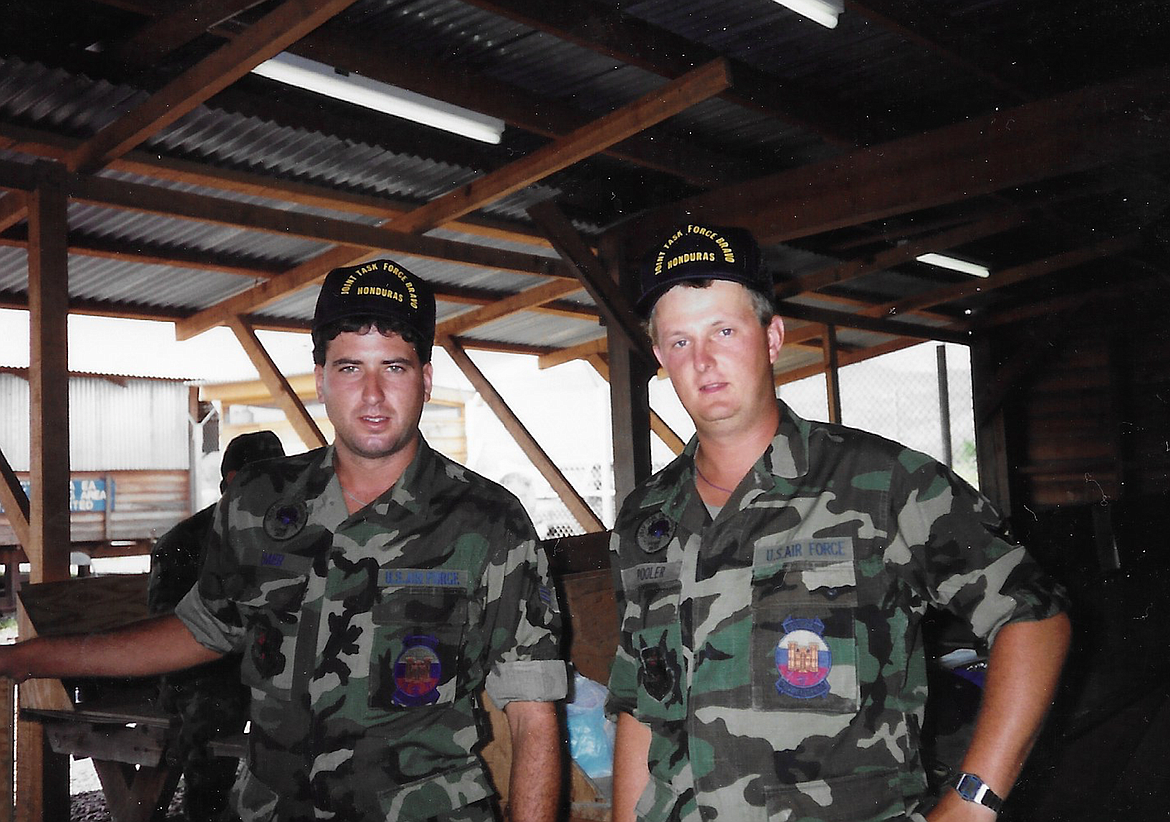 Senior Airman Shanon Pooler (pictured on the right) goes through Honduran customs alongside his bunkmate John Baer. The two were stationed together at Castle Air Force Base in California before being deployed to Honduras as part of their United States Air Force civil engineering mobility unit "Prime Beef" under Joint Task Force Bravo.
Courtesy photo
KELLOGG ––  Every year, on Veterans Day we hear numerous stories of courage and valor, heroics on the battlefield, and each story is completely deserved – But there are several untold stories of the people who serve, who work behind the scenes to make sure our military functions as efficiently as possible. 
Shanon Pooler is one of these stories. 
Pooler, 58, is a Kellogg native, a 1983 graduate of Kellogg High School, and a veteran of the Air Force. 
Most people know him from his work as a football coach, both locally and in surrounding school districts, or as a high school basketball referee.
He doesn't talk about his service much, not because he's ashamed of it, not because he didn't enjoy his time, but because he never really thought about it being a terribly exciting story. 
After graduating high school, he did what most teenagers do and was kind of aimless for a spell. But that didn't last long. 
"Our family, my grandfather, had a plumbing business," Pooler said. "I was a typical high school kid, I was lost for a while – but I had a little come to Jesus meeting with my mom and dad who told me, 'You're going to work for grandpa." 
Pooler worked for his grandfather as a general laborer while also pursuing an apprenticeship in plumbing through North Idaho College. Earning a decent living, and starting a family, Pooler felt he probably had his future laid out for him. But in 1987, as the mining industry in the Silver Valley began to dry up, people couldn't afford things like repairs, new constructions, and home remodeling, and the plumbing business dried up with them. 
"I had a young family, there was no work – and I thought to myself, I had better find something," Pooler said. 
Pooler's father, current city of Kellogg mayor Mac Pooler, had been in the military and even served with the Army Reserve unit that had formerly been stationed in Wallace. So exploring the military as an option wasn't anything new to Shanon or his family. 
"I went to Coeur d'Alene to the recruiting station and enlisted in October of 1987," Pooler said. "I left for Lackland Air Force Base in San Antonio, Texas to go through boot camp." 
Once boot camp ended, Pooler and the rest of the Airmen that he had gone through training with were asked if they had any prior training from the civilian side that might be of use to the Air Force – Pooler told them about his experience as a plumber and was offered a direct duty assignment as a plumber for the United States Air Force. 
His first duty station was at the now-closed Castle Air Force Base near Merced, California, where he moved his family and worked as a plumber on the base, essentially doing the work a person might normally call a contractor for. 
"We had a plumbing shop, but the Air Force was going through some changes and they wanted us, as the base's civil engineers, to be more effective so they split us up and assigned us to different zones," Pooler said. "And it wasn't just plumbers, each zone had a plumber, a carpenter, HVAC, plant operators, heavy equipment operators, and water and wastewater management crews. We were all part of a civil engineering squadron." 
After a while, Pooler was assigned to a mobility unit, lovingly dubbed 'Prime Beef,' for a temporary duty assignment (TDY) tasked with going to different bases around the world to carry out work assignments. 
Pooler spent time at different bases in the Persian Gulf during the Gulf War but was also deployed to Honduras for a while. 
"What an eye-opener that was," Pooler said. "I wish I had been old to really understand what was going on there, but when you're in your early twenties you don't always see everything." 
In the 1980s, the United States established a military presence in Honduras as part of an effort to support a group of rebels who were involved in a conflict with the government of the neighboring country Nicaragua. 
Whenever there was an opportunity, Pooler tried to help where he could – and he can vividly remember their kindness and thankfulness for the efforts made by the U.S. troops – not just on the bases, but in the areas where they were able to help the communities they were operating near. 
"Our mobility unit had a really good reputation for the work that we did, so much so that the superiors made sure to tell everyone not to screw with the plumbers," Pooler said. "They knew we were making sure that they had functioning bathing facilities, bathrooms, kitchens, anything that required running water, so they left us alone." 
It's not really the first thing that pops into your mind when you think about morale, but Pooler said that for the guys who were out on patrols or really anything, the ability to come back and take a hot shower is a big deal - especially on a foreign base. 
The nature of Pooler's assignment during the TDY, was to remain on call and respond to any issues that fell under the jurisdiction of his mobility unit. No matter what time of day, or what the conditions were. 
Pooler spent four years in the USAF, and even thought that he'd make a career out of it – but the military had different plans and he was given an honorable discharge as part of a reduction in forces for the military in 1991, retiring as an E4 or Senior Airman. 
Following his discharge, Pooler returned home to North Idaho where he's spent time living in the Silver Valley as well as St. Maries. 
He has no regrets about his time in the military with the exception of not being able to stay in longer, but his greatest takeaway from those four years were the things he now applies to his coaching philosophies as well as his daily life. 
"You learn and understand the importance of working as a team," Pooler said. "Coming together with many people doing many things in order to accomplish one goal. The ability to communicate is so important – Everyone has to be able to get their jobs done if we want to accomplish our goal." 
As for recommending the military as an option for today's youth, Pooler believes everyone should at least consider it. 
"I think serving in the military is a great option, especially if you don't have any idea of what you want to do," Pooler said. "They'll help you figure out what you'd be good at, train you in that field, and pay you to do that while potentially seeing the world. I loved it and wouldn't change a thing about my time in the Air Force."   
Recent Headlines
---