Ham and Turkey Dinner this weekend at CES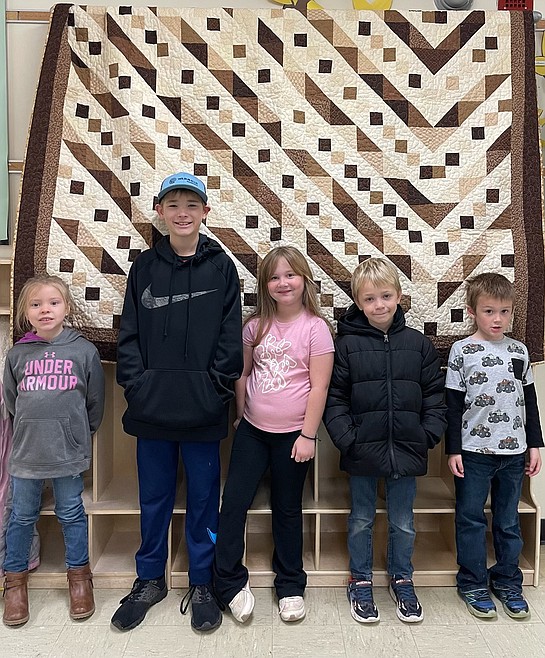 Canyon Elementary School students (from the left) Makayla Marsan, Lane Trecker, Rylan Griffin, Sawyer Hahn, and Aiden Cochrane stand in front of the quilt that will be raffled as part of the annual CSO Ham and Turkey Dinner and Auction. The quilt was made by Bonnie Farmin.
Courtesy photo
CATALDO –– The Canyon School Organization (CSO) will be holding its annual Ham and Turkey Dinner and Auction this weekend at Canyon Elementary School. 
The fundraiser has become a staple of the Cataldo community, but it attracts folks from all over the area due largely to the delicious food and vast amount of exciting auction items. 
This year's auction features tickets to Spokane Chiefs hockey games, Gonzaga Men's Basketball games, overnight stays at Pend Oreille Shores Resort, Triple-Play Waterpark passes, Kroc Center Day Passes, a load of gravel from Zanetti's, tools from Building Maintenance & Supply, 1000 linear feet of 1x6 fir from Whiteman Lumber Co., and dozens of eclectic gift baskets and other items. 
The final piece of the fundraiser is the annual quilt raffle. 
Each year a large, hand-sewn quilt is made and then donated to the fundraiser – this year's was made by Kellogg School District trustee Bonnie Farmin. 
"We have chosen to devote our time to this one and only fundraiser for the school year," CSO president and KSD trustee Alexa Griffin said. "This provides funds for the entire year's activities and allows the focus for parents to be on their students and their education and not fundraising. The event is always well attended and fun for both the students and their families while showing support for our school."
The CSO is a group of parent volunteers that go above and beyond to make sure that the students at CES have as many opportunities as they can possibly afford – these include several field trips, Science Fridays, visits from Radical Rick, Grandparent's Day, Artist in Residence, Fisher Science, and other events and supplies needed for their staff and students that otherwise would simply not be possible.
The Canyon School Organization's Ham and Turkey Dinner & Auction is Saturday, Nov. 18, with dinner being served from 4-6 p.m. The silent auction will run from 4 p.m. through 5:45 p.m., and the live auction kicks off at 6 p.m.
Raffle tickets are on sale now, and are one for $1 or six for $5, the winner does not need to be present to win.
Tickets for dinner are $9 per person, and children aged 4 and under are free.
"We love seeing the support from our current and past Canyon families, as well as all the people and businesses who donate to the auction," Griffin said. "We can't wait to see you there."
For more information, please contact Canyon Elementary School at (208) 682-2749.
Recent Headlines
---