Season's skiing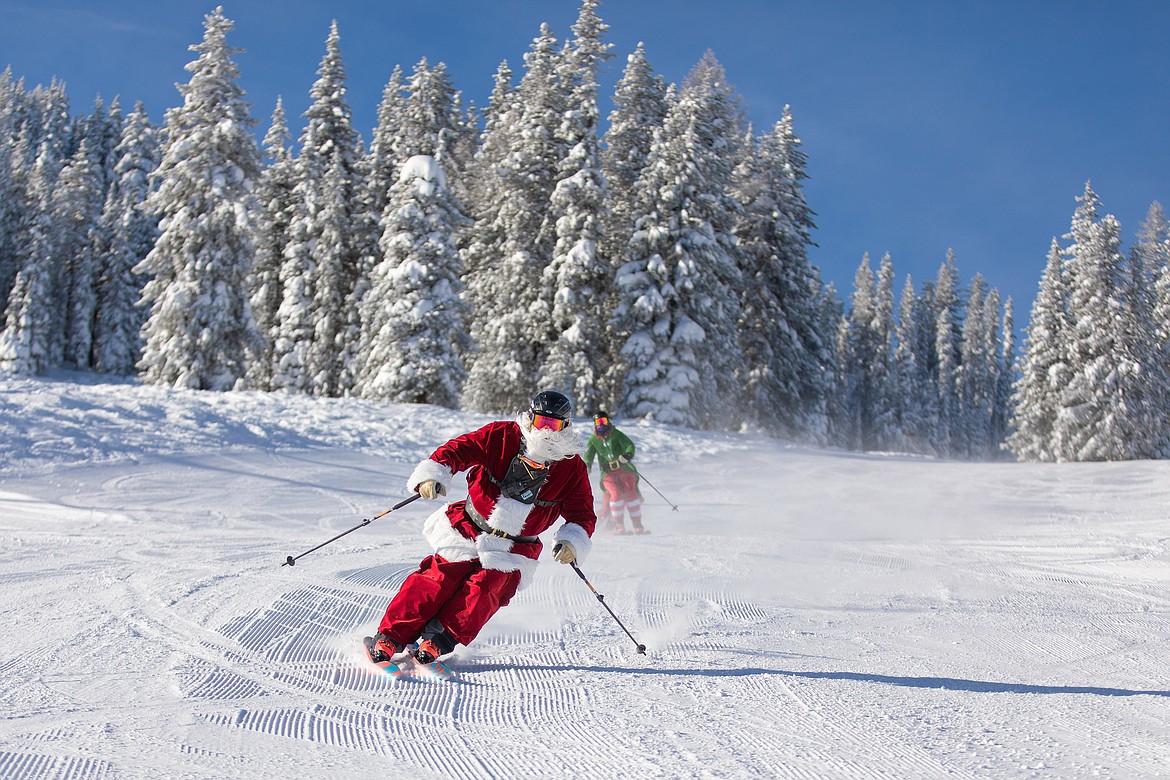 On Dec.23, Lookout Pass Ski and Recreation will host a Santa Ski event for folks looking to celebrate the holidays as the ski.
Photo Courtesy of Lookout Pass Ski and Recreation
MULLAN — The snow has started sticking on Lookout Pass, but it'll take a good deal more powder on the slopes before the skiing season is ready to start.
Matt Sawyer of Lookout Pass Ski and Recreation said they're looking at Thanksgiving weekend or the first week of December as a realistic opening.
"We're just playing a waiting game on the weather, and old man winter is hopefully going to play nice with us. The most important thing is for things to be ready as early before Christmas as possible. We're just in that holding pattern waiting for the snow to come and give us that opportunity to open for our guests," Sawyer said.
Last year, Lookout was able to open by Nov. 12. Lookout Pass has been hosting skiers in the Silver Valley since 1935. 
"We don't have any snowmaking, we rely 100% on natural snow, or as I say, it's always heavenly sent. Normally, we're open by mid-November. It just depends on when the snow comes and how much there is at that point," Sawyer said.
Snow outlook
Though there have been some storms passing through the Silver Valley dropping snow, National Weather Service meteorologist Todd Carter said there hasn't been enough lasting cold, snowy weather to make the snow stick, even in the higher elevations.
"This November we've been kind of on the warm side if you haven't already noticed. In late October we got a little bit of snow in the mountains and everybody was really happy about that, but since then, it's been fairly warm, unfortunately, so we're starting out at about zero (inches)," Carter said.
Carter said that while we're currently expected to experience normal to slightly warmer temperatures for the next few weeks or so, the next storm will be roughly over the weekend, potentially bringing in more precipitation to fill the slopes.
"It's still looking a little bit on the warm side for Lookout, with light accumulations of snow by the end of the weekend and then it gets dry again," Carter said.
He said that while the immediate snow forecast is light, there is always the possibility that conditions will shift and we'll get colder air, colder storms that allow for enough cold air in the mountains to get some snow and keep it.
"With El Niño kind of looming and getting stronger, whether that holds true in the deepest parts of winter right now, that's hard to say, but right now at this point in time, it doesn't look like an early surge of snow for the mountains," Carter said.
Lookout Pass Ski and Recreation Resort is located in Mullan off Interstate 90 Exit 0 by the Idaho/Montana state line. 
Santa Ski and more
Once the skiing season kicks off in earnest, Sawyer said that the Santa Ski and other holiday fun are planned in December. 
"Right now, we're focused on our season pass opening, but we're going to do our dress like Santa and ski event on Dec. 23," Sawyer said. 
Adults using the slopes can dress up as Santa, Mrs. Claus, or one of his helpers. The proceeds from the event will be donated to provide Christmas presents to kids in need in the local towns of Mullan, Wallace, Osburn and Kellogg.
On Dec. 31, Lookout Pass will host the torchlight parade. Participating adults will make their way on skis with a torch on a bamboo pole.
"It's a fun event to watch from the base as well as participate in," Sawyer said.
Snow bowling for kids is another tradition that Sawyer looks forward to each year.
"Parents get to put their kid in a saucer and hurl them and try to get a strike. We have a little slope with a gentle grade that we construct for this event, and we have inflatable bowling pins down there so they can try to knock over them all," Sawyer said.
Recent Headlines
---