Pottsviile Park receives RAC grant for toilets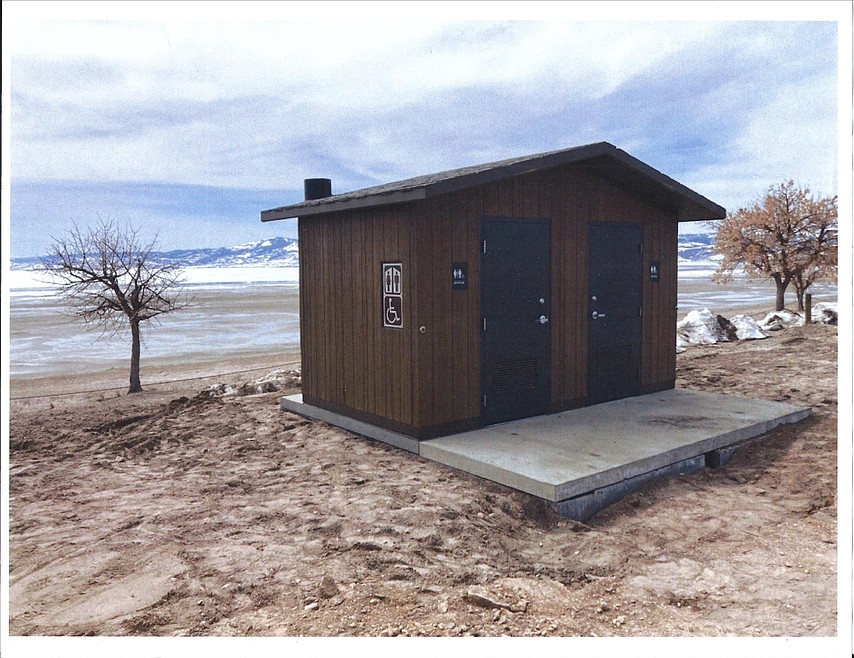 East Shoshone Park was recently awarded a RAC grant through the United States Forest Service that will be used to place two new vault toilet restroom facilities at the park. The facilities will be similar to one that is pictured here.
Courtesy photo
MULLAN –– Under the watchful eye of the Pottsville Seven, East Shoshone Park is being restored to its former glory. 
Earlier this month, the group announced that they had received a $135,063 RAC grant from the United States Forest Service that will be used to replace the aging restroom facilities with two, 1,000-gallon vault toilets. 
USFS Recreation Management Specialist, Jedediah (Jed) Friedman submitted the grant on behalf of the Seven, as well as the Shoshone Board of County Commissioners, and has been working with the groups during their restoration work in the park. 
RAC grants or Resource Advisory Committee grants have been an invaluable resource in Shoshone County over the years for things like dumpsters, restrooms, law enforcement, and road striping along the North Fork and St. Joe regions of the county. 
After inspecting the current facilities, the Environmental Protection Agency called them 'cesspits' that had to be replaced. 
As they have done with all of their projects at the park, the Pottsville Seven will be relying on volunteer help to demolish and dispose of the old facilities. 
The new structures will be placed on the north side of the South Fork Coeur d'Alene River near both of the park's kitchen structures. 
"These new vault toilets will provide safe and accessible facilities for those with mobility issues and provide space for a parent/guardian to assist a child or an elder," Pottsville Seven member Jim See said. "Safe, clean, and accessible restroom facilities are a necessity for all users of the park."
Shoshone Park, known colloquially as Pottsville Park, is located five minutes outside Mullan, and three miles from Interstate 90. It is one of the few year-round accessible developed recreation sites in the Coeur d'Alene River Ranger District and is administered by the Idaho Panhandle National Forest (IPNF).
Pottsville Park regularly plays host to children's birthday parties, Special Olympics, local club meetings and events, family picnics, weddings, reunions, and pick-up games of soccer and frisbee. 
In 2021, the Pottsville Seven was formed with the goal of restoring the park. They are made up of members See, Ron Hayes, Bud Koski, Kjell Truesdell, Sam Davis, Nick Hogamier, and Mitch Alexander. They operate as a division of the Mullan Community Foundation, a nonprofit organization. 
"This grant and the restrooms it funds is a great step to realizing our ultimate goal of rehabilitating Pottsville Park for present and future generations," Hayes said. 
Recent Headlines
---