Wallace Turkey Trot touts food bank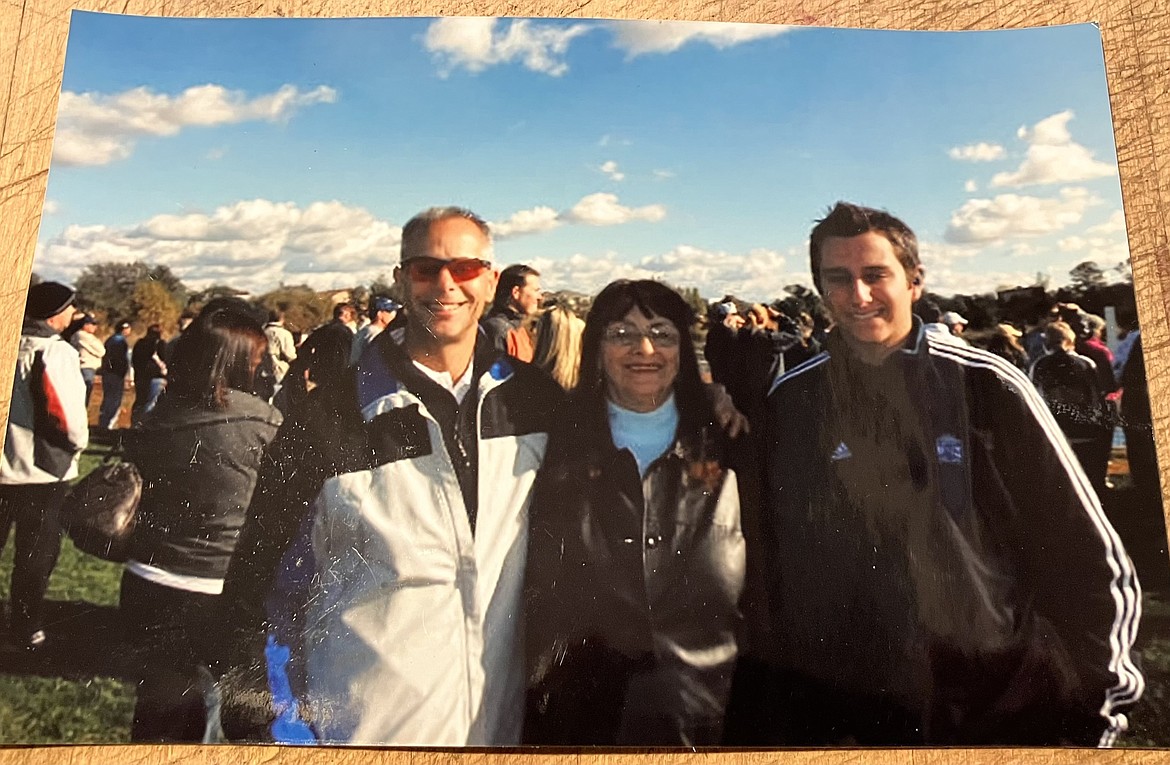 Wallace Food Bank Director Michael Hoffman took his inspiration for the Silver Valley event from the Sacramento Run to Feed the Hungry. In this photo from the 2011 Sacramento Turkey Trot, Michael Hoffman had just run the 10k, and his mother, Jean Hoffman, and his son, Matthew Hoffman had walked the 5k event.
Courtesy photo
WALLACE — This Thanksgiving, it's all about feeding those in need as the Wallace Food Bank hosts a fun run called the Turkey Trot.
The 5K run/walk event is for all ages and will raise money and collect nonperishable items for local residents in need. Inspired by the annual Sacramento Turkey Trot, Wallace Food Bank director Michael Hoffman was excited to put his running and cross country coaching background to use with an informal race.
"I had been thinking about it for a while, 'Let's do something for Thanksgiving.' My friend started an event with maybe 20, 30 people and it's grown into the biggest turkey trot event in the country," Hoffman said.
The Wallace event is expected to be a far more modest draw than the $3 million raised for the Sacramento race, but Hoffman hopes to instill a new local tradition while helping stock the food bank during the winter months.
"Let's do something here, but way smaller. So I came up with 'run to feed the need' for the race. The whole thing is not about just Wallace, it's about helping people whatever their circumstances. We don't judge," Hoffman said.
He consulted with Emma Stayduhar, the race director for the Huckleberry 5K fun run to keep things safe in line with other local races.
"We're keeping it really small-scale. It's a walk/run. It's not a timed event. If we get 20 people, I'm extremely happy. If we get 40-50 people, I'm ecstatic. I am so honored and blessed to be able to help. We're here to serve the whole Silver Valley and Shoshone County. It's just all about trying to feed people," Hoffman said.
Keeping things light and silly while supporting an important cause is the tone the Wallace Food Bank hopes to set for future 5K races.
The course will use the bike trail with the food bank canopy in place to mark the start and end spot by Wallace JR/SR High School entrance to the bike trail. Trotters will go up and down the hill three times to finish the race.
After the race, food bank volunteers will switch gears and host a meal for locals at the Wallace Elks Lodge from 1 to 4 p.m. at 419 Cedar St., Wallace.
"We have a Thanksgiving dinner and we're hoping to feed minimally 200 people," Hoffman said.
Turkey Trot
The food bank's Turkey Trot is a 3 mile fun walk/run for all ages beginning at 10 a.m. Thanksgiving day Thursday, Nov. 23. The first 25 people to sign up receive a Wallace Food Bank branded cinch bag and bandanna. 
Advance registration is $7, or five items of nonperishable food, or $10 or seven items of nonperishable food on the day of the event. Email wallacefoodbank@gmail.com to register.
Distribution information
Food distribution takes place from 3 to 5 p.m. on the first Thursday of the month at 214 N. Second St., Osburn and from 3 to 5 p.m. on the third Thursday of the month at 215 Fourth St., Wallace.
How to help
Donations can be made to the Wallace Food Bank through the Stardust Motel during lobby hours at 410 Pine St, Wallace. For more information, contact Michael Hoffman at 916-764-9252 or email wallacefoodbank@gmail.com.
Recent Headlines
---