'Operation Snowstorm' intercepts mailed drugs in Wallace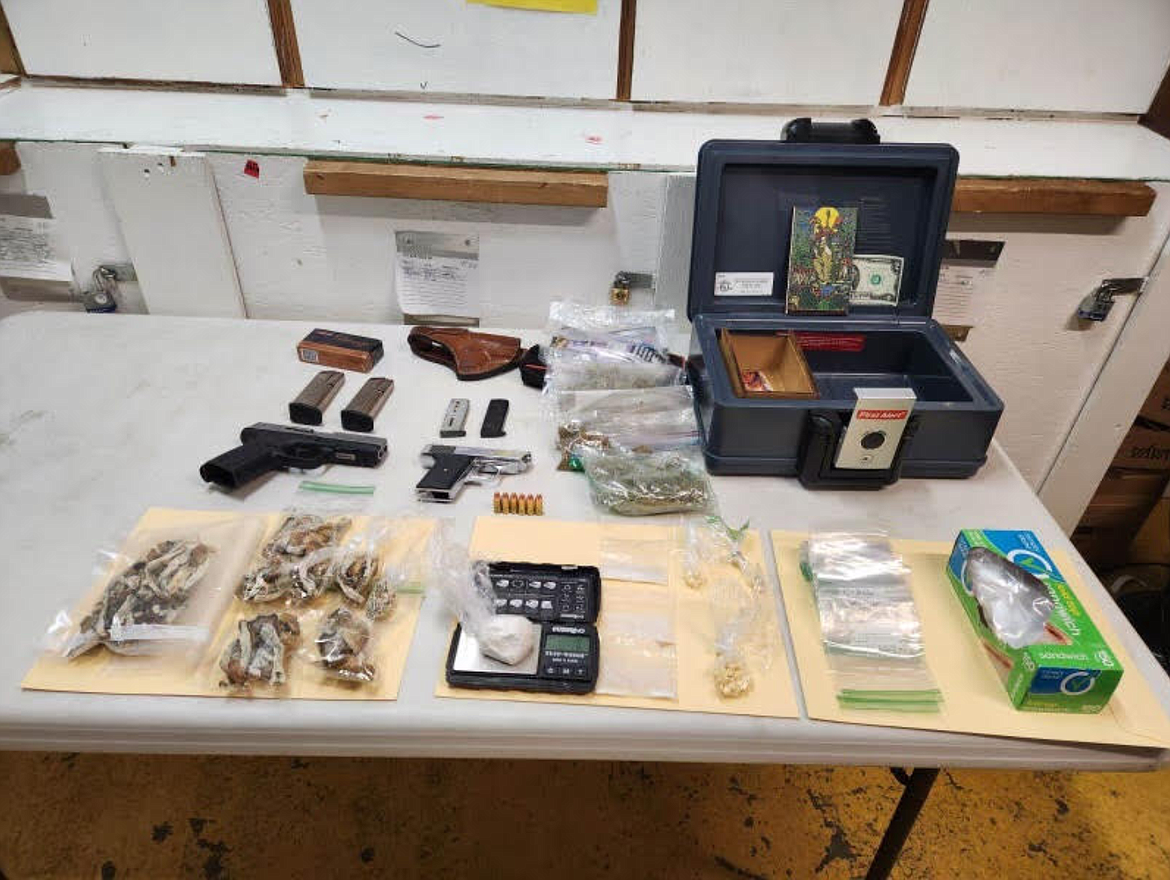 Shoshone County Sheriff's Office in partnership with the Silver Valley Task Force conducted a drug tracking investigation with help from the U.S. Postal Service. Operation Snowstorm culminated in three arrests at a Wallace residence involving trafficking charges. Benzos, mushrooms, weed, and meth were also seized in the raid.
Courtesy photo
WALLACE — A three-week investigation the Silver Valley Drug Task Force dubbed "Operation Snowstorm" ended Monday with a raid of a residence in Wallace, and the arrest of three Wallace men. 
The bust involved a tracked package mailed across state borders containing cocaine and marijuana. Pinehurst Police assisted with the raid at the Wallace residence.
Benzodiazepines (depressants like Valium and Xanax), cocaine, meth, marijuana and psilocybin (psychedelic) mushrooms were seized after the package was delivered to the residence. 
Shoshone County Sheriff's Capt. Seth Green said his contacts with the U.S. Postal Service were integral in procuring federal warrants to bring in a canine investigation of the package and then a second warrant to search the package. 
"They had seized the package because we already had information. The Shoshone County canine alerted to the package and sure enough, we located a trafficking amount of cocaine and weed inside it," Green said. "We did a controlled delivery, where they actually delivered said package to the actual residence, and then we raided the residence where the delivery was made, locating a bunch of other drugs and weapons that were in the residence as well."
This tracking is something that is often referred to as interdiction and in Green's experience, cocaine, marijuana and meth are the drugs most commonly identified.
"It was just a few blocks from the actual sheriff's office," Green said. We almost could have walked there." 
Gabriel Cyrus Saenz, 25, was arrested and charged with drug trafficking in cocaine, possession with intent to use a controlled substance, delivery, possession, or manufacture of a controlled substance, possession of paraphernalia related to a controlled substance with intent to use.
Saenz also received a later charge of being a fugitive from justice following the arrest. The additional charge stemmed from a prior warrant out of Colorado for multiple felony charges. There is a possibility that for the individuals arrested, firearms charges may be added at a later time.
Jeremy Paul Snyder, 46, was arrested and charged with two counts of possession of a controlled substance schedule II, use or possession of drug paraphernalia, and three charges of frequenting drug paraphernalia.
Danny R. Nix, 65, faces charges for possession of a controlled substance schedule II, use or possession of drug paraphernalia, and three charges of frequenting drug paraphernalia.
"I reached out to one of the postal inspectors there who worked with us to track this package out of California. Our main individual actually traveled to California and mailed this package himself," Green said. "We just tracked it, seized the package in transit, and then we ran the dog in coordination with them. And on their side, they do all of the federal portions. They're really willing to work with law enforcement because it's not something that they want to see."
In Green's experience having and maintaining a good working relationship with the Postal Service is critical to running this kind of operation. Because postal workers are very busy and are heading into their busiest season of the year, law enforcement having a good rate of success with this kind of operation helped bolster confidence in the working relationship and speed up the process. 
As the Shoshone County Sheriff's Office and Silver Valley Drug Task Force continue to focus on drug trafficking in the area, Green hopes to add package interdiction to something local law enforcement gains more experience in.
"It took three weeks of preparation because it's a lot easier because the drugs are in transit. It hasn't really been done in this region, but it's something that I would like to focus on and work with my guys to get these avenues of drugs coming into our communities as well," Green said.
The Silver Valley Drug Task Force is made up of law enforcement from the Kellogg Police, Osburn Police, Pinehurst Police and Shoshone County Sheriff's Office.
Recent Headlines
---