Silver Valley Sports: Sep. 25 – Oct. 1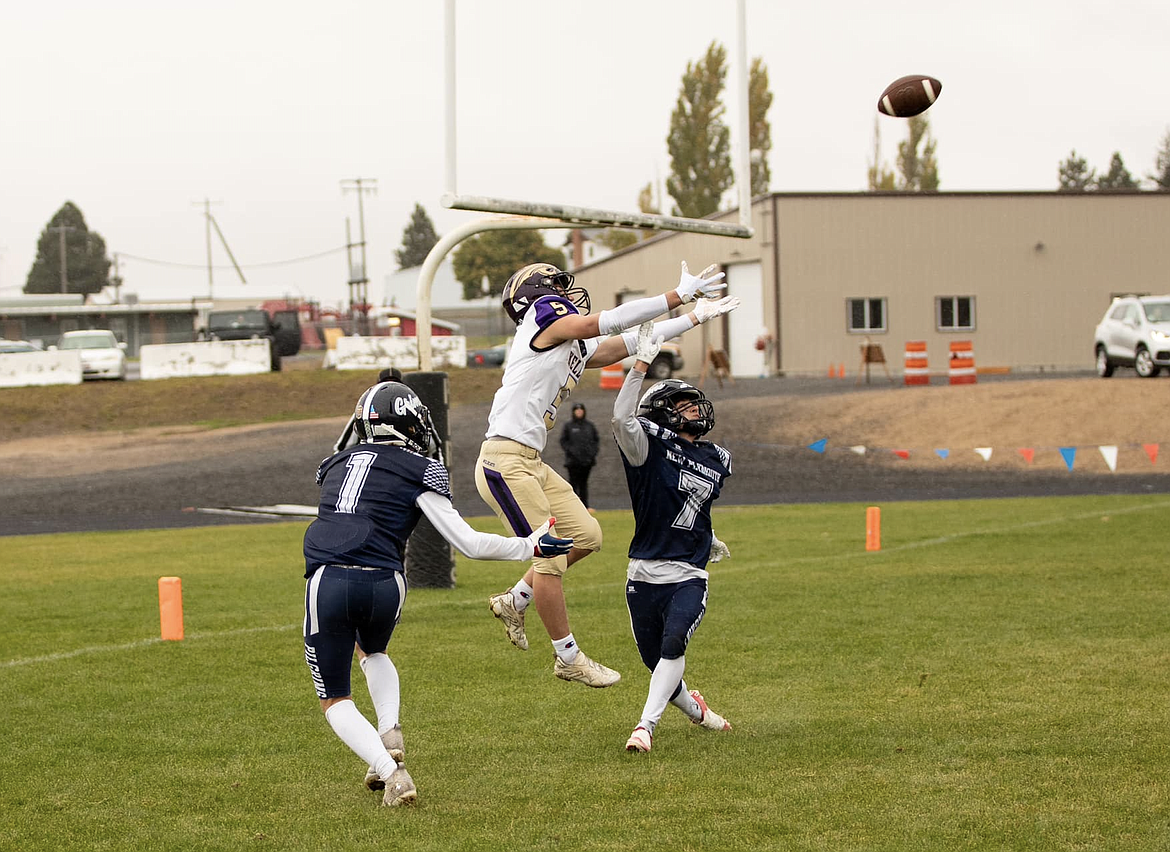 Kellogg's Jaeger Hall goes up for a difficult catch in the endzone during the Wildcats' 27-8 win over New Plymouth last week.
Photo courtesy of RUSSELLE STOREY PHOTOGRAPHY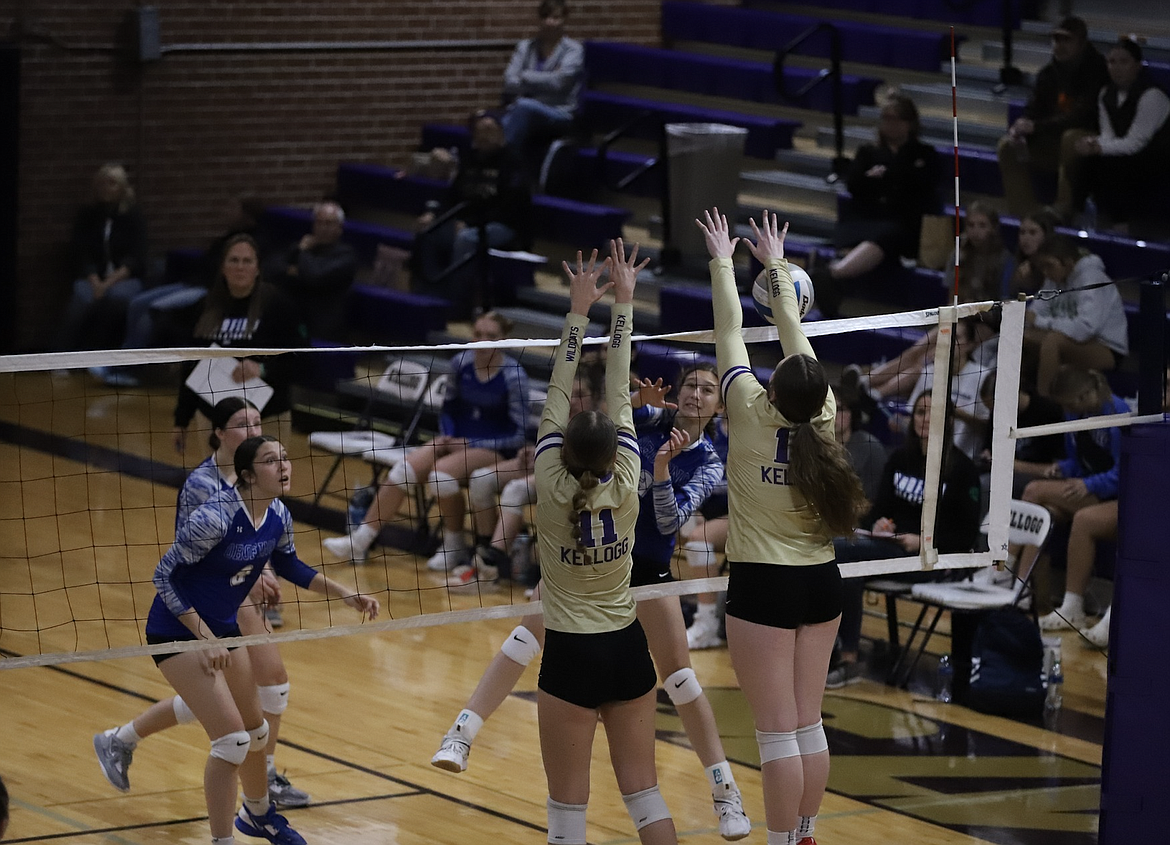 Maddie Cheney (12) and Dani Schillereff (11) block an Orofino hit during last week's Central Idaho League win over the Maniacs.
Previous
Next
|
October 3, 2023 1:00 AM
KELLOGG FOOTBALL
Kellogg 27
New Plymouth 8
COTTONWOOD — The Wildcats forced six turnovers in their win over of the Pilgrims on a cold and wet day at Prairie High.
"Defensively, this is the best we've played all year," head coach Dan Davidian said. "We played good up front, we had good linebacker play, our secondary was solid and didn't allow them to throw on us at all."
Senior Reed Whatcott passed for over 200 yards and three touchdowns with one interception.
"Reed was terrific today," Davidian said. "He was composed and made the right reads at the line of scrimmage when it was necessary. He showed a ton of leadership."
Kellogg's opening drive was surgical, going 70 yards in 12 plays, punctuated by a 20 yard grab by senior Jaeger Hall.
Kellogg forced a safety on New Plymouth's opening drive.
Junior Tom O'Neill picked off Pilgrim quarterback Colton Frates early in the second quarter and returned it 55 yards for a Wildcat touchdown.
After going into the half up 21-0, Kellogg leaned on the legs of Whatcott and sophomore Andrew Lewis to drain the clock.
Junior Coleman Blalack caught two touchdowns, one in the second quarter and one late in the fourth.
New Plymouth remained scoreless until the final minute when junior Payton Travis scored from the one-yard line.
Kellogg (2-4, 1-1) now has some control over their postseason destiny - should they win out in their next two games they could be in line for an at-large berth into the state playoffs.
However, they're going to have to do it on the road at Bonners Ferry and then Grangeville.
"In my four years here, this was our biggest win," Davidian said. "Today's win showed our continued progression this season and we know that it's going to come down to the big one against Grangeville."
Kellogg is on the road again next Friday night at Bonners Ferry.
Kellogg 8 13 0 6
New Plymouth 0 0 0 8
Scoring
First Q
(KEL) - Whatcott 20yd pass to Hall (conversion failed)
(KEL) - New Plymouth bad snap, safety
Second Q
(KEL) - O'Neill int return 55yds (conversion failed)
(KEL) - Whatcott 12yd pass to Blalack (PAT by B. Vergobbi)
Fourth Q
(KEL) - Whatcott 10yd pass to Blalack (PAT missed)
(NP) - Travis 1yd run (conversion good)
MULLAN FOOTBALL
Mullan/St. Regis 54 Lakeside 32
WORLEY — Senior Kofi Appiah ran for 212 yards and five touchdowns for the Tigers in a North Star League win over the Knights at the Marimn Health Coeur Center.
Lakeside senior Qwincy Hall ran for 223 yards and two touchdowns. The Knights had four turnovers in the game, three via fumble.
John Pruitt ran for 88 yards and two touchdowns for Mullan/St. Regis (6-0, 5-0 NSL), which faces Shelby (Mont.) next Saturday in St. Regis.
Lakeside (3-3, 2-1) faces Wallace next Friday at Sather Field in Silverton.
Mullan/St.Regis 14 20 14 6 — 54
Lakeside 8 8 0 16 — 32
LS — Jarius SiJohn-Moffit 9 run (SiJohn Moffit run)
Mull — Kofi Appiah 29 run (conversion failed
Mull — Appiah 21 run (Appiah run) Mull — John Pruitt 10 run (Pruitt pass from Connor Lulis)
LS — Qwincy Hall 27 run (Hall run) Mull — Pruitt 70 run (conversion failed)
Mull — Pruitt 36 pass from Lulis (conversion successful)
Mull — Appiah 1 run (conversion failed) Mull — Appiah 32 run (Kaleb Park pass from Lulis)
LS — Blaze Callahan 4 run (SiJohn-Moffit run)
Mull — Appiah 29 run (conversion failed)
LS — Liam Hendrickx 2 run (Hall run)
INDIVIDUAL STATISTICS RUSHING — Mull, Appiah 17-212, Pruitt 6-88, Simkins 3-3, Petit 1-(-1), Lulis 2-(-8). LS, Hall 28-223, SiJohn-Moffit 16-110, Callahan 6-51, Dole 6-21, Peone 4-7, Hendrickx 1-2.
PASSING — Mull, Lulis, 7-9–0-152. LS, Hendrickx, 2-4-0-(-1).
RECEIVING — Mull, Park 3-66, Pruitt 3-63, Appiah 1-23. LS, SiJohn-Moffit 1-2, Hall 1-(-3).
WALLACE VOLLEYBALL
POST FALLS — The visiting Wallace Miners wrapped up the Scenic Idaho Conference championship with a 25-15, 25-19, 11-25, 25-19 victory over the Genesis Prep Jaguars on Tuesday night at The Courts at Real Life.
Britany Phillips had an impressive night, with 13 kills, five blocks, and 15 digs. Tia Hendrick chipped in 10 kills, one block, and 12 digs. Megan Hull and Bethany Phillips each earned four aces, and setter Aubrey Birdsell notched 32 assists.
"We played great tonight," Genesis Prep coach Paula Thurston said. "Slowed down in the first set, and lost our lead, but fought back in sets two through four. Wallace is a strong team, and to be able to take a set from them was an accomplishment in itself. Both teams played great and we had some very fun and very long rallies. It was a fun one to be a part of."
Wallace 3, Clark Fork 0
CLARK FORK — Clark Fork fell to the unbeaten Miners 3-0 (11-25, 18-25, 15-25) at Clark Fork High School on Thursday.
"We got some of our mojo back after our win over Mullan," head coach Lyndsie Kiebert-Carey said. "Even though we couldn't take a set from Wallace, the team fought hard and cheered each other on. We hope to keep that energy heading into the final stretch of the regular season."
Leading the Wampus Cats was senior Lilly Reutter who piled up 18 assists and two aces. Amari Printz-Hay also added three aces of her own. Aurora Lane stepped in for Eloise Shelton and posted a team-high seven kills and seven digs. On defense, Piper Scarlett and Amie Matteson had seven and five digs, respectively, for Clark Fork.
KELLOGG VOLLEYBALL
St. Maries d. Kellogg
ST. MARIES — Senior Lily Daniel 33 assists and 10 aces as the host Lumberjacks avenged their only Central Idaho League loss with a 25-22, 25-19, 21-25, 25-23 win over the Wildcats in their annual Pink Out match for breast cancer awareness.
Ava Stancil had 10 kills and 13 digs for St. Maries. Mia Asbury had eight kills and four aces, Naomi Mueller had 13 kills and two blocks.
"Great night of volleyball," St. Maries coach Rachele Fischer said. "It's our homecoming week too, which is always a hard week on us, just a lot going on for the girls and makes it more difficult to focus. It was good to see the team come out strong. Kellogg is a tough opponent for us, and we were able to use our aggressive serving to our advantage, and our hitters were moving the ball around to find areas to score. It would have been good to do it in three, but it was still a good win for us, even in four."
For Kellogg, Maddie Cheney had 12 kills and two blocks, Dani Henrikson 16 assists and four aces, Raven Oertli 14 assists, Brielle Hei 23 digs, and Emily Coe two blocks.
Kellogg d. Orofino
KELLOGG — Maddie Cheney had nine kills and four blocks, and Ragen Oertli 16 assists for the Wildcats in a 25-16, 25-11, 25-19 Central Idaho League win over the Maniacs at Andrews Gymnasium.
Brielle Hei had 14 digs, Dani Schillereff had four aces for Kellogg, which competes in the Linda Sheridan Classic on Saturday in Spokane.
Livia Johnson had 12 digs and seven assists for Orofino.
KELLOGG CROSS COUNTRY
NINE MILE FALLS –– Makai Peak finished second overall as the Wildcats competed at the Lake Spokane Invitational at Lakeside High School.
Peak finished at 17:03 – just six seconds behind the first-place runner. Kellogg's Ryken White rounded out the top 10 with a time of 17:54.
The Wildcats will host the Ben Castro Invitational this Thursday at the Pinehurst Golf Course.
SILVER VALLEY SWIMMING
COEUR d'ALENE — Lake City freshman Eli Shaw notched individual wins in the 100-yard butterfly and 200 individual medley, as well as winning legs in the 200 medley relay and 200 freestyle relay at an Inland Empire League meet at the Kroc Center.
BOYS DUAL SCORES — Lakeland 141, Lake City 111; Coeur d'Alene 119, Lake City 113; Lakeland 146, Coeur d'Alene 122; Coeur d'Alene 157, Moscow 63; Coeur d'Alene 168, Timberlake 9; Coeur d'Alene 170, Wallace 24; Lake City 128, Kellogg 0; Lakeland 188, Kellogg 0; Coeur d'Alene 170, Kellogg 0; Moscow 98, Wallace 37; Timberlake 16, Kellogg 0; Wallace 43, Kellogg 0; Wallace 41, Timberlake 16; Moscow 98, Timberlake 14; Lakeland 187, Wallace 21; Lakeland 186, Timberlake 11; Lakeland 176, Moscow 67; Lake City 128, Wallace 25; Lake City 128, Timberlake 11; Lake City 125, Moscow 63.
GIRLS DUAL SCORES — Lakeland 176, Timberlake 7; Kellogg 22, Timberlake 9; Coeur d'Alene 215, Moscow 52; Coeur d'Alene 224, Timberlake 5; Coeur d'Alene 224, Wallace 6; Lake City 202, Kellogg 8; Lake City 167, Coeur d'Alene 116; Lakeland 176, Kellogg 11; Moscow 120, Kellogg 13; Coeur d'Alene 204, Lakeland 74; Kellogg 22, Wallace 14; Lake City 192, Lakeland 72; Lake City 199, Moscow 54; Lake City 202, Timberlake 5; Lakeland 146, Moscow 88; Lakeland 176, Wallace 7; Moscow 122, Timberlake 7; Moscow 122, Wallace 12; Wallace 16, Timberlake 14; Coeur d'Alene 224, Kellogg 8; Lake City 202, Wallace 6.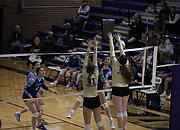 Recent Headlines
---