Silver Valley Sports Oct. 2 – Oct. 8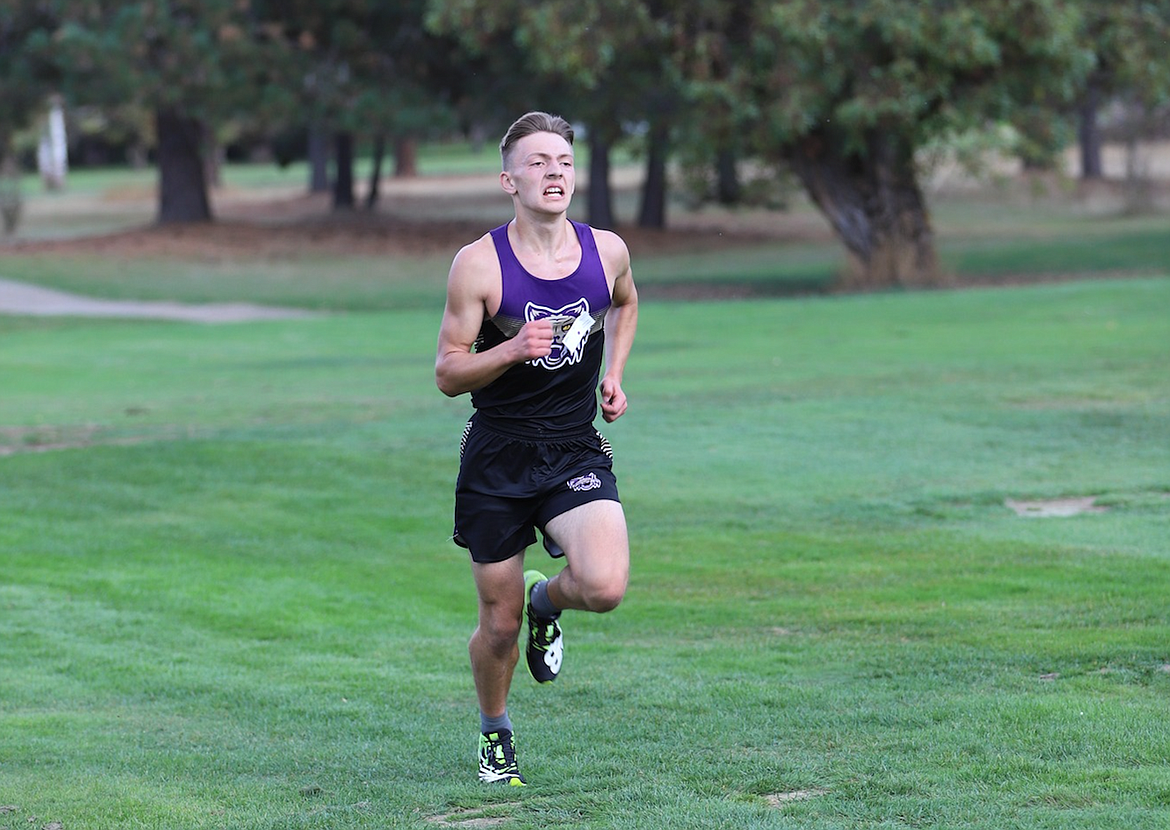 Kellogg runner Makai Peak hits another gear as he approaches the finish line at the Ben Castro Invitational at Pinehurst Golf Course.
Photo via KELLOGG WILDCATS LIVE
|
October 10, 2023 1:00 AM
KELLOGG VOLLEYBALL
Kellogg d. Timberlake
KELLOGG — Ragen Oertli had 13 assists, Brielle Hei 11 digs for the Wildcats in a 25-5, 26-24, 25-14 win over the Tigers at Andrews Gymnasium.
Maddie Cheney had 10 kills, Emily Coe seven aces and 1 block, Paige Yrjana one block, and Mya Reynoldson one block for Kellogg (7-1).
Jozee MacArthur had nine assists and four kills for Timberlake (3-10). Isabelle Torr had six digs, and Amarijana Oliveri had three aces.
Kellogg d. Grangeville
GRANGEVILLE — Brielle Hei had 18 digs, Dani Hendrickson 15 assists for the Wildcats in a 25-13, 17-25, 25-19, 25-16 Central Idaho League win over the Bulldogs.
Maddie Cheney had 13 kills, Emily Coe five blocks, and Macy Jerome three aces for Kellogg (8-1, 5-1 CIL).
Kellogg d. Orofino
OROFINO — Paige Yrjana had 11 kills, 10 digs, and one ace for the Wildcats in a 25-17, 25-20, 25-20 Central Idaho League win over the Maniacs.
Emily Coe had three blocks, Zoe Brooks had 18 assists for Kellogg (9-1, 6-1 CIL).
Should they knock off Priest River this week, the Wildcats will lock up at least a share of the Central Idaho League championship.
WALLACE VOLLEYBALL
Wallace d. St. Regis
ST. REGIS, Mont. — Aubrey Birdsell had 18 assists and three aces for the Miners in a 25-11, 25-17, 25-4 win over the Tigers.
Britany Phillips had eight kills and seven digs, Tia Hendrick had six kills and one block and Bethany Phillips had one block for Wallace.
Wallace d. Mullan
WALLACE — Megan Hull had 13 kills for the Miners in a 25-15, 26-24, 25-15 nonleague win over the Tigers at Kirby Krulitz Court.
Tia Hendrick had eight kills, three aces and eight digs, Aubrey Birdsell had four aces and 31 assists, Bethany Phillips had two blocks and five kills, and Britany Phillips had 12 digs for Wallace.
Wallace second at Genesee tourney
GENESEE — The Miners beat Deary, Colton, and Kendrick, before falling to Genesee in the championship match of the Pea and Lentil Spikeoff.
KELLOGG FOOTBALL
Bonners Ferry 20 Kellogg 14
BONNERS FERRY — The Wildcats had a shot to tie the game at 20 with 15 seconds left in the game, but quarterback Reed Whatcott couldn't link up receiver Wyatt Storey.
The Badgers opened the game with a long scoring drive and then the Wildcats fumbled the ensuing kick return. The Wildcats had their chances though – including two drives that stalled out in the redzone.
Kellogg (2-5) travels to Grangeville next Friday for an important Central Idaho League matchup.
The Wildcats will have a chance to force a three-way tie in the league if they can pull out a win – a loss would effectively end their hopes of qualifying for the postseason.
WALLACE FOOTBALL
Wallace 22 Lakeside 20
SILVERTON — Freshman quarterback Henry Larson connected with junior wide receiver Julian Davis on a 44-yard touchdown in the second quarter as the Miners held off the Knights in a North Star League game at Sather Field.
Larson also had a 1-yard touchdown run and a TD pass to Wyatt Ritchey for Wallace (3-3, 2-3 NSL).
The Miners are still in the mix for one of the two playoff spots that are earmarked for District I, but they'll need to win on the road at Clark Fork this Friday.
MULLAN/ST. REGIS FOOTBALL
Shelby (Mont.) 59 Mullan/St. Regis 42
ST. REGIS, Mont. — Senior Kofi Appiah had three touchdowns in the first half for the Tigers in a loss to the Coyotes at St. Regis High.
"It was a tight back-and-forth slugfest until late," Mullan/St. Regis coach Stetson Spooner said. "Shelby played well and the sportsmanship was top-notch. Some good things happened for us that I think can make us better moving forward. Oftentimes, we try to find well-coached squads that will push us as hard as possible to help prepare us for those southern teams during the postseason. It was a good football game."
Senior John Pruitt had two touchdowns for Mullan/St. Regis (6-1), which hosts Lakeside on Friday for a chance to clinch the North Star League championship at John Drager Field in Mullan.
Shelby is 4-3.
KELLOGG CROSS COUNTRY
PINEHURST –– The Kellogg boys won the Ben Castro Invitational at the Pinehurst Golf Course. Makai Peak was the event's overall champion with a 16:26 finish – he was joined in the top 10 by teammates Ryken White and Nolan Harju who finished with times of 17:44 and 18:17 respectively.
On the girls side, Kellogg's Zoie Lawson finished fourth overall.
TEAM SCORES (BOYS)
Kellogg 39, 2. Priest River 43, 3. IC Academy 60, 4. Bonners Ferry 69

10/7
Sandpoint boys win at Inland Empire Challenge
LEWISTON — Sandpoint senior Nathan Roche finished fourth in 16 minutes, 2 seconds, one of three Bulldog boys in the top 10, en route to the team title at the Inland Empire Challenge at the Lewis-Clark State cross country course.
Senior Daniel Ricks was ninth, sophomore Paul Kent 10th for the Bulldogs, who won the meet with 56 points.
Freshman Caleb Royce was third for Timberlake, which was second.
For the Wildcats, senior Makai Peak finished just outside the top 10, with a 13th overall finish and a time of 16:35.
Post Falls sophomore Talia Bonville was the top local finisher in second.
Moscow won the girls team title with 50 points, followed by Sandpoint with 66.
BOYS TEAM SCORES — 1, Sandpoint 56. 2, Timberlake 123. 3, Moscow 151. 4, Lake City 155. 5, McCall-Donnelly 166. 6, Lakeland 191. 7, Post Falls 226. 8, Cd'A Charter 240. 9, Garfield-Palouse 244. 10, Grangeville 260. 11, Ridgevue 261. 12, Logos 265. 13, Kellogg 266. 14, Lewiston 279. 15, Pullman 327. 16, Clarkston 384. 17, Clearwater Valley-Kamiah 438.
TOP 10 — 1, George Speirs, McCall-Donnelly, 15:38. 2, Ben Browning, Kimberly, 15:43. 3, Caleb Royce, Timberlake, 15:59. 4, Nathan Roche, Sandpoint, 16:02. 5, Nathan Russell, Cd'A Charter, 16:07. 6, Logan Anderson, Lake City, 16:15. 7, Jacob Barnhart, Timberlake, 16:18. 8, Garrett Hunt, Challis, 16:18. 9, Daniel Ricks, Sandpoint, 16:25. 10, Paul Kent, Sandpoint, 16:28. GIRLS TEAM SCORES — 1, Moscow 50. 2, Sandpoint 66. 3, Timberlake 102. 4, Post Falls 104. 5, Garfield-Palouse 128. 6, Lake City 128. 7, Cd'A Charter 133. 8, Ridgevue 147. 9, Grangeville 216. 10, Lakeland 231. 11, Clarkston 263.
TOP 10 — 1, Sara Casebolt, Logos, 18:34. 2, Talia Bonville, Post Falls, 18:48, 3, Annabelle Carr, Cd'A Charter, 18:53. 4, Vanessa McLachlan, Timberlake, 19:42. 5, Lily Richardson, Sandpoint, 19:52. 6, Cora Crawford, Moscow, 19:59. 7, Grace Rookey, Sandpoint, 20:11. 8, Indigo Wulfhorst, Moscow, 20:31. 9, Helen Oyler, Cd'A Charter, 20:34. 10, Ashleigh Hightree, Garfield-Palouse, 20:35.
Recent Headlines
---