Silver Valley volleyball coaches talk state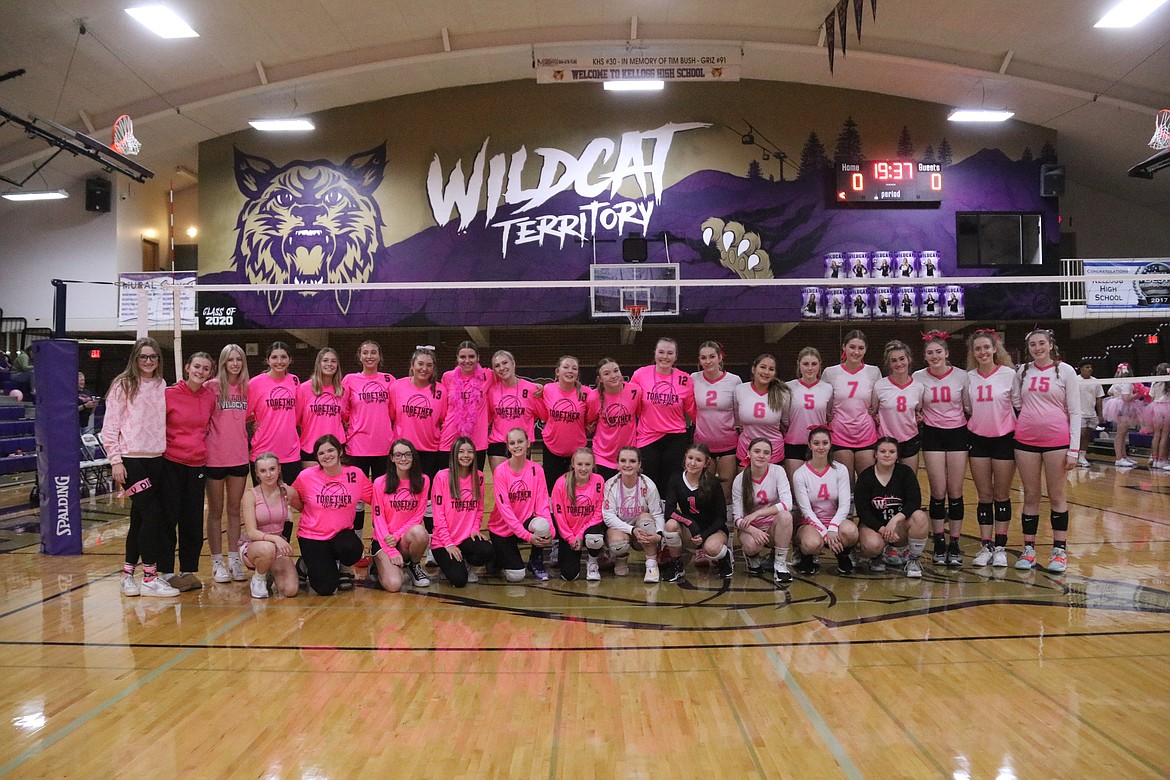 The Kellogg and Wallace High School volleyball teams took a group photo during their annual Dig Pink event a few weeks ago at Kellogg High School. Both teams had exceptionally successful seasons, won their leagues, and district tournaments. The Wildcats (in pink shirts on the left) will be playing in the 2A State Tournament this weekend, while the Miners will be in the 1A D1 Tournament.
Photo by MELISSA MAYBERRY
This past week, the Kellogg and Wallace High School volleyball teams punched tickets to their respective state tournaments.
But unlike previous seasons where it felt like just making it to the tournament was a win, this year both teams have championship aspirations.
Both squads navigated competitive seasons and finished as league and district champions.
The Miners, by way of a 23-3 record, were ranked among the top teams in the state and have been seeded fifth in the 1A D1 tournament. Awaiting them is a rematch against one of the three teams who got the better of them this season in Genesee.
By virtue of their difficult league schedule, Kellogg has been seeded second in the 2A tournament and will play Firth in the opening round.
Kellogg head coach Steph Batchelder has qualified for the state tournament in five of her six seasons leading the Wildcats; Meanwhile, this will be Katie Bauer's third trip in the past four seasons.
This year, the tournaments will be played in North Idaho, with the 2A tournament being held at Lakeland High School in Rathdrum, and the 1A D1 tournament at Lewis-Clark State College in Lewiston.
Both of these coaches took some time to answer a few questions for the News-Press before the state tournaments.
-What about this season feels different than previous years?
Batchelder: This season feels different because we're more unified as a team. The girls get genuinely excited no matter who is scoring the point, making the save, or blocking the ball. It also feels different because of how deep we are. I can switch girls to many different rotations and they are used to a lot of different rotations – We can flip and look like a whole new lineup. That's hard to prepare for.
Bauer: This season I feel like we have the most supportive and cohesive team I have coached. Nobody is selfish, everyone knows their role, and the bench is loud and fired up. They are silly and fun, but they also know how to flip and get serious.
-Does minimal or less travel make a difference for you guys?
Bauer: I like to whine that we never get to play state in our backyard, but the players are really excited for Lewiston. It's an easy drive but it still feels special since we all stay at a hotel together.
Batchelder: I'm not sure how big of a difference it will make for us. I think if we could get a large student section it could be a big game changer, I'm just not sure if that will happen or not. Of course, sleeping in your own beds, and keeping somewhat of your normal routine helps. The biggest game changer will be next year when they go to the three-day state tournament.
-Both of these teams are loaded. But if there were three players that you were leaning on most, who are they?
Batchelder: It's hard for me to pick three players that I would lean on the most. I heavily lean on all the girls on the court. Volleyball is the ultimate team sport and you are only as strong as your weakest player. Maddie's (Cheney) power is always needed, but Dani (Henrikson) and Macy (Jerome) both do as well. Brielle's (Hei) defense has been huge for us all year but so has Paige (Yrjana) and Macy. Emily's (Coe) blocking will be a must. I need my setters, without them none of that really matters. I just can't pick three. I pick my whole team.
Bauer: Wow, that's such a tough question to answer, because everyone has been doing so much for us. I think we lean the most on our two senior co-captains, Britany Phillips and Tia Hendrick. Tia has been crushing the ball lately and she's a great all-around player. Britany gets everyone fired up and shuts the other hitters down. She's also a great server. I also have to give love to our setter. Aubrey Birdsell wasn't recognized for all-league, but we wouldn't be able to do what we are doing without her. We had her move to full-time setter so we could utilize Megan Hull as an outside hitter and that has really paid off.
-How excited are you for state?
Bauer: We are incredibly excited. We want another shot at Genesee, and our goal is to make the top four. We have the ability.
Batchelder: We are amped. I feel like we are going in hot. The girls are feeling confident and excited. I truly feel like if we play the same way we did in our championship match at districts we will be bringing home some state hardware. I would dare to say you could be seeing them in another championship match.
The Kellogg Wildcats open the 2A State Tournament against Firth at Lakeland High School on Friday, at 9 a.m.
The Wallace Miners open the 1A D1 State Tournament against Genesee at Lewis-Clark State College on Friday at 9 a.m.
Tickets and passes to the games must purchased ahead of time, contact your high school administration for details.
Recent Headlines
---