Tigers gear up for quarterfinal showdown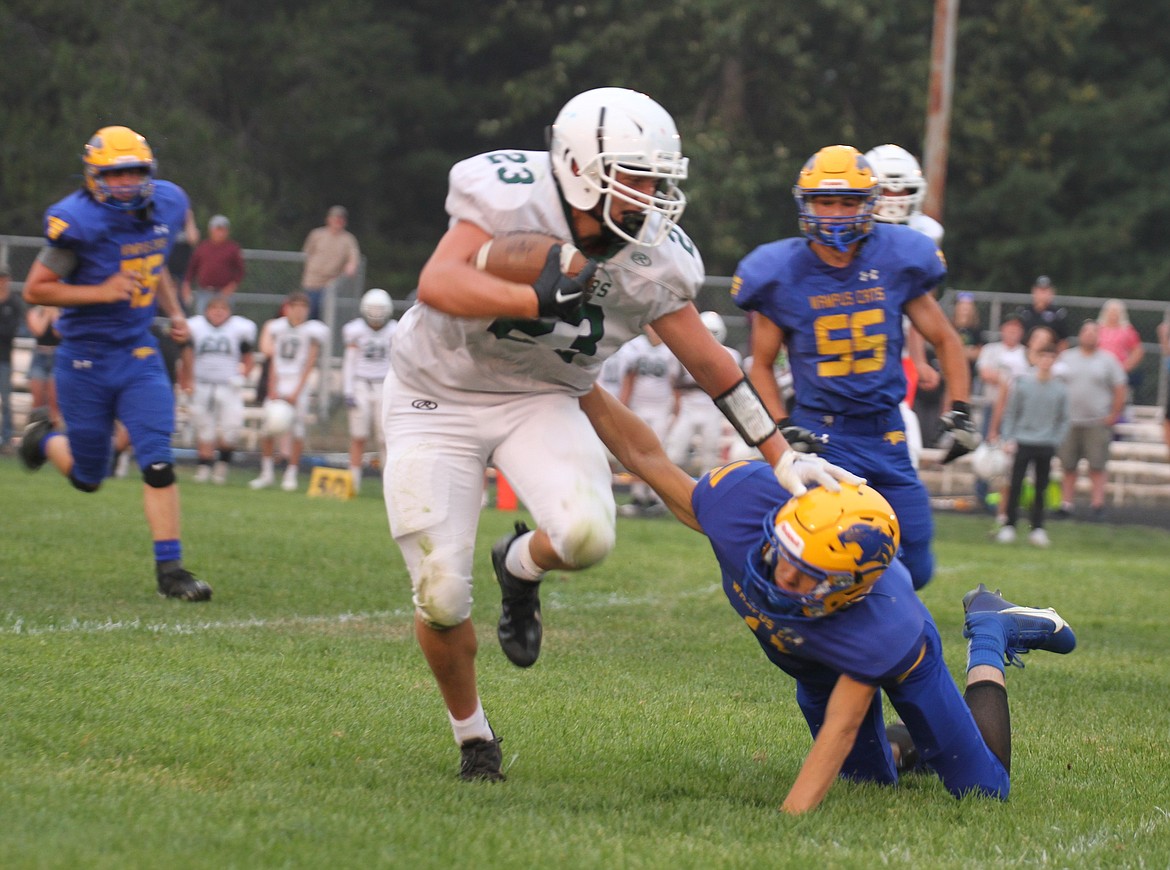 John Pruitt of Mullan/St. Regis stiff arms a Clark Fork defender during a matchup between the Tigers and Wampus Cats. The Tigers host Hagerman this weekend in the state playoffs.
Photo by MAX OSWALD/Hagadone News Network
MULLAN –– Another year, another North Star League championship for the Mullan/St. Regis Tigers. 
After going 8-1, including an undefeated run through their conference opponents, head coach Stetson Spooner and his squad are in familiar territory, hosting a state quarterfinal playoff matchup. 
As it is every year, the 1A D2 division is loaded with talent at the top, and the Tigers' opponents from Hagerman are no different. The 8-2 Pirates have put together a solid season of their own.
As the second seed out of District 4, they had play win a play-in game to earn the right to make the nine-hour trip north, dispatching Mackay 70-0.
Spooner acknowledged his talented opponent but is confident in his team's ability to put points on the board in all phases of the game while also adapting defensively.  
"Our plan against such a talented team is to really try and refine what we do and make it sharp," he said. "Trying to find some new hidden formula that may or may not work for your personnel is risky. We believe that fine-tuning what we do well is the best option for us. I mean, after all, it did get us to 8-1."
In previous seasons, the Tigers have leaned on a steady stream of all-state talent to keep them competitive, but this year the team seems to be less top-heavy and more well-rounded – something that he believes will be to their benefit. 
"This year there is less standing and watching those top guys try and break eight tackles every play," Spooner said. "Now, it's the guys who have watched these studs who seem to be excited to clear the way, make big tackles, and rise when their numbers are called. That being said, John Pruitt is a freak and Kofi Appiah is really fast, so having complimentary pieces around them has given us the feeling of a well-rounded and balanced approach to preparation and scheme." 
Dating back to the 2019 season, the Tigers are an accumulated 25-1 in games where they win the turnover battle – which seemingly makes the path to victory an easy one in theory. But Mullan will have to execute with a few players on the shelf. 
"Right now we are down four seniors and one junior, and four of those guys are starters," Spooner said. Our other guys should be excited to have the opportunity to step up on a big stage against a great team and make some plays." 
Mullan hosts Hagerman at John Drager Field on Saturday, November 4, at 1 p.m. 
Recent Headlines
---