Navy veteran cycling group stops in Kellogg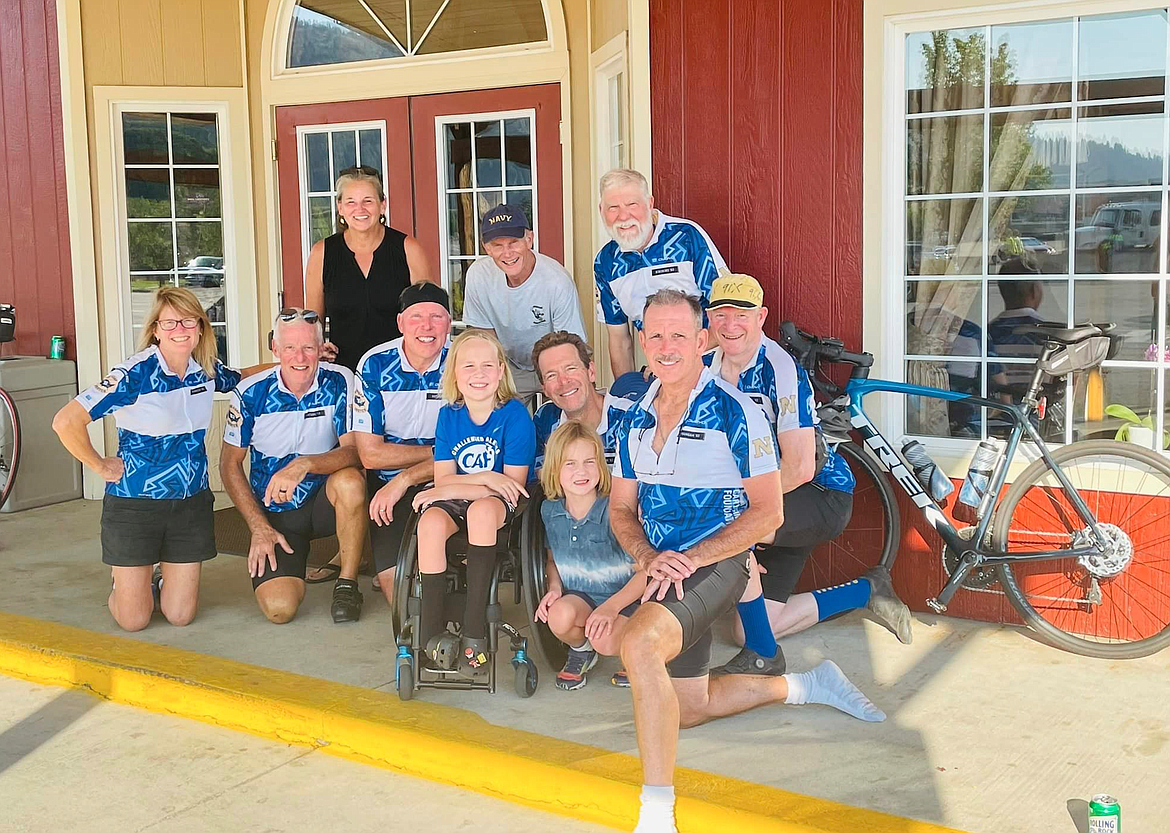 Members of the retired US Navy veteran cycling group Ride Across America stopped at the FairBridge Inn & Suites in Kellogg earlier this week. The group is just days into their 3,000-mile ride across the country, which is scheduled to end in Annapolis, Maryland, on October 5.
Courtesy photo
KELLOGG –– Members of the United States Naval Academy Class of 1983 have undertaken a serious challenge in the name of raising funds for various groups that provide support for veterans.
Together, the Class of '83 is participating in the Ride Across America – a nearly 3,000-mile endeavor that is expected to take 44 days to complete.
The group departed Naval Air Station Whidbey Island on Tuesday, August 22, and if everything goes according to plan, they'll arrive at the US Naval Academy in Annapolis, Maryland, on October 5.
This past Monday, the group of 25 riders departed from Cheney, Washington, and after 101 miles they stopped in Kellogg, where they were put up for the night at the local FairBridge Inn & Suites hotel.
"We were so honored that they chose the Silver Valley and the FairBridge as one of their stops along the way," FairBridge Regional Sales Director Janna Kirk told the News-Press. "We want them to know we recognize them and support their endeavor. FairBridge Inn & Suites was thrilled to provide them with a comfortable night's rest before they hit the trail again towards their next destination at Thompson Falls."
Scott Campbell, one of the veterans participating in the ride, has been blogging about the trip. He discussed how this particular leg of the journey was many of riders' first "century ride," where the riders completed 100 miles or more in one ride, and along with some gradual climbs and headwinds, it was a fairly challenging stretch of the trip.
It wasn't all difficult though, in fact, Campbell was quite taken by the Trail of the Coeur d'Alenes, which brought the riders right to the doorstep of where they would be staying for their night in Kellogg.
On Tuesday morning, the riders pedaled back to Kingston and began their journey to Thompson Falls. Following the North Fork of the Coeur d'Alene River, they made the 65-mile trip over Thompson Pass.
As of press time, the group is scheduled to be arriving in Livingston, Montana.
Once the riders reach Annapolis, they'll be just in time to join more of their Class of '83 graduates for their 40-year reunion, where the plan is to recruit more riders when they make the Ride Across America again in 2033.
If you would like to follow along with the Ride Across America, visit www.navy-cycling.com, or follow them on Instagram or on their Facebook page. A full list of the organizations they are riding in support of, as well as Campbell's daily blog can be found on their website.
Recent Headlines
---