Silver Valley Sports Recap: Aug 28 - Sep. 3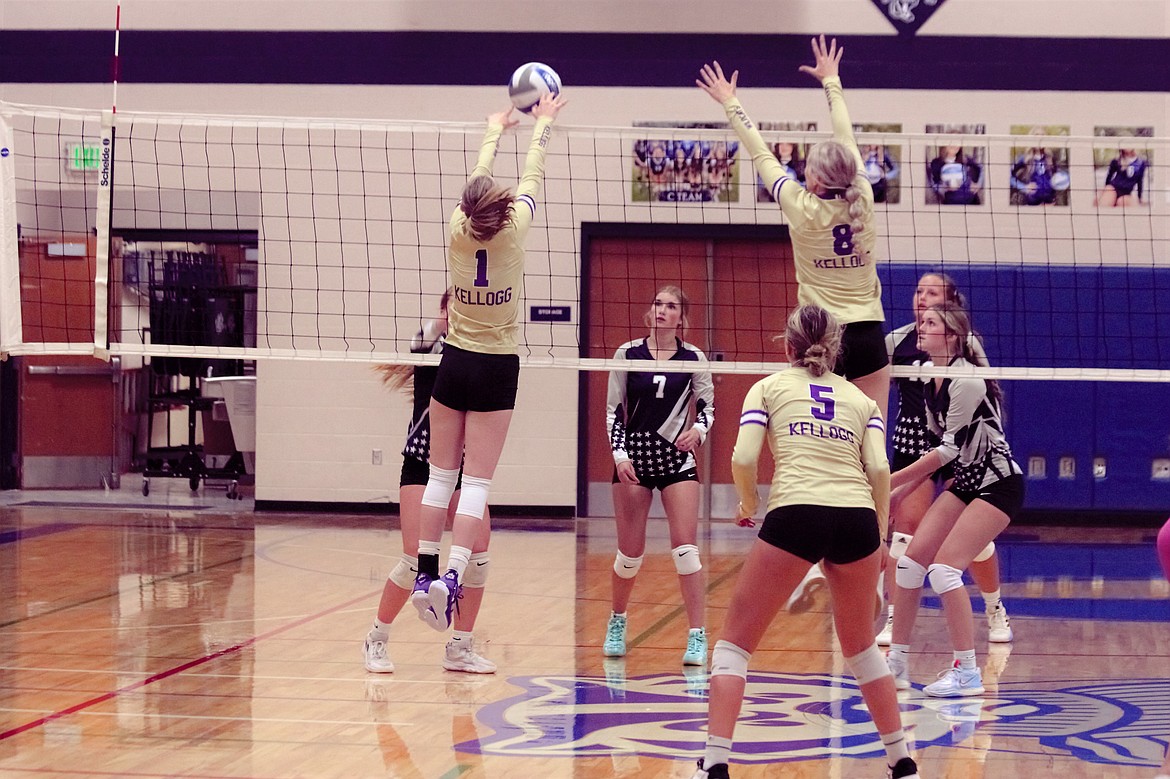 Kellogg's Paige Yrjana (1) and Emily Coe (8) challenge a Bonners Ferry hitter at the net during last week's matchup between the Wildcats and the Badgers. Kellogg won the match in three sets.
Emily Bonsant/Bonners Ferry Herald
|
September 5, 2023 1:00 AM
KELLOGG VOLLEYBALL
Kellogg d. Bonners Ferry
BONNERS FERRY — Maddie Cheney had 15 kills and four blocks for the Wildcats in a 25-23, 25-20, 25-14 win over the Badgers in the nonleague season opener for both schools.
"We made good, smart adjustments," Kellogg coach Stephanie Batchelder said. "We switched our offense a few different times, and it was nice to see we had some options. We really set the tempo and it was good to see our girls stick with it."
Brielle Hei had nine digs, Paige Yrjana four aces and Ragen Oertli 14 assists for Kellogg.
WALLACE VOLLEYBALL
Wallace d. Lakeside
WALLACE — The host Miners downed the Knights 25-21, 25-21, 25-19 in Scenic Idaho Conference play at Kirby Krulitz Court.
Kimberly Pluff had six kills and 11 digs for Lakeside (0-2, 0-1 SIC). Martina Rivera had four kills, three aces, 13 digs and 12 assists, Tylah Lambert three kills, 11 digs and 13 assists, Kylee Shot With Arrow five blocks, Meyha Wienclaw seven blocks and six digs.
"We played a good game against a good team," Lakeside coach Te'a Kolar said. "Wallace has some really good hitters and we pushed hard tonight, but couldn't pull it through."
Wallace d. Kootenai; Wallace d. Deary
HARRISON FLATS — The Miners beat Kootenai 25-21, 25-2, 25-7 and Deary 25-15, 25-11, 25-14 in a tri-match at Kootenai.
Against Kootenai, Aubrey Birdsell had 26 assists and nine aces for Wallace. Megan Hull had 11 kills, Tia Hendrick five aces, Britany Phillips five kills and five aces.
Against Deary, Hendrick had four aces, Phillips eight kills and nine digs, Birdsell 24 assists, Hull 10 kills, Amie Strange seven digs.
WALLACE FOOTBALL
Lakeside 52 Wallace 34
WORLEY — Senior running back Qwincy Hall ran 11 times for 210 yards and three touchdowns for the Knights in a North Star League win over the Miners at the Marimn Health Center.
Jemari Peone had 104 yards and two touchdowns for Lakeside (1-1, 1-0 NSL), which outgained Wallace 469-233 on the ground.
Wallace (1-1, 1-1) junior quarterback Julian Davis ran for 140 yards and two touchdowns.
Next Friday, Lakeside travels to Deary and Wallace plays host to Clark Fork at Sather Field in Silverton.
Wallace 12 14 0 8 — 34
Lakeside 1414024—52
First quarter
Wall — Julian Davis 60 run (conversion failed)
LS — Qwincy Hall 75 run (conversion failed)
LS — Jarius Moffit 87 run (Moffit run) Wall — Jackson Pierce 40 run (conversion failed)
Second quarter
LS — Jemari Peone 64 run (Peone run)
Wall — Pierce 53 run (conversion failed)
Wall — Davis 65 pass from Henry Larson (conversion successful)
LS — Peone 40 run (conversion failed)
Wall — Reece Williams 3 run (conversion good)
Fourth quarter
LS — Liam Hendrickx 65 run (Hall run)
LS — Hall 83 run (Peone run)
Wall — Davis 80 run (Pierce run)
LS — Hall 52 run (Hall run)
INDIVIDUAL STATISTICS RUSHING — Wall, Davis 5-140, Pierce 11-93. LS, Hall 11-210, Peone 2-104, J. Moffit 11-87, Hendrickx 1-65.
PASSING — Wall, Larson, 1-1-0-65, Davis, 0-1-1-0, Pierce, 0-2-1-0. LS, Hendrickx, 0-4-0-0.
RECEIVING — Wall, Davis 1-65. LS, none.
KELLOGG FOOTBALL
North Fremont 48
Kellogg 12
KELLOGG — The Huskies used a rush-based attack to run all over the Wildcats at Teeters Field.
Kellogg quarterback Reed Whatcott connected with Jaeger Hall early in the second quarter to make it a 16-6 deficit.
North Fremont scored the next 24 points to take a 40-6 halftime lead.
The Wildcats were more competitive in the second half after making a few defensive adjustments to counter North Fremont's multi-option scheme.
Whatcott and Hall connected again in the fourth quarter to cap the scoring.
Kellogg (0-2) travels to Newport, Wash., next Friday.
Recent Headlines
---