Like a troubled bridge over water... or something like that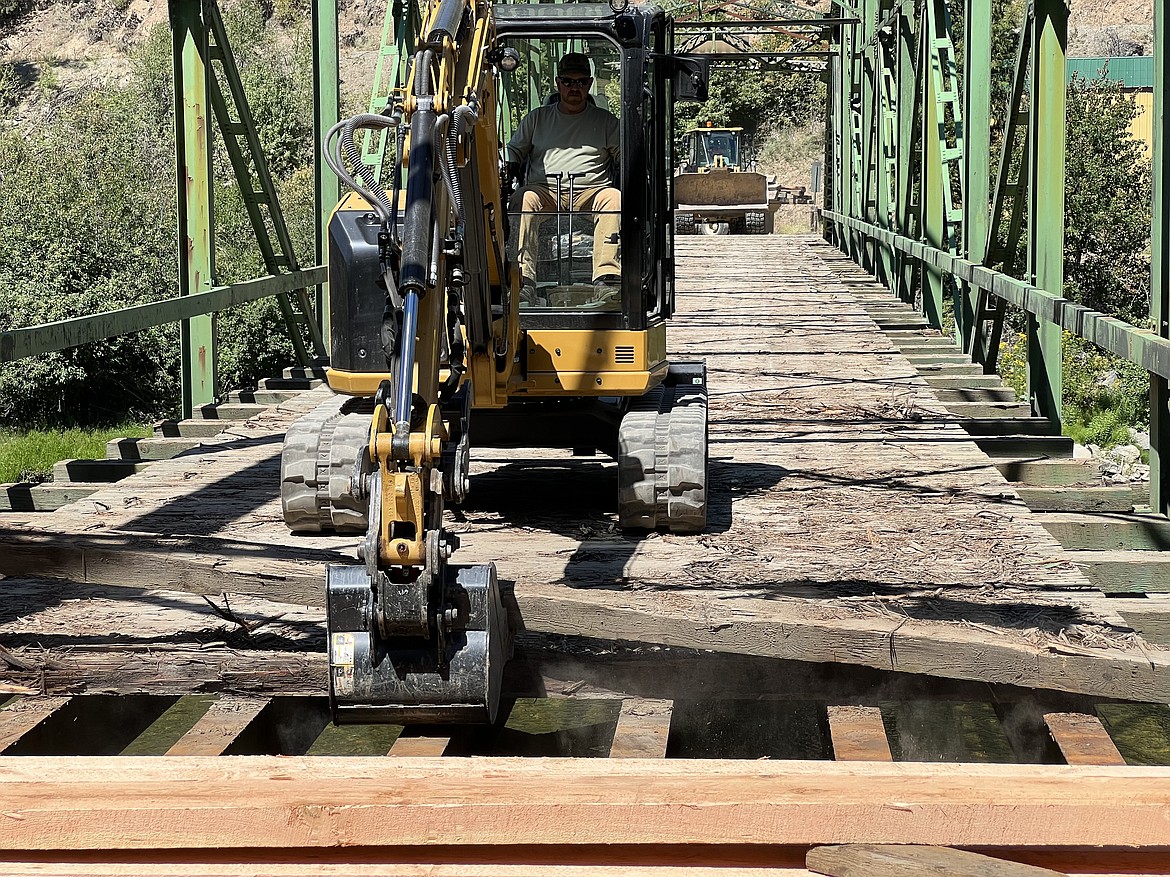 Crews from Shoshone County's Road Department remove old, rotting decking from a bridge in the Marble Creek area of southern Shoshone County. The entire bridge deck and subdeck had to be replaced in August after ITD deemed it in critical condition.
Courtesy photo
An aging bridge in a remote area of southern Shoshone County required an emergency all-hands-on-deck response last month.
The bridge, which crosses the St. Joe River connecting the St. Joe River Road and the Northside Road near the Marble Creek area, needed an entirely new deck after Shoshone County Public Works director Jessica Stutzke had been informed by the Idaho Transportation Department (ITD) that it had been classified as a critical finding.
"All of our bridges are inspected by ITD every 1-2 years, depending on their condition," Stutzke explained. "This bridge was inspected in July, and I was notified that the deck had degraded significantly since the inspection in 2022. They classified it as a critical finding, and all critical findings must be addressed immediately."
The 257-foot bridge was originally built in 1968, the steel truss structure uses a timber deck that also has a subdeck below – as crews from Shoshone County began removing the top layer of decking they discovered that the subdeck was in terrible shape as well.
This situation forced Stutzke to pivot, and thankfully, the county was able to tap into local resources in order to get the project completed quickly and at a reasonable cost.
"Going into the project, we secured the lumber to replace the running deck and a minimal amount of the timber decking," Stutzke said. "When we were on site and started removing the running boards, it was immediately apparent that we were going to have to switch gears to replace all of the decking layers. At this point, we reached out to Whiteman's Lumber and explained the situation, and they immediately filled our order due to the urgency of the situation because the bridge would have to remain closed until we could get the lumber down there."
Shoshone County is divided up into four different road districts, to get the project completed, Stutzke brought employees from all four districts, leaving only skeleton crews to handle regular maintenance in the other areas.
Some of the employees even temporarily relocated to the St. Joe area in order to cut down on travel costs and allow them to work longer shifts.
After working 13-hour days for three weeks in the summer heat, the project was completed and the bridge reopened.
Because the county was able to use its own employees for the project, the only cost incurred by the county was for the materials, at $80,000.
Bridge repairs have been at the forefront for Stutzke's department since before she took it over and even with this large project crossed off of the list there is still a lot of bridge work in the future for Shoshone County.
"We have a total of 79 bridges in our jurisdiction, so there is always work to be done," Stutzke said. "Thankfully, nine bridges will be replaced or rehabilitated through the Leading Idaho Local Bridge Program over the next two years, and two more through the Federal-Aid Bridge Program. We will focus on repairs to some of the other bridge decks in the Marble Creek District next year."
Recent Headlines
---