Donita Day, 83
|
September 8, 2023 8:27 AM
It is with heavy hearts that we share that we've lost our dear mother, Donita G. Day. She passed away peacefully in Spokane on Saturday night Aug. 12, 2023, at home with Dad after a hospitalization. She turned 83 in July, just after Dad turned 83 in June. Mom and Dad were married for 56 years this past July.
Mom was full of love for God and for a lot of people and experiences in her life. She loved Dad, who now misses her. She loved our wives: Fiona and Lisa Day. She loved numbers and her banking work when she was first married, but became a homemaker for dad and for us boys because she cared that much; she loved us kids and kept the budget on track at home — she was the best stay-at-home mom we could have ever had: she demonstrated God's love, she kept us on the straight and narrow yet let us be boys, she made us all home-cooked meals … things that many dads and kids nowadays would be jealous of if they knew what we had. Mom sacrificed much for us, but she loved doing it and knew this was her calling.
Mom dearly loved her old stomping grounds in north Idaho up Bear Creek in the Kingston area — she often reminisced about those days. In the fall of 1943, Mom's family moved to a 160-acre farm, where Donita lived with her brother, Del, through high school, graduating from Kingston High School. She loved horses, she loved old cars and trucks — especially vehicles from the 1950s and '60s and her favorite car that she owned … her blue two-door '57 Chevy Bel-Air. Mom married Dad — who she is survived by — Richard W. Day in July of 1967 in Spokane, Washington. Mom and Dad moved into a newly built home in the Chattaroy Hills area north of Spokane in 1972 to raise us boys. Mom loved this home in its country setting and so did we.
Donita "Donnie", or "Don" to Dad, loved her best friends, Addie and Judi, who are still with us, but she dearly missed Lynn and Jeannie after they left her. Most of all she loved her family — us — Craig Day (born 1970, Spokane) and Kerry Day (born 1972, Spokane), the grandkids Sarah and James Day (both born in Seattle, Wash.), and she dearly loved her Dad and Mom (Hilding Swan and Vivian "Bebe" McGraw Swan), as well as her brother/ our uncle, Del, and she loved his wife, Linda (who passed in March of 2020), and their children/ our cousins, Debbie, Dean and Darin Swan; she spoke with Del regularly and they would share old times about their lives on their Idaho farm and other family memories, and she loved the few remaining cousins/ second cousins she kept in touch with.
Sadly, and seemingly with a subconscious nod to how close they had been, Mom passed away within a day of her brother Del (Aug. 11, 2023, Delmer Swan, 88) who we believe welcomed her home for a great reunion.
We look forward to celebrating Mom's life with you if you are able to make it on Sunday afternoon at 1 p.m., Sept. 17 at Fairmount Memorial Park in the "Sunset Chapel" in Spokane. When you go through the main gate on Wellesley, drive straight ahead about 150 yards and there is a large white spire there and a large parking lot. The memorial will be inside this building: 5200 W. Wellesley Ave. Spokane, WA 99205.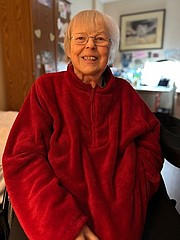 Recent Headlines
---