Silver Valley caregivers honored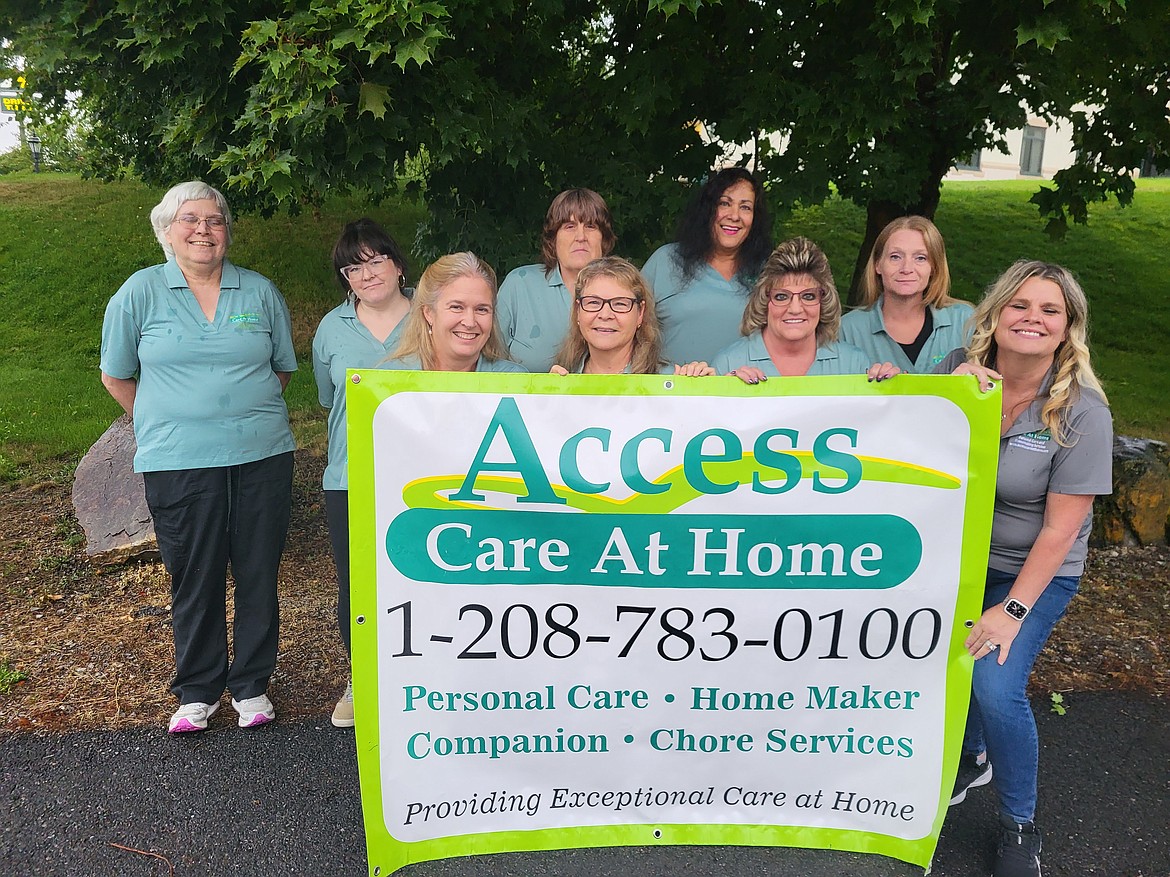 The nine members of the Access Care at Home team who will be attending the first ever Direct Care Professional Conference in Boise. Pictured in the back row (from the left) are Cheryl Banks, Robin Cameron, Cyndi Newell, Lola Meyers, and Linda Carston. In front are Michelle Woods, Linda Judd, Deline Dotson, and Tammy Davis.
Courtesy photo
by
JOSH McDONALD
Local Editor
|
September 12, 2023 1:00 AM
KELLOGG –– Patience, compassion, and a keen eye are just a few of the traits needed to be a good caregiver. In Shoshone County, the staff at Access Care at Home routinely demonstrate how quality care can help a person maintain their independence, no matter their age or disability.
Recently, the Bureau of Long Term Care (BLTC) - a branch of the Idaho Department of Health and Welfare (IDHW) - requested nominations from every home care agency in the state, looking for caregivers who demonstrate genuine care and concern for others, exhibit a high level of service to their clients, influences and mentor their co-workers, maintain a positive attitude and are creative problem solvers. Once the BLTC received the nominations, they selected the nominees who best fit the criteria and invited those chosen few to one of two conferences that would be held in Southern Idaho.
The Direct Care Professional Conferences are a first-of-their-kind event, where the nominees would be honored for their hard work and dedication to their craft and to the people that they serve. The Kellogg-based Access Care at Home had 13 of their caregivers selected to attend the conference in Boise on September 11.
Marcy Hayman is the marketing and employee recruitment director for Access Care at Home – she was proud of her team for receiving so many nominations from the state.
"These individuals go into the home to assist people with remaining independent through assistance with daily living," Hayman said. "Working with the elderly is a blessing but sometimes there are challenges."
Caregivers Cheryl Banks, Robin Cameron, Dolly Dotson, Andrew Goulart, Michole Kellberg, Deanna Rohrs-Kinder, Linda Carston, Linda Judd, Billie Jo Manning, Lola Meyers, Cyndi Newell, Barbara Reames, and Jeananne Taft were the 13 who were nominated from Access Care at Home, however, only nine of them were able to attend the conference.
One of the main challenges faced by Hayman and many other agencies across the state is the disparity in wages for caregivers in Idaho compared to the neighboring states. Idaho ranks in the bottom half of the country for homecare provider pay.
Hayman is a member of the Provider Assistance Agency Committee with the State of Idaho and one of their focuses is looking to improve those numbers. In the meantime, groups like Access Care at Home provide other ways of compensating their employees so that they can retain the quality workforce that they have.
"We are working to try to get these wages in line with the wage market," she said. "The one thing we can offer though is flexibility of scheduling so they can have sick kids, attend their children's events, and other things that we can work around."
The Direct Care Professional Conference is being funded by the Idaho Home Choice Program – a voluntary, Medicaid-based program under the guidance of IDHW, that helps seniors and residents with disabilities move from institutions into communities like apartments or homes and receive the necessary services and support.
Access Care at Home is located at 708 W. Cameron Avenue in Kellogg, Idaho. For more information, call them at (208) 783-0100.
Recent Headlines
---