Silver Valley Sports Recap: Sept. 4-10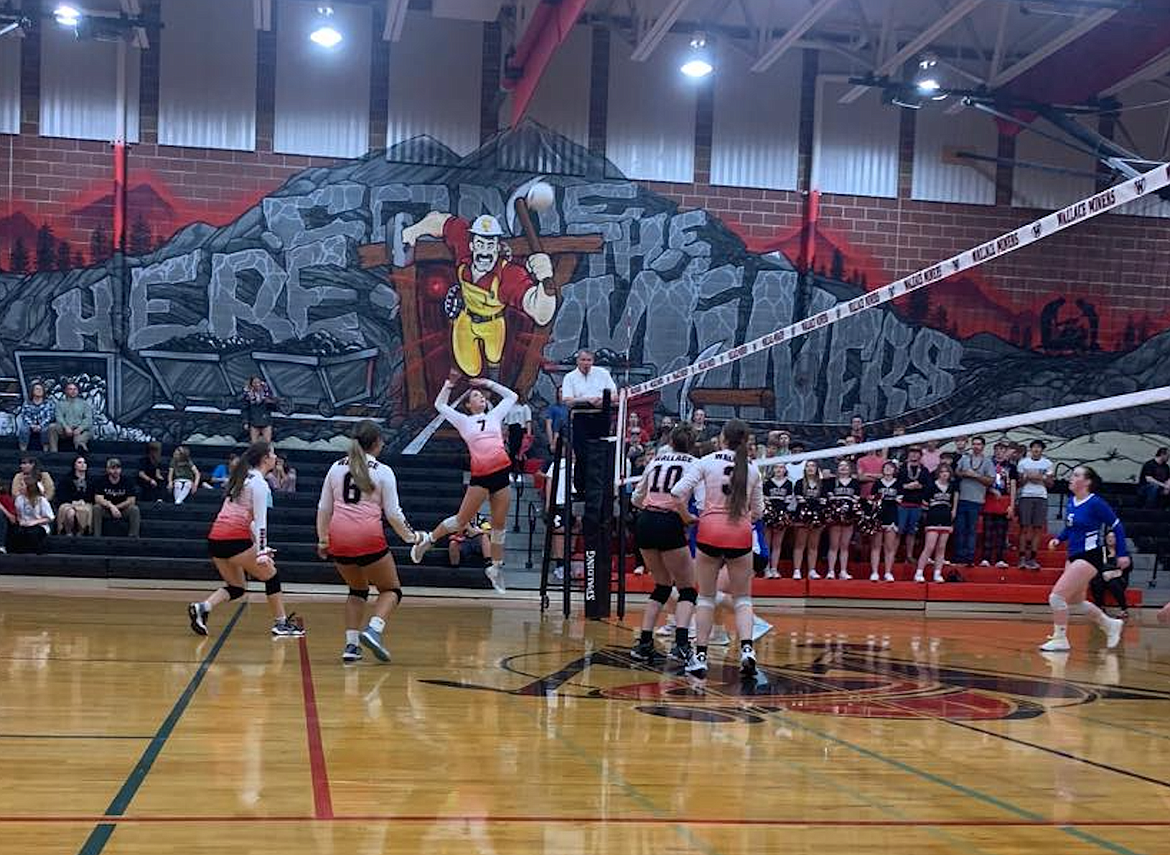 Wallace's Tia Hendrick goes up for a kill during a recent match with Clark Fork. The Miners are 6-0 to begin the season.
Courtesy photo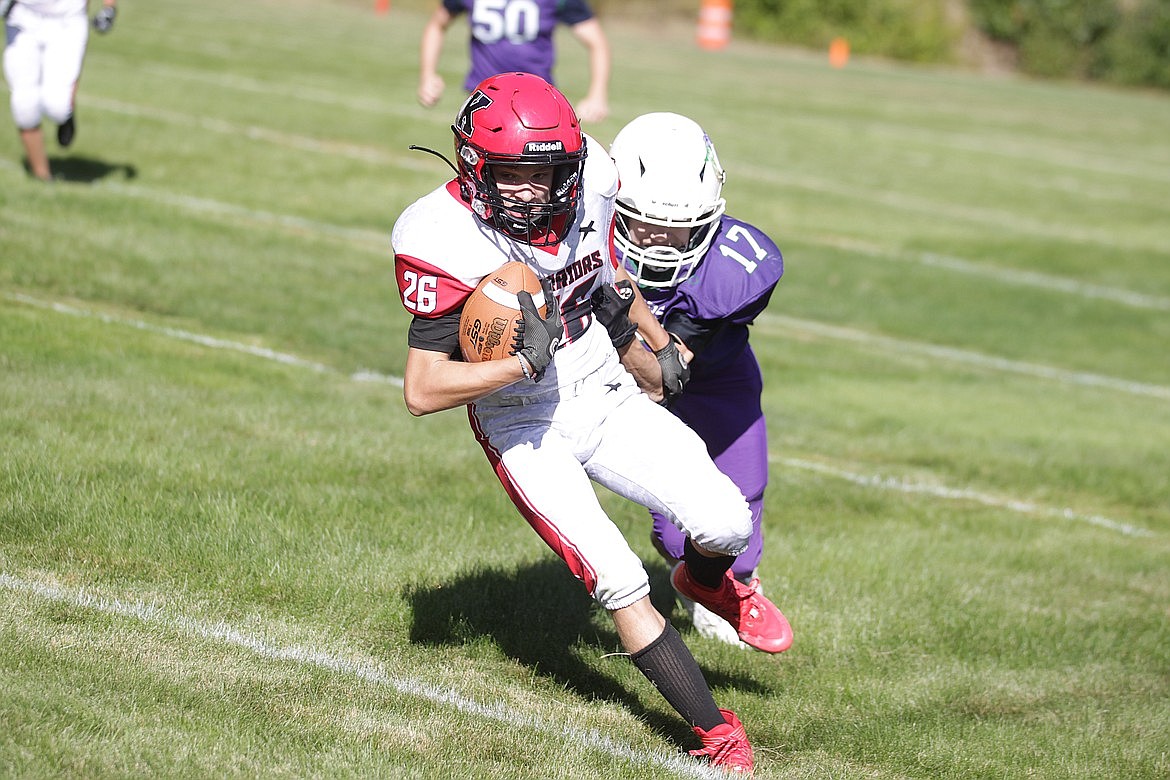 Kootenai sophomore running back Micheal Nyman attempts to break the tackle of Mullan-St. Regis junior defensive back Talon Rupp Connors during the first quarter of Friday's North Star League game at John Drager Field in Mullan.
Previous
Next
|
September 12, 2023 1:00 AM
WALLACE VOLLEYBALL
• Sept. 5
Wallace d. Clark Fork
WALLACE — Tia Hendrick paced the Miner attack with 10 kills and six digs as Wallace put Clark Fork away in three sets (25-9, 25-9 and 25-22).
Sophomore Aubrey Birdsell connected with her hitters for 21 assists, while Megan Hull finished with nine aces, seven kills, and six digs.
Senior Britany Phillips had a well-rounded game was a perfect 10 for 10 serving for Wallace, who remained undefeated.
• Sept. 7
Wallace d. Genesis Prep
WALLACE — The Miners swept the Jaguars 25-20, 25-15, 25-15 in Scenic Idaho Conference play at Kirby Krulitz Court.
KELLOGG VOLLEYBALL
• Sept. 6
Kellogg d. Clarkston
CLARKSTON — Maddie Cheney had 10 kills and three blocks for the Wildcats in a nonleague win over the Bantams.
"The girls ran the offense efficiently tonight and controlled the tempo of the game," Kellogg coach Stephanie Batchelder said. "They played with a lot of energy, which was nice to see."
Brielle Hei had 16 digs, Ragen Oertli 15 assists, Dani Hendrickson 15 assists and Zoe Brooks four aces for Kellogg.
MULLAN VOLLEYBALL
• Sept. 5
Genesis Prep d. Mullan
POST FALLS — Kennedy Prendergast had six kills, five aces and 17 assists as the host Jaguars downed the Tigers in nonleague play at The Courts at Real Life.
Madi Cooper added eight kills, three digs and three aces for Genesis Prep. Laya Daniels had five kills and two blocks, Jillian Russworm four kills, four digs and four aces, Pearl Covey six digs and five aces, Kinzie Lawler four kills, Ella Martin three aces.
"We started slow the first set but really turned it on in the last two," Genesis Prep coach Paula Thurston said. "Our serving was incredible. I'm proud of how the girls came together to win it. It was truly a team effort."
KELLOGG FOOTBALL
• Sept. 8
Newport 34, Kellogg 12
NEWPORT — The Grizzlies (1-1) defense shut Kellogg out in the second half as the Wildcats remained winless.
Kellogg (0-3) scored on back-to-back possessions during the first half, including a 99-yard drive, but gave up a touchdown just before halftime to put Newport ahead 14-12.
The Wildcats had two second-half drives end with turnovers, one of them in the red zone.
Reed Whatcott connected with Jaeger Hall for one score and ran for another in the loss.
Kellogg travels to St. Maries this week to open Central Idaho League play.
WALLACE FOOTBALL
• Sept. 8
Clark Fork 20, Wallace 14
SILVERTON — Chase Sanroman rushed for 165 yards and a touchdown on seven carries as the Wampus Cats defeated the Miners in North Star League play at Sather Field.
Dillon Ryan-Downing rushed for two TDs for Clark Fork (2-1, 2-1 NSL).
Wallace (1-2, 1-2) hosts Mullan/St. Regis this Friday.
MULLAN FOOTBALL
• Sept. 8
Mullan/St. Regis 62, Kootenai 30
MULLAN — Senior Kofi Appiah returned a punt 45 yards for a touchdown on the fourth play of the game as the Tigers beat the Warriors in a North Star League game at John Drager Field.
Mullan/St. Regis quarterback Connor Lulis connected on touchdown passes of 30 and 23 yards as the Tigers built an early 20-0 lead.
Junior wide receiver Simon Hodges scored on a 75-yard run in the first quarter for Kootenai.
Mullan/St. Regis (3-0, 2-0 NSL) faces Wallace this Friday at Sather Field in Silverton.
KELLOGG CROSS COUNTRY
• Sept. 9
ATHOL — Kellogg's Makai Peak finished with a time of 17 minutes, 30 seconds – good for 37th place at the Timberlake Invitational at Farragut State Park.
Running among some of the biggest schools in the state, Peak was the highest finish of any runner in the 2A classification. Teammate Ryken White finished at 18:11.7. The Wildcats finished 18th out of 25 teams.
TEAM SCORES — 1, Coeur d'Alene 33. 2, Lewis and Clark 113. 3, Kamiakin 115. 4, Mt. Spokane 132. 5, Sandpoint 165. 6, Capital 166. 7, Borah 250. 8, Meridian 268. 9, Lake City 293. 10, University 339. 11, Timberlake 339. 12, Moscow 352. 13, McCall-Donnelly 368. 14, Post Falls 372. 15, Post Falls 384. 16, Lewiston 444. 17, Lakeland 488. 18, Kellogg 497. 19, Grangeville 518. 20, Valley Christian 522. 21, Logos 533. 22, Libby 549. 23, Colville 571. 24, Lincoln County 621. 25, Bonners Ferry 744.
TOP 10 — 1, Nate Stadtlander, Meridian, 15:37.1. 2, Kade Brownell, Mt. Spokane, 15:38.6. 3, Maximus Cervi-Skinner, Coeur d'Alene, 15:42.2 4, Ezra Teeples, Kamiakin, 15:49.9. 5, Jacob King, Coeur d'Alene, 15:53.2. 6, Zack Cervi-Skinner, Coeur d'Alene, 16:09.7. 12, Isaac Anttonen, Capital, 16:15.1. 8, Kyler Harris, Florence-Carlton, 16:15.4. 9, Parker Westermann, Mt Spokane, 16:18.0. 10, Lachlan May, Coeur d'Alene, 16:22.2.
SILVER VALLEY SWIM TEAM
• Sept. 9
COEUR d'ALENE — The female members of the Silver Valley Swim Team broke a 10-year-old team record on Saturday during their season-opening Ice Breaker event at the Kroc Center.
Annika Kessler, Aubrey Parks, Sophia McLain, and Brooke Bening set a new Silver Valley Swim Team record in the women's 400 yard Freestyle Relay with a time of 6:09:47.
The event featured teams from across the region, including all of the 5A schools as well as Moscow and Sandpoint.
The Silver Valley Swim Team's next meet is Sept. 23 at the Kroc Center.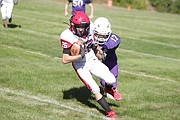 Recent Headlines
---