Kaylor pleads not guilty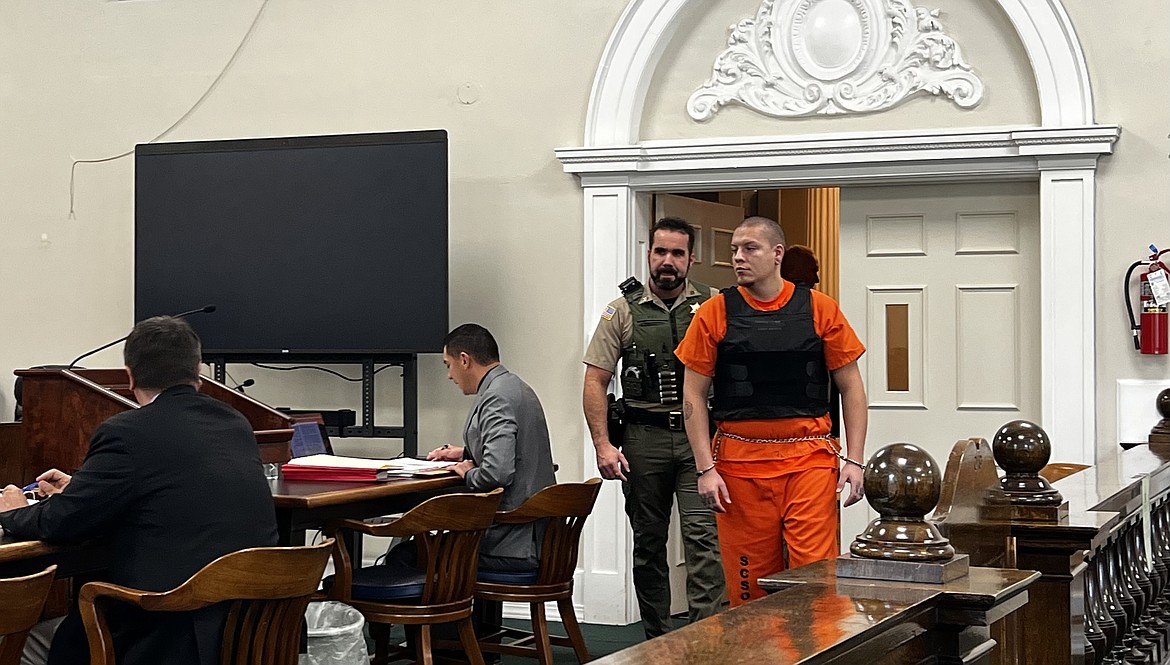 Accused murderer Majorjon Kaylor is escorted into the District Courtroom at the Shoshone County Courthouse for his felony arraignment on Wednesday morning. Kaylor has pleaded not guilty to any of the five felony charges he currently faces, including four counts of first-degree murder.
JOSH McDONALD
by
JOSH McDONALD
Local Editor
|
September 13, 2023 3:57 PM
WALLACE –– Accused murderer Majorjon Kaylor pleaded not guilty to all five of the felony charges he currently faces during his arraignment on Wednesday morning.
Kaylor, clad in a bulletproof vest, was escorted from the Shoshone County Public Safety Building with a contingent of sheriff's deputies for his appearance in Shoshone County's District Court before Judge Barbara Duggan.
After reading Kaylor's charges aloud, including the potential penalty for each charge, Judge Duggan asked if the defense was prepared to enter a plea – Chris Schwartz, Kaylor's attorney, explained to the court that a resolution between his client and the State had not been reached.
It was after that point that Kaylor entered his not-guilty plea.
With the not-guilty plea, the matter will now head for a jury trial – both the State, represented by Shoshone County Prosecuting Attorney Benjamin Allen, and the defense agreed that they anticipate a trial would last longer than a week.
All five of Kaylor's charges stem from an event on June 18, where Kenneth Guardipee, 65, Kenna Guardipee, 41, Devin Smith, 18, and Aiken Smith, 16, were shot and killed following a dispute that took place at their shared duplex in Kellogg.
Allen filed a motion on June 21, that stated that the State would not be seeking the death penalty for the killings. However, each murder charge does carry a potential maximum life sentence if found guilty.
According to the probable cause affidavit, Kaylor reportedly already confessed to the crimes while at the crime scene, saying that he "snapped" and subsequently carried out the crimes after returning home from work on Father's Day.
Judge Duggan also heard arguments from Wendy Olson, an attorney representing a conglomerate of news organizations, who had filed a motion on behalf of those news organizations to intervene with the case's non-dissemination order.
The non-dissemination order, commonly referred to as a "gag" order, was put into effect by Shoshone County Magistrate Judge Keisha Oxendine on June 30 – forbidding both the prosecution and defense attorneys from making statements to the public or media that "will have a substantial likelihood of materially prejudicing or otherwise influencing the outcome of the case."
Olson would like to see the order dismissed, not necessarily specific to this case, but because of the precedent that it sets for future cases across the state.
Allen quickly told Judge Duggan that he would respect the court's discretion in the matter, while Schwartz openly stated his opposition to any dismissal or intervention in the matter.
Gag orders can be useful tools for both the prosecution and the defense – for the prosecution, a gag order can go a long way in ensuring that that verdict can be both reached and subsequently not overturned. On the defense's side, gag orders can help keep certain details of a case quiet until they are brought forward during the trial – potentially limiting any preconceived notions a potential juror may have on a case, and allowing the juror to keep an open mind.
On Wednesday, Judge Duggan told Olson that she would consider the motion to intervene and issue a written response from the court.
Kaylor's jury trial is scheduled for January 9, 2024, and is expected to potentially take up to 10 days.
Recent Headlines
---