Silver Valley Sports Recap: Sept. 11-17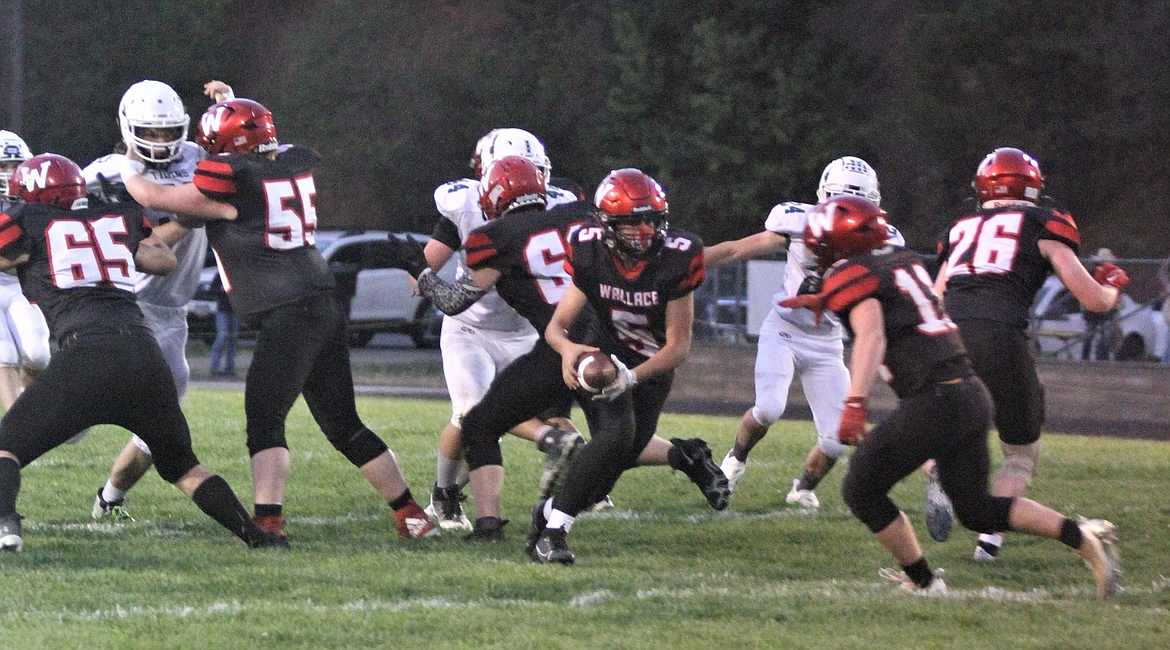 Wallace quarterback Henry Larson (5) hands the ball off to runningback Alex Grubbs (11) during the Miners' recent home game against the Mullan/St. Regis Tigers.
Photo by LES McPHAIL
|
September 19, 2023 1:00 AM
KELLOGG VOLLEYBALL
• Sept. 12
Kellogg d. St. Maries
KELLOGG — The host Wildcats defeated the Lumberjacks 25-19, 17-25, 25-23, 25-17 in Central Idaho League play.
Making her debut at Andrews Gymnasium, freshman Paige Yrjana was the calm in the storm for the Wildcats.
After winning the opening set, Kellogg looked out of sorts and allowed the Lumberjacks to get into a rhythm. After losing the second set, Kellogg found themselves down 12-4 in the third before rallying and finishing St. Maries off.
Yrjana finished with 10 kills - many of them in sets three and four, and seemed to get her hands on everything down the stretch. Sophomore Dani Henrikson had 16 assists, while seniors Maddie Cheney and Brielle Hei had four blocks and 20 digs respectively.
• Sept. 15
Kellogg d. Grangeville
KELLOGG — Maddie Cheney had 16 kills, Regan Oertli 23 assists for the Wildcats in a 25-16, 26-28, 25-17, 25-17 Central Idaho League win over the Bulldogs at Andrews Gymnasium.
Brielle Hei had 13 digs, Dani Hendrickson three blocks for Kellogg.
Coach Stephanie Batchelder did love her team's energy during the game – which was played at home on the same night as an away football game.
"Grangeville is super scrappy," Batchelder said. "They get their hands on a ton of balls and make you earn every single one of your points. We were slow, low energy, and played with a lack of communication. We have some players banged up, sick, and playing on a Friday night might've had something to do with it, but who knows."
Batchelder did point out that senior Zoe Brooks' performance as a high point in the match.
"Zoe served amazingly tonight," she said. "She also played well defensively after her serves."
WALLACE VOLLEYBALL
• Sept. 12
Wallace d. Lakeside
PLUMMER — Sophomore Aubrey Birdsell had 23 assists, eight digs, and two aces for the Miners in a 25-18, 25-15, 25-13 Scenic Idaho Conference win over the Knights at Ron Miller Court.
Sophomore Megan Hull had nine kills, senior Britany Phillips seven aces and five kills and senior Tia Hendrick eight kills for Wallace.
• Sept. 16
Wallace d. everyone
ROSALIA — The Lady Miners were undefeated at the inaugural Rosalia Spikefest Volleyball Tournament on Saturday.
Each match was a best-of-three format, however, Wallace only needed eight sets to dispatch all four of their opponents.
Senior Tia Hendrick led the team for the day in kills (27), aces (12), and digs (11).
"Britany Phillips had an excellent defensive game with five blocks and 11 digs, and also tallied 16 kills," coach Katie Bauer said. "Outside hitter Megan Hull earned 20 kills and six aces, and setter Aubrey Birdsell had 62 assists 10 digs, and 10 aces. Junior Bethany Phillips chipped in with a solid 11 kills and three aces, and libero Amie Strange grabbed seven digs."
The Lady Miners are off to their best start in years, remaining undefeated in regular and tournament play.
MULLAN VOLLEYBALL
• Sept. 12
Mullan d. Kootenai
MULLAN — The host Tigers defeated the Warriors 25-7, 25-19, 25-11 in a North Star League match at the Mullan Pavilion.
WALLACE FOOTBALL
• Sept. 15
Mullan/St. Regis 46, Wallace 14
SILVERTON — John Pruitt accounted for four touchdowns, three on the ground in the Tigers' North Star League win over the Miners at Sather Field.
Freshman quarterback Connor Lulis threw for two touchdowns for the Tigers. "For such a young team, Wallace punched us in the mouth early and really played a better game than the score shows," said Mullan/St. Regis coach Stetson Spooner, whose team led 12-6 at halftime. "They're a well-coached group with a bright future."
Wallace (1-3, 1-3) hosts Kootenai next Friday at Sather Field. Mullan/St. Regis (4-0, 3-0 NSL), hosts Clark Fork next Friday.
KELLOGG FOOTBALL
• Sept. 15
St. Maries 30, Kellogg 18
ST. MARIES — Senior Trey Gibson ran for 391 yards and four touchdowns for the Lumberjacks, who beat the Wildcats in the Central Idaho League opener for both schools.
Gibson, who opened the night with a 34-yard touchdown run, scored on an eight-yard run in the third quarter and 10-yard score in fourth as the Lumberjacks rallied from an 18-16 halftime deficit.
Sophomore Draedan Taylor caught two touchdown passes from senior quarterback Reed Whacott as part of the Wildcats' 18-point second quarter.
The Wildcats played a relatively clean game until a fumble deep in St. Maries territory set up a Gibson touchdown. Then, late in the fourth quarter, the Wildcats drove to the half-yard line, but an illegal blocking penalty on the ensuing play pushed them back and led to a turnover on downs.
St. Maries (1-3) travels to Timberlake next Friday. Kellogg (0-4) hosts Orofino next Friday for homecoming
Kellogg 0 18 0 0 — 18
St. Maries 14 2 8 6 — 30
SM — Trey Gibson 34 run (Jack Barta run)
SM — Gibson 1 run (conversion failed)
Kell — Whatcott to Draedan Taylor 14 touchdown reception (conversion failed)
Kell — Reed Whatcott 12 run (conversion failed)
Kell — Whatcott to Taylor 20 pass (conversion failed)
SM — safety SM — Gibson 8 run (Gibson run)
SM — Gibson 10 run (kick failed)
Recent Headlines
---