Barbara Daly, 77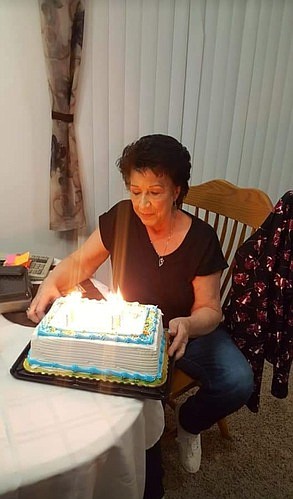 |
September 22, 2023 2:34 PM
Barbara Daly, 77 years old, passed away Sept. 14, 2023, at Kootenai Health in Coeur d'Alene, Idaho.
Barbara was born at Providence Hospital in Wallace, Idaho, on Nov. 20, 1945. Barbara lived with her loving husband, Daniel Daly, in Coeur d'Alene, Idaho. Daughter of Ralph and Ernestine Vaudrin and sister of Fay Hoffman.
She is survived by sisters Irene Gabel and Geraldine Hoffman, brother Jerry Vaudrin, her two children, Brenda and husband Lonnie Zent and Doug and wife Terri Ackerman. Eight grandchildren, Amber and spouse Ken Barcus, Tierra and spouse Arron Morgan, Jackson and spouse Jordan Menke, Brooke and spouse Joshua Alfonso, Austin and spouse Natalie Ackerman, Aaron and spouse Bailey Ackerman, Arik and spouse Chrissy Ackerman and Andrew. Twenty-one great grandchildren, Jason, Hannah, Hallie, Malachi, Makaylee, Zaiden, Veyah, Ruby, Angel, Dominic, Savanah, Sawyer, Ayden, Austin, Tucker, Weston, Aspen, Ace, Eli, Zoey and Brylee. Numerous nieces and nephews.
Barbara was the tribe matriarch of the family and counseled all with the faith of God in her presence to help whoever needed guidance.
She had consistent daily and weekly rituals to ensure all in her circle were happy and faithful and understood what was most important in our daily lives through care and love.
She enjoyed doing flower arrangements for whoever needed them to show love and family importance to all.
She had a God-given gift of piano playing. She used her gift of music and her piano as she played throughout all her years, from playing in church for the congregation, playing for the church choir and at home with family.
Prayers from her for her husband, kids, grandkids, sisters, brother and numerous friends will be truly missed. But we all know she has a direct line to help continue in faith.
Service will be held at Silver Valley Worship Center, 307 Main St. Smelterville, at 1 p.m. Saturday, Sept. 23, with interment at Kingston Cemetery immediately following the service. Reception hosted at Mark and Terri Ackerman residence: 10070 South Wallridge Road, Cataldo (Hardy Gulch).
Recent Headlines
---