Busy week for Shoshone first responders highlights collaboration between agencies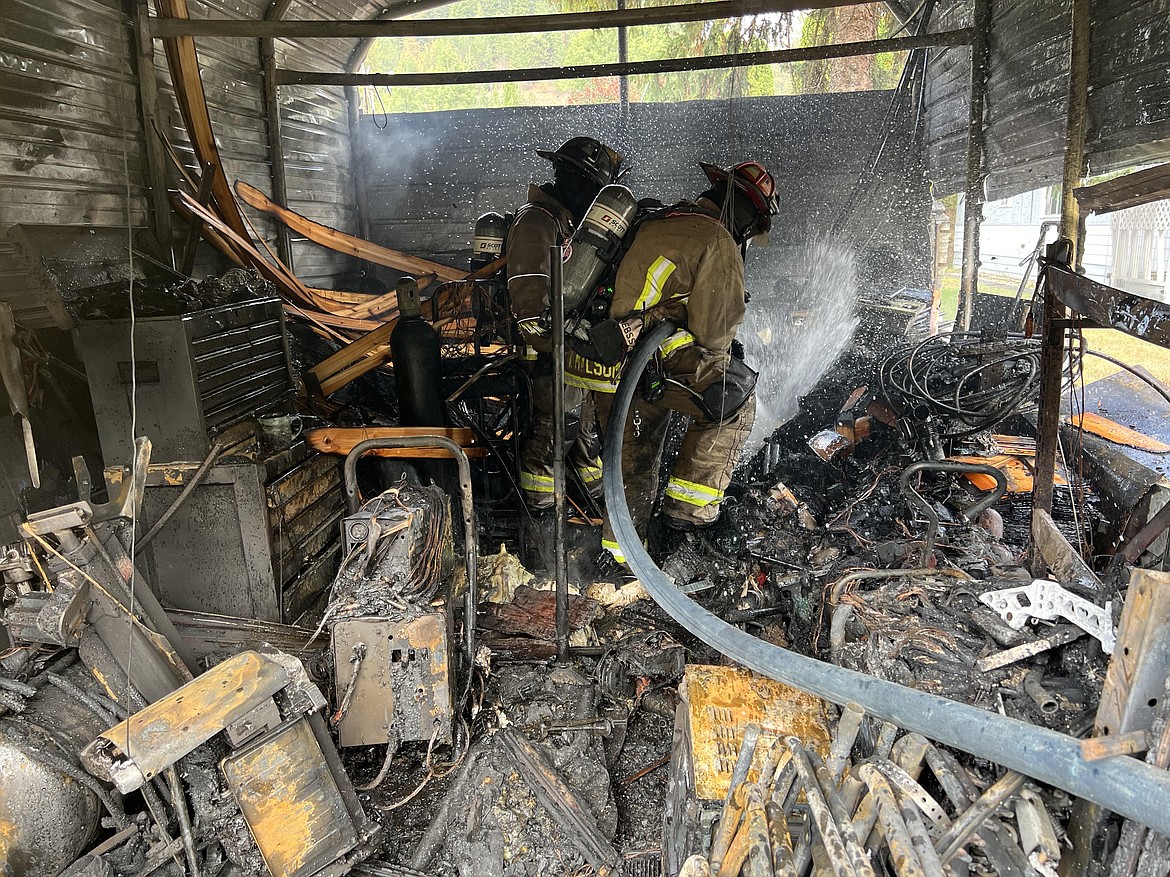 Fire crews work to extinguish a fire that broke out in a shed in Osburn on Tuesday. The fire reportedly began from an electrical short in an extension cord that was powering a chest freezer. The garage contained several oxygen tanks as well as an oxy-acetylene welding station.
Courtesy image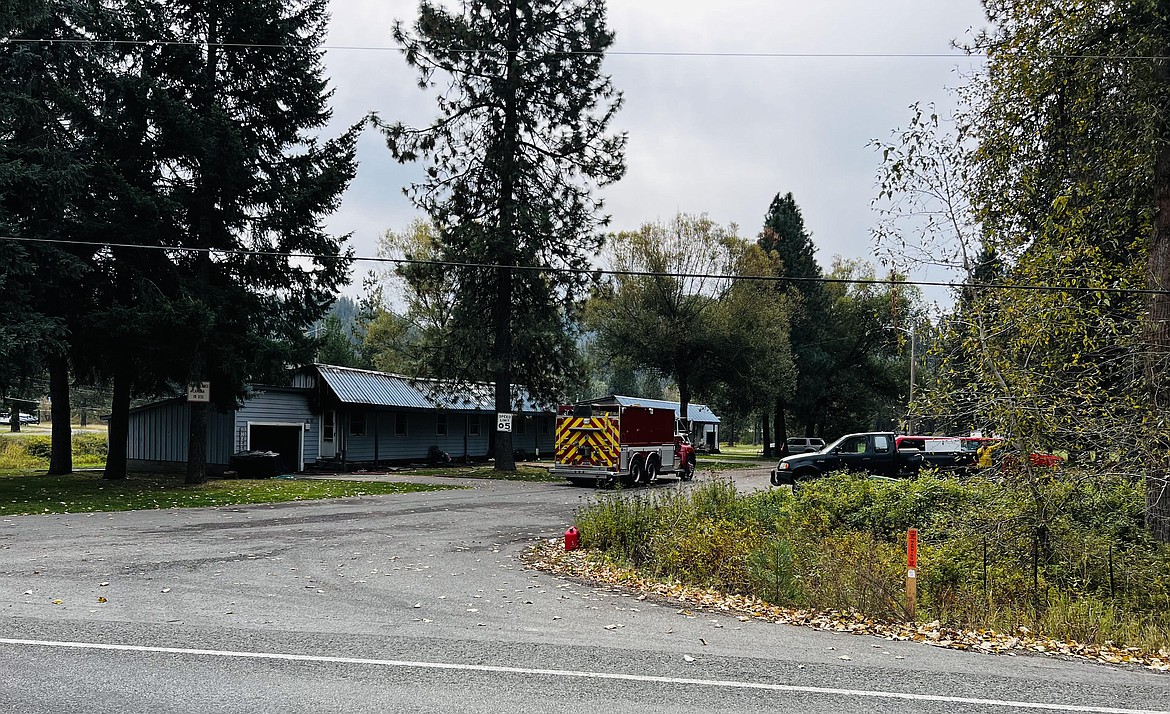 This apartment complex in Cataldo was the site of a structure fire on Monday night. Fire crews from Kellogg, Osburn, Mullan, and Prichard all responded to the call.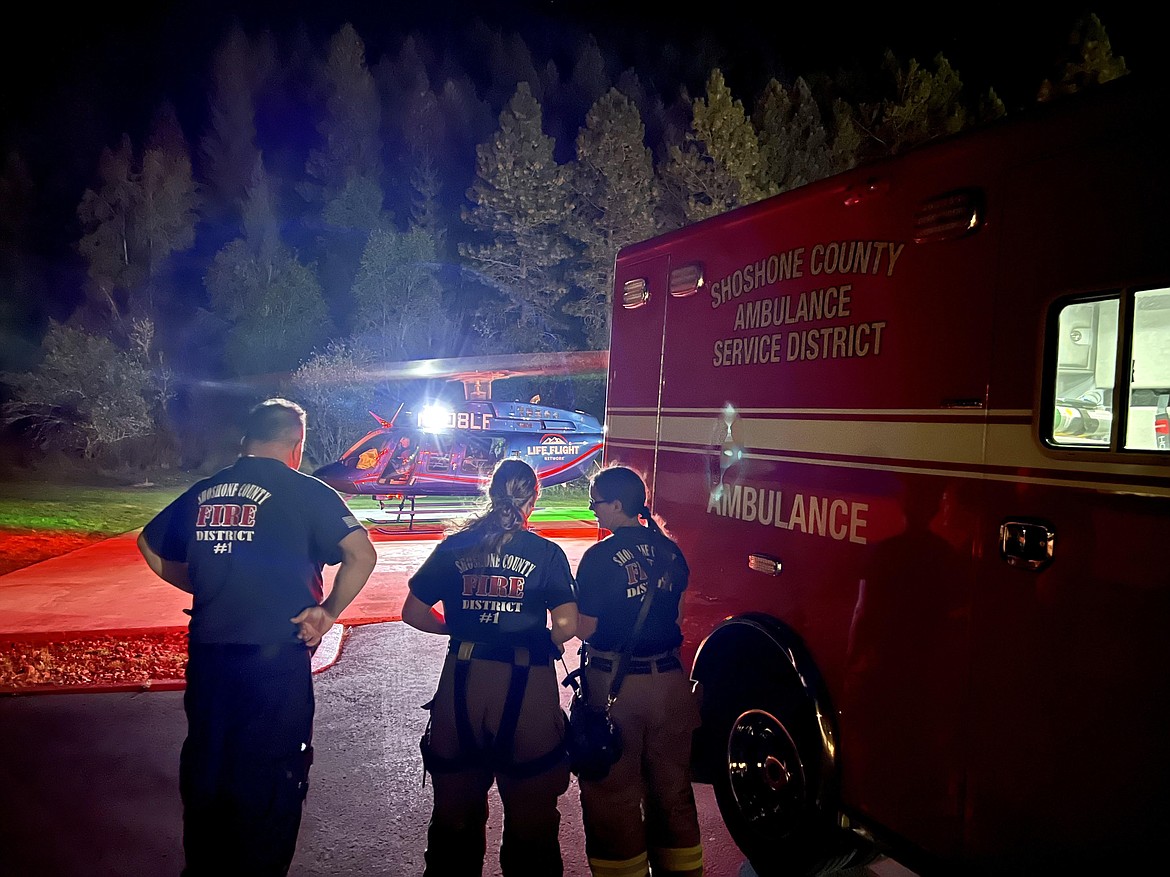 EMS crews from Shoshone County Fire District #1 watch as a LifeFlight helicopter takes off – this was one of several LifeFlight calls that occurred in Shoshone County over the past week.
Previous
Next
Shoshone County Fire District No. 1 Chief John Miller won't say it, but the expression on his face tells you almost everything you need to know.
He's a little tired.
And it's not just him, all of Shoshone County's EMS crews and law enforcement agencies have been put to the test over the past eight days.
"We've had a major event every day for the past week," Miller said. "These things usually happen in threes, but not this time."
Beginning with the head-on collision last Wednesday that closed I-90 near Pinehurst for over 12 hours, it's been one major call out or another each day ever since.
These include motorcycle accidents in remote areas of the county, several accidents that required LifeFlight, cars going off the road as they attempted to traverse Moon Pass, a shooting, several structure fires, and more than a few life-threatening medical calls.
Many of these calls came in over the weekend, but then Monday night things were dialed up several notches.
Around 9:45 p.m. a call came in about a structure fire at a multi-dwelling unit in Cataldo – due to the nature of the call, both Shoshone County Fire District's 1 and 2 responded, as well as the Mullan Fire Department, the Prichard-Murray Volunteer Fire Department, and deputies with the Shoshone County Sheriff's Office (SCSO).
SCFD#2 Chief Scott Dietrich told the News-Press that the Idaho State Fire Marshall's Office has determined that the fire was caused by a gas grill that was used too close to an exterior wall.
Three of the six apartments were severely damaged by fire, water, and smoke – the other three sustained only smoke damage. Thankfully, there was no loss of human life during this fire, but according to Chief Dietrich, a dog, cat, and some fish perished in the blaze.
They were able to get the fire under control relatively easily, but while they were working on that another call came in – reports of 'shots fired' in the Woodland Park area of Burke.
As crews were dispatched from the SCFD #1 firehouse in Osburn, other crews wrapped up their work in Cataldo so that they could assist in the response in Woodland Park, nearly 25 miles away.
The grisly scene of an attempted murder and completed suicide in Woodland Park required assistance from multiple departments – including the Kellogg Police Department and SCSO took much of the early morning to clear.
Later that day, just before 2 p.m., another call came – this one a structure fire in the Polaris area of Osburn.
Many of the residences in this area are trailers or manufactured homes that are in close proximity to one another – this particular call-out was to a shed that caught fire allegedly due to a failed extension cord running a chest freezer. Within the shed were several oxygen tanks, as well as the oxy-acetylene welding station. One explosion was reported, and a nearby tree caught fire, but the responding fire crews from both of Shoshone County's Fire Districts were able to get the fire under control and extinguished before any damage could be done to the adjacent residences. Once again, thankfully no one was injured, due largely to the quick response from emergency crews.
Trying as all of this may be, Chief Miller is thankful that all of the local emergency responders are working cohesively. Where there used to be a bit of tribalism among agencies, now, it feels like they help each other without having to be asked.
Whether it's sharing the four certified paramedics, collaborating for training opportunities, or just basic communication, the responders are being put in positions where they can be more successful due to the cooperation and collaboration amongst the agencies.
"One of the things that made all of these incidents of the past week go smoother or have better outcomes than they would've in the past is the way we're working together," Miller said. "It's a whole lot more than it was in the past. We're training together, we don't wait to be 'toned out,' if we hear something or they hear something we just go – we don't wait for each other to call and ask for help. This saves time and some thinking, we just get an immediate response."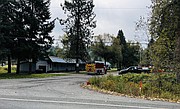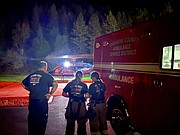 Recent Headlines
---