'Root cause' of criminal cases often mental health issues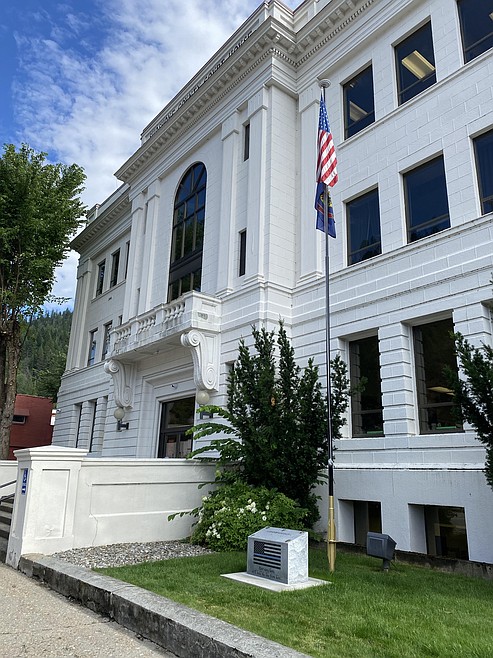 The Shoshone County Courthouse in Wallace, as seen from the outside.
CAROLYN BOSTICK/Press
Individuals facing criminal charges as well as those seeking aid after being the victims of a crime also suffer from the short supply of mental health providers in the Silver Valley.
There can be a long process to obtain mental health services and medications needed by those preparing to face trial for criminal charges, according to the Shoshone County Sheriff's Office. The highest number of occupants at the county jail that allows for optimal conditions and comfort is 25, and 48 is the usual maximum capacity for inmates.
Last week, the Sheriff's Office posted on Facebook that the jail was forced to go over their occupancy and find space to accommodate 55 individuals. Often this kind of overcrowding leads to more disruptions that can add to the stress of the situation.
Because of the overwhelming need compared to available local mental health resources, many of the defendants entering the Shoshone County Court system must travel to Coeur d'Alene to find someone to do a mental health evaluation. Once evaluations and services have been secured for those facing charges or serving a sentence, there is a significant "revolving door in the criminal justice system," noted Shoshone County Deputy Prosecuting Attorney Scott Sergeant. He said folks experience mental health crises, obtain short-term treatment, then stop treatment due to cost or other factors, and ultimately may wind up in jail again.
"As you can imagine, mental health issues are the root cause of many criminal cases. While the court can mandate mental health treatment, this is generally cumbersome and is often only geared towards restoring competency to stand trial and not to solve any underlying issues and integrate individuals back into the community," Sergeant said.
There may be a short-term improvement to mental health quality while these mandated supports are in place to receive mental health treatment, but after individuals are released these supports go away and often things can start unraveling.
"When a case is closed and the defendant is released back into the community, often they lack both the motivation and the skills necessary to navigate the medical system and obtain continuing treatment. This has the tendency to result in a revolving door in the criminal justice system where individuals will commit a crime, obtain treatment during the course of their case, then stop treatment when their case is over and become unstable, thereby leading to further criminal activity," Sergeant said.
Support services in the Silver Valley often struggle to connect victims to advocacy and mental health resources in the wake of violent crimes.
The Shoshone County Crisis and Resource Center is a victim advocacy organization that focuses on guiding survivors of domestic violence, sexual assault, stalking and other violent crimes through the process of healing.
The center has a crisis hotline, emergency temporary shelter, medical and legal advocacy resources, and helps connect individuals in crisis with individual counseling or a support group.
The group works with local law enforcement, the district court, medical professionals, and other county agencies to ensure that victims or survivors of violent crimes receive much needed victim support.
Executive director Kellie Lavigne said that while the organization provides advocacy services, they try to connect those suffering from trauma with counselors, most staff are trained advocates and not licensed therapists or mental health counselors. Not having a proportionate ratio of counselors to populations means they often run into the same issues of there not being enough mental health care providers in the area to go around.
Though there is a massive strain on local providers to meet all the needs of the community in Shoshone County, as the social service manager at Shoshone Medical Center, Meghann Johnson is proud of the mutual respect that she sees between mental health providers rising to take on crisis care. Counselors rely on their counterparts to assist with juggling additional cases when a desperate need arises.
"I feel like our communication in the Silver Valley has been good between departments. One of the silver linings is that all of the agencies work so well together, we all support each other. If we have this family in crisis, is it possible for you to see this child when I see the parents," Johnson said.
Recent Headlines
---