SCSO investigating attempted murder/suicide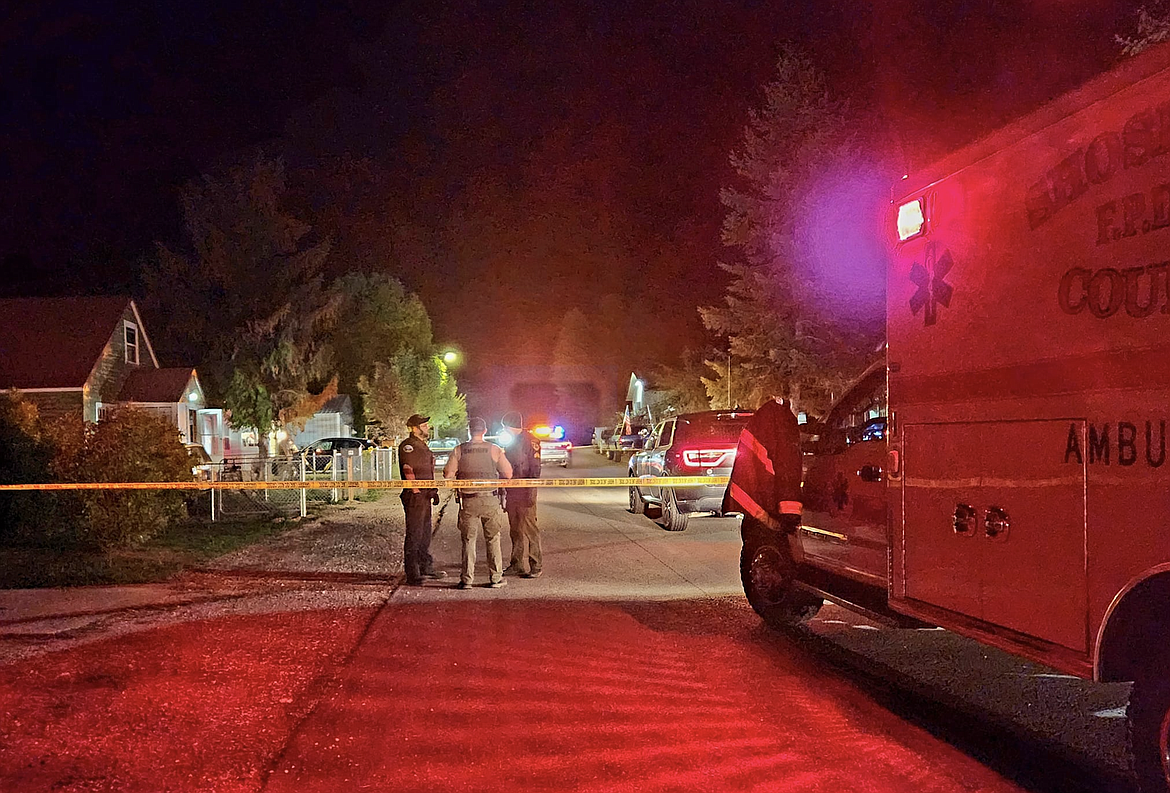 Law enforcement officers from the Kellogg Police Department and Shoshone County Sheriff's Office discuss their investigation outside of a residence where an attempted murder/suicide took place on the morning of Sept. 19.
Courtesy of the SCSO
WALLACE –– One man is on life support, and a woman and dog were both shot following an alleged attempted murder-suicide in the Woodland Park area of Burke Canyon, north of Wallace.
Just after midnight on Tuesday morning, law enforcement officers from the Kellogg Police Department and the Shoshone County Sheriff's Office (SCSO) responded to a reported domestic violence incident.
The female victim, Cassandra Darnell, 38, told dispatchers that she had been shot in the back by her husband Jeremy Darnell, 43, at their shared residence.
Upon arrival, officers made contact with the victim, and emergency personnel began treating her for a gunshot wound.
Law enforcement attempted to make contact with Jeremy, who was still inside the residence. After not getting any response from Jeremy, law enforcement entered the residence and found him unresponsive and injured from what appeared to be a self-inflicted gunshot wound. Previous reports incorrectly stated that the shooter was found deceased.
Officers also discovered that the family's dog had been shot.
The investigation remains ongoing, but law enforcement believes that the shooting may have been the culmination of ongoing domestic violence.
The shooter was transported to Kootenai Health where he remains on life support.
Cassandra was taken to a local medical facility and is expected to make a full recovery – the dog was transported to a local veterinary clinic for emergency treatment and is also expected to make a full recovery.

"In the years I have worked for the SCSO, I've investigated countless domestic violence incidents and have witnessed, firsthand, the devastation it leaves behind-especially for our children," Sheriff Holly Lindsey said in a social media release. "As a result, it has been my personal priority, and is now a priority for the SCSO, to provide a safe and supportive environment to those families. Our office works closely with the Shoshone County Crisis and Resource Center to help connect families with the resources they need to get help."
Monday night and Tuesday morning was a busy one for Shoshone County's first responders – a house fire in Cataldo late Monday night had many of the SCSO deputies assisting local fire personnel. Because of this, officers from the Kellogg Police Department were the closest unit available to respond to the initial call.
If you or anyone that you know is a victim of domestic violence please call the Shoshone County Sheriff's Office at (208) 556-1114, or by calling the Shoshone County Crisis and Resource Center at (208) 556-0500.
"I understand that it's a very scary first step to take," Lindsey said, "but there are people out there who care about you and want to help."
Recent Headlines
---