Clarence William Shulze, 100
|
September 26, 2023 11:09 AM
Clarence William Shulze, 100, beloved father, grandfather and great-grandfather, with too many greats to mention, passed away Sept. 17, 2023, at Silverton Health and Rehabilitation of Cascadia in Silverton, Idaho. Clarence was born Jan. 19, 1923, in Cuba, N.M., a son of William and Hazel (Livermore) Shulze.
After high school, Clarence enlisted in the U.S. Army and later went on to marry Ima West on Dec. 23, 1948, in Reno, Nev. Clarence and Ima moved to the Silver Valley after having lived in Coeur d'Alene, Idaho, for numerous years. Ima passed away Oct. 22, 2014.
Clarence prided himself in being a "roughneck" having spent most of his working days either drilling for oil, gold or water throughout many locations in the U.S. He spent much of his career with Aqua Drilling and Exploration in Coeur d'Alene, Idaho.
He was an avid outdoorsman who enjoyed both hunting and fishing. Clarence was known to be in his garage for hours tinkering with things to sharpen his mechanical skills. He also was a collector of pocketknives of all shapes and sizes.
In addition to his beloved wife, Ima, and parents, Clarence is preceded in death by a son, Billy Tackett; a brother, Manphard (Red) Shulze; and a sister, Margie Orr.
Survivors include his four children, Virginia Montoya of Oakdale, Calif., Danny Shulze of Stonewall, Okla., Kathy (Thomas) Agee of Sonora, Calif., and Steven Shulze of Renton, Wash.; 16 grandchildren, 29 great-grandchildren, 43 great-great-grandchildren, and one great-great-grandchild. Clarence is also survived by numerous nieces, nephews and dear friends.
At Clarence's request, no formal services will be held. Memories of Clarence and messages of condolence may be shared with his family online at www.shoshonefuneralservice.com. Shoshone Funeral Services, Kellogg, is assisting the Shulze family with arrangements.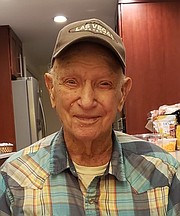 Recent Headlines
---