The 'new' Bunker Hill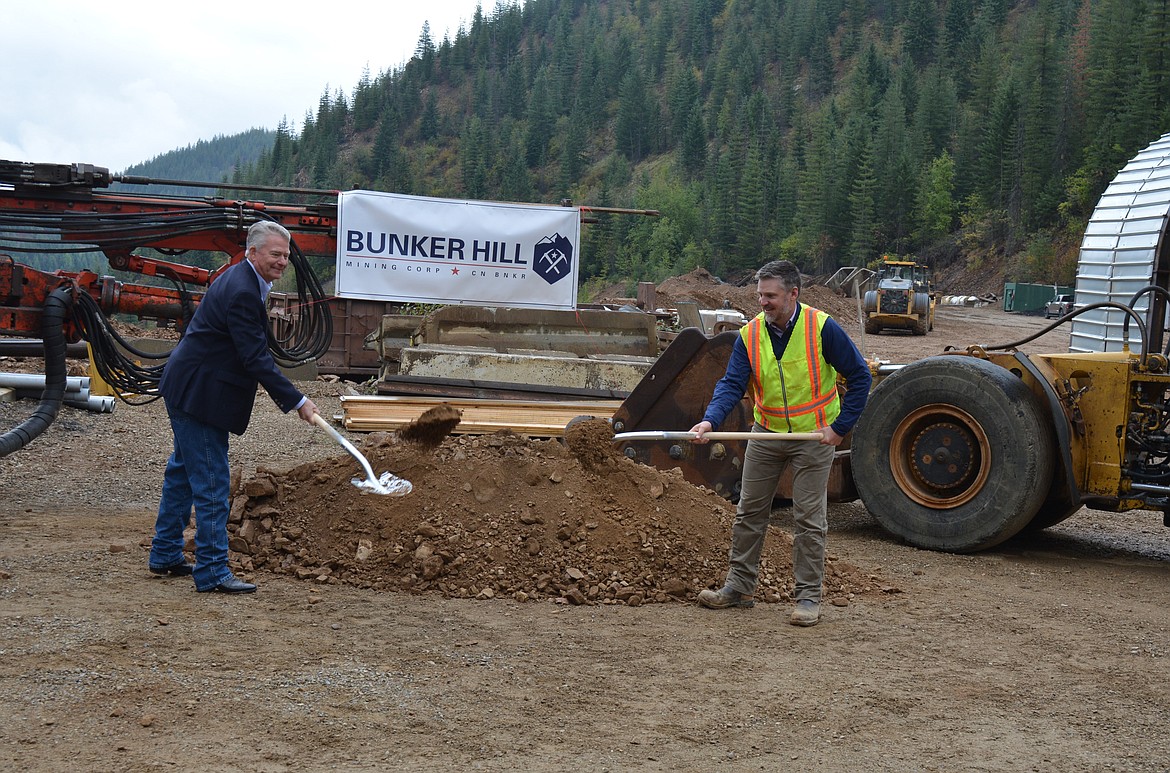 Idaho Gov. Brad Little (left) and Bunker Mining Corp. CEO Sam Ash 'break ground' following a brief ceremony outside of the mine's Russell Portal in Wardner on Friday. The mine is expected to be back in full production by this time next year.
CAROLYN BOSTICK/Press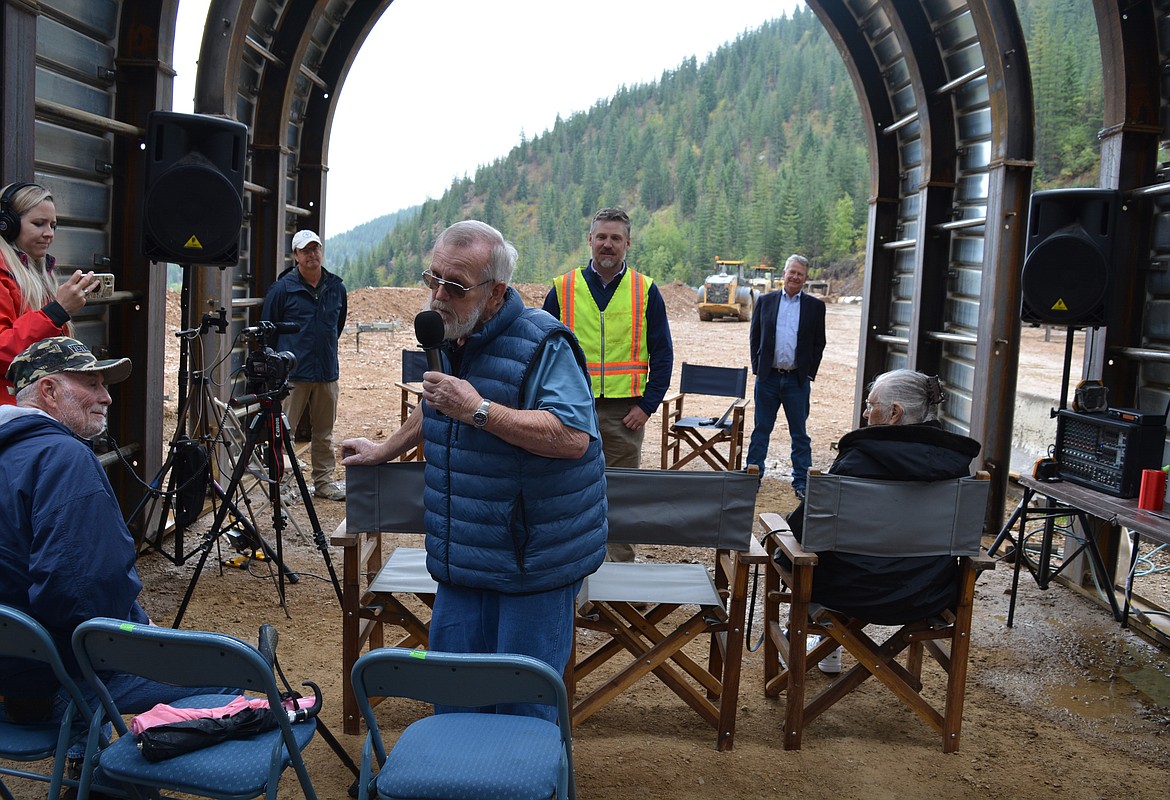 Kellogg Mayor Mac Pooler had a chance to address the crowd during the ground breaking ceremony.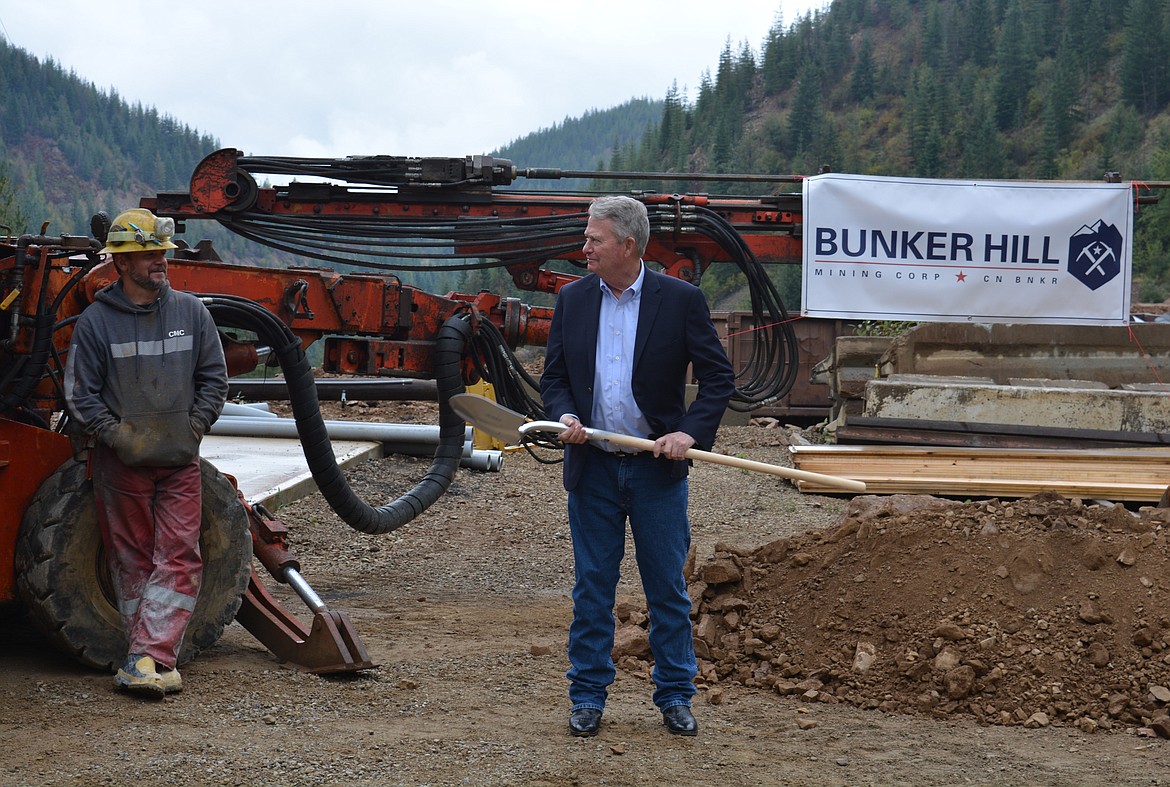 Idaho Gov. Brad Little shares a moment with Silver Valley miner Jeremy Figueroa.
Previous
Next
WARDNER –– Two scoops of dirt and a round of applause – the Bunker Hill Mine has officially restarted.
Last week Idaho Gov. Brad Little joined Bunker Hill Mining Corp. CEO Sam Ash and Board Chairman Richard Williams for a brief groundbreaking ceremony outside of the mine's Russell Portal.
Ash and Williams are veterans of the mining industry, but in 2020 they took a calculated risk when they decided to pursue the reopening of Bunker Hill.
"We moved to Kellogg with a vision of restarting not only what is an iconic mine in the United States, but also an incredibly iconic mine in Idaho history," Ash said. "The reason we're here to celebrate today is that we now have full funding for the restart of the Bunker Hill Mine and we're working toward being in production and we will be in production at the end of 2024."
Friday's ceremony included a large number of the mine's stakeholders, leadership from the cities of Kellogg and Wardner, as well as representatives from Shoshone County.
Currently, the focus of the mine is the rehabilitation of the Russell Portal – one of the key areas for the restart.
"This going to be our main access," Ash said. "It's the main entry point for the restart of the Bunker Hill, it's where our first production is going to come out of. We believe that mining in the western United States is critical to the United States economy and to the future of the world. We think that there is an opportunity in the western United States to exploit the natural resources, but do it in a way that is sustainable and environmentally friendly."
Since the mine closed its doors in the 1980s, there have been several groups who have done some work to make sure that the mine would be able to be restarted if the necessary funding ever became available. In the late 1960s, mine had a market valuation of $1 billion – a testament to the level of anticipated production.
Williams spoke directly to Gov. Little, thanking him for cultivating an environment that is pro-mining, and promising that Bunker Hill would be a major contributor in the future to Idaho's economy.
"We march in lockstep with your powerful and positive vision for Idaho and its people," Williams said. "We are very proud of being part of this and our chance to contribute to the sustainable growth of the state's economy and build an exciting future for its children. We mean that sincerely."
The plan for reopening is to get the mine in a position to steadily produce 1,800 tons per day. However, while that steady production will sustain the mine, they will move into a new phase where they plan to upgrade the facility to be able to produce 2,500 tons per day.
"The resources under the ground right here are multi-decades," Williams stated. "We have the potential of building a very large, sustainable, valuable business here for this community, this state, this country – that we think could last for the grandchildren of those currently working here to be back on site."
That kind of talk is enough to get the blood flowing for local leaders – many of whom watched the county struggle when the mine closed in the 80s.
Bunker Hill leadership anticipates that more than 250 skilled mining jobs will be available in the coming months, as well as more than 1,000 indirect jobs as the community grows and needs increase.
Williams discussed Friday as a pivotal moment in the history of the Silver Valley – beginning with environmental regulations that jumpstarted Bunker Hill's original closure, and then moving to the 2008 global financial crisis that directly cut capital funding for the mining industry by more than half.
"I think Idaho is really a model for what a sustainable economy based on natural resources can look like," Ash said. "It's just a fantastic environment to be a part of and a fantastic environment you've created in Idaho, Governor Little."
Once Gov. Little had the opportunity to speak, he recalled his work with the Silver Valley mining community over the years, touching on his time working with former industry pillar Art Brown, as well as serving with Gulf Resources, one of the former owners of Bunker Hill.
His knowledge of the mine and its importance to not just Shoshone County, but to Idaho, is well documented.
"Idaho's history, from before we became a territory is directly tied to this industry," Little said. "The determination for us to be a state or territory was because of the critical components of the mineral's industry that was available."
The historic mineral-producing mine has been tapped as a strategic supplier of various minerals for the United States in the coming years. This fact isn't lost on the Governor, who directly spoke to Bunker Hill's importance.
"The American public is starting to realize that dependence upon less than friendly forces for our future is a risk," Little said. "I don't think we're there yet, but I think we're getting a lot closer than we were before."
During a recent press conference, Williams discussed Bunker Hill's expected impact on the global zinc supply chain, and how Shoshone County could play a major role in global politics.
"Long-term zinc demand is being driven by investment in infrastructure, transport and construction to underpin urbanization, economic growth, and green energy transition," Williams said. "Emerging geopolitical competition threatens to cut global metals supply chain in half."
Any disruption to this supply chain could lead to the destabilization of high-risk countries – currently, the largest production of the mineral is coming from countries that aren't traditional allies of the United States.
Joe Guardipee, the Mayor of Wardner – a town that was quite literally founded by Bunker Hill a century ago – spoke of the excitement that he's had because of this new leadership group for the mine. A mining industry veteran himself, Guardipee has watched different groups say that they're going to restart Bunker – and none of them have ever been able to succeed.
"You can get a little skeptical," Guardipee said. "What these people are doing right now has taken away my skepticism. I think there's a future for Bunker Hill, and I applaud these people from the Bunker Hill Mining Corp. for going through with it, because, God knows, we need more mining in this valley."
Kellogg Mayor Mac Pooler expressed his thanks to Ash and the rest of Bunker Hill's leadership for making community involvement and engagement a priority during the restart process.
"After today, the people that ask when Bunker Hill is restarting, I can say that on September 22, 2023, there is a new Bunker Hill to replace ol' Uncle Bunker and we welcome you."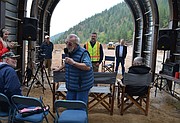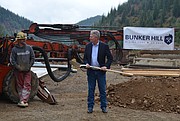 Recent Headlines
---