Road scholars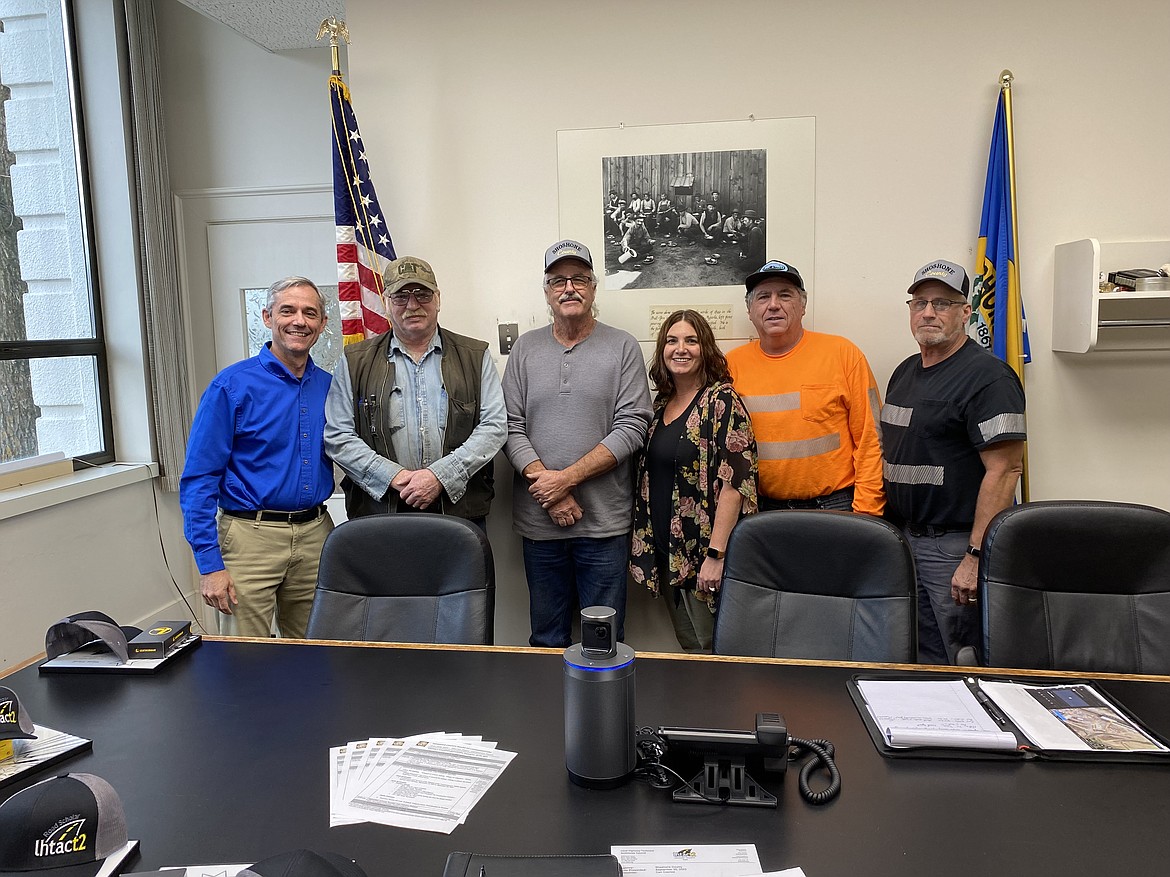 Dan Coonce (left) poses with Stephanie Featherstone, Rick Dooney, Flint Young, Jim McFeeley, and Wayne Wuolle after they received awards for their certification in the Road Scholar Program through Idaho's Local Highway Technical Assistance Council.
CAROLYN BOSTICK/Press
WALLACE — Rather than just the rubber meeting the road, the classroom met the road for six public works employees who have completed their Idaho Road Scholar certification in Shoshone County.
The public works department has been working since the fall of 2021 to push for employees to attain the certification both to better their understanding of transportation and road processes and increase the viability for future grants for the county. Stephanie Featherstone, Rick Dooney, Flint Young, Jim McFeeley, Wayne Wuolle and Owen Clancy became the first individuals in the county to achieve Road Scholar status through Idaho's Local Highway Technical Assistance Council.
Dan Coonce made a stop at the Shoshone County Courthouse on Monday afternoon to present the county staff with their certifications and celebrate their hard work. The achievement takes about 80 hours training to complete the program.
"If the county does apply for federal aid, it's just one of the questions they can fill in. It's very competitive and any advantage you can get and check 'yes' for questions in applications helps," Coonce said.
As the county administrative assistant, Stephanie Featherstone said she's excited that she and fellow members of public works finished the certification process ahead of time. The Road Scholar program allows public works members up to four years to attain certification, but the department was motivated to complete the process early.
Having six of the total 24 public works employees certified will move Shoshone County higher when it comes to state consideration for much-needed projects and future grants to repair local roads.
"In the past, the county has missed out on grants simply because we had no employees enrolled into the program. Completing the Road Scholar program also improves skills and knowledge of the employees, along with a sense of pride and accomplishment in their work," Featherstone said. "This is an exciting time for Shoshone County as we strive to get the most grant money possible to complete more road projects."
Board of County Commissioners Chairman David Dose was present to represent the county commissioners and stated his pride in staff completing the training.
According to the Local Highway Technical Assistance Council, the program cultivates a deeper understanding of the fundamentals of safety, management, and advanced technologies, as well as exposure to a wide variety of other topics that impact roadways and the transportation field.
Recent Headlines
---