Silver Valley Sports: Sep. 18 - Sep. 24
|
September 26, 2023 1:00 AM
KELLOGG VOLLEYBALL
Kellogg d. Priest River
PRIEST RIVER — Maddie Cheney had 14 kills and five aces for the Wildcats in a 25-13, 19-25, 25-23, 26-28, 15-7 Central Idaho League win over the Spartans.
Dani Hendrickson had 23 assists, Brielle Hei 30 digs, Emily Coe six blocks, and Macy Jerome five aces for Kellogg.
"Priest came out really scrappy and hit a lot of good shots," head coach Steph Batchelder said. "We adjusted well and navigated a challenging environment. We're still dealing with the thorn of serve receiving and some missed serves."
WALLACE VOLLEYBALL
Wallace d. St. Regis (MT.)
WALLACE –– Three up, three down and the Lady Miners cruised to a quick win over the visiting Tiger 25-18, 25-4, & 25-14.
Sophomore setter Aubrey Birdsell finished with seven aces, 17 assists, and seven digs. Senior Tia Hendrick finished with eight kills, a block, and four digs.
Wallace d. Kootenai
HARRISON FLATS — Megan Hull had 11 aces, nine assists, and five kills for the Miners in a 25-5, 25-9, 25-5 nonleague win over the Warriors.
Britany Phillips had six kills and two aces, Tia Hendrick four kills, and Kayla Hasz four kills for Wallace.
MULLAN VOLLEYBALL
Lakeside d. Mullan
PLUMMER — Kimberly Pluff had nine kills, 22 digs, three assists, and two aces as the host Knights downed the Tigers 25-16, 19-25, 25-12, 25-8 in nonleague play at Ron Miller Court.
Rayna Shatz had 10 kills and four digs for Lakeside. Meyha Wienclaw had seven kills, four digs and two blocks, Kylee Shot With Arrow six kills, five blocks and three aces, Tylah Lambert five kills, 28 assists, six digs and four aces, Chantell Luke five kills, seven aces and eight digs.
"They played so great tonight and had great attitudes," Lakeside coach Te'a Kolar said. "It was awesome to see them play as a team and have a good time doing it."
MULLAN FOOTBALL
Mullan/St. Regis 20 Clark Fork 12
MULLAN — The Tigers scored in the final two minutes to seal a North Star League win over the Wampus Cats at John Drager Field.
"Hats off to Clark Fork for controlling the clock and hitting on some big plays," Mullan/St. Regis coach Stetson Spooner said. "We scored early and bent without breaking on a lot of drives defensively. We had a couple of costly turnovers and coaching mistakes, but we're a team. Monday, we'll get back to work to constantly improve."
Mullan/St. Regis faces Lakeside next Friday at the Marimn Health Coeur Center in Worley.
Chase Sanroman threw for 110 yards and a touchdown and ran for another 73 yards for Clark Fork (2-3, 2-3), which hosts Wallace on Oct. 13. Clark Fork was scheduled to play at Kootenai, but the Warriors canceled their season earlier this week, citing low numbers.
WALLACE FOOTBALL
Wallace 20 Troy (Mont.) 12
SILVERTON — Julian Davis scored two touchdowns for the Miners in a win over the Trojans at Sather Field.
Originally scheduled to host Kootenai for their annual homecoming game, Troy stepped in after Kootenai canceled the rest of their season due to low numbers.
The Miners will have a week off before they begin a three-game stretch of conference games – If the Miners can win at least two of those games they will have a shot at a tiebreaker to qualify for the post-season.
Wallace hosts Lakeside on Oct. 6.
KELLOGG FOOTBALL
Kellogg 52 Orofino 0
KELLOGG — Sophomore Radley McDonald returned the opening kickoff 75 yards for a touchdown and the Wildcats rolled over Orofino 52-0.
Senior quarterback Reed Whatcott connected with junior Coleman Blalack for four touchdowns — while also hitting senior Jaeger Hall and junior Wyatt Storey for scores before resting for most of the second half.
Kellogg led 38-0 at halftime.
The Wildcats (1-3, 1-1 CIL) will travel to Cottonwood next Saturday for a neutral-site matchup with New Plymouth.
SILVER VALLEY SWIMMING
COEUR d'ALENE — Lake City freshman Malynn Sobek had two wins individually in the 200- and 500-yard freestyle, as well winning legs in the school's 200 freestyle and 400 freestyle relays at the Kroc Center. Lake City freshman Owen Bennett had wins in the 200 freestyle, 500 freestyle and 200 freestyle relay.
BOYS DUAL SCORES — Lake City 149, Sandpoint 81; Lake City 162, Kellogg 5; Lewiston 88, Kellogg 8; Sandpoint 122, Kellogg 3; Lake City 155, Lewiston 49; Lake City 162, Wallace 21; Sandpoint 114, Lewiston 61; Lewiston 84, Wallace 31; Sandpoint 122, Wallace 24; Wallace 36, Kellogg 8.
GIRLS DUAL SCORES — Lake City 210, Kellogg 6; Sandpoint 168, Wallace 3; Lewiston 135, Wallace 4; Sandpoint 149, Lewiston 78; Lake City 210, Wallace 3; Lake City 186, Sandpoint 84; Lake City 204, Lewiston 47; Kellogg 14, Wallace 8; Sandpoint 168, Kellogg 6; Lewiston 136, Kellogg 6.
KELLOGG CROSS COUNTRY
Peak, White shine in Bonners Ferry.
Kellogg's Makai Peak and Ryken White each finished inside the top five at the Bonners Ferry Invite, held at Bonners Ferry High School. Kellogg's Zoie Cromis finished just inside the top 10 for the girls.
BOYS TEAM SCORES – 1, Priest River, 39. 2, CDA Charter 43. 3, Bonners Ferry, 69.
TOP 10 – 1, Nathan Russell CDA Charter, 17:18. 2, Makai Peak, Kellogg, 17:34. 3, Nolan Oyler, CDA Charter, 17:46. 4, Ryken White, Kellogg, 18:15. 5, Colm McLaimtaig, Priest River, 18:28. 6, Brayden Lamanna, Priest River, 18:53. 7, Caeden McLaimtaig, Priest River, 19:20. 8, Micah Thomson, Bonners Ferry, 19:53. 9, Cole Phillips, Bonners Ferry, 19:57.58 ; 10, Devon Banning,
Priest River, 19:57.99.
GIRLS TEAM SCORES – 1, CDA Charter, 15.
TOP 10 – 1, Annabelle Carr, CDA Charter, 19:34. 2, Sydney Beckle, Bonners Ferry, 22:12. 3, Helen Oyler, CDA Charter, 22:52. 4, Matisyn Stiern, Bonners Ferry, 23:01. 5, Abigail Moehring, CDA Charter, 24:06. 6, Jane Robinson, CDA Charter, 24:26. 7, Alannah McLaimTaig, Priest River, 25:33. 8, Hailey Long, Priest River 26:03. 9, Braylyn Bayer, Bonners Ferry, 26:20. 10, Zoie Cromis, Kellogg, 26:36.
PRIEST RIVER — The Priest River boys cross country team finished third out of six teams at the Ivan Benson Invite held at Priest River Lamanna High School on Thursday. The Spartans defeated Kellogg, Immaculate Conception Academy and Bonners Ferry.
Despite the team finishing fourth, Kellogg's Makai Peak was the meet's individual champion, while teammate Ryken White grabbed another top-four finish.
BOYS
TEAM SCORES – 1, Lakeland 46. 2, Post Falls 47. 3, Priest River 65. 4, Kellogg 80. 5, IC Academy 131. 6, Bonners Ferry 133.
TOP 10 – 1, Makai Peak, Kellogg, 16:48.97. 2, Austin Averette, Post Falls, 16:55.62. 3, Parker Sterling, Lakeland, 16:58.89. 4, Ryken White, Kellogg, 17:19.44. 5, Brayden Lamanna, Priest River, 17:26.32. 6, Colm McLaimtaig, Priest River, 17:29.01. 7, Cannon Simpson, Post Falls, 17:38.73. 8, Jayden Dan-Johnston, Lakeland, 17:46.26. 9, Frank McCarthy, Lakeland, 17:48.32. 10, Noah Wells, Post Falls, 17:53.77.
GIRLS
TEAM SCORES – 1, Lakeland 28. 2, Bonners Ferry 28. (Lakeland wins tiebreaker)
TOP 10 – 1, Sydney Beckle, Bonners Ferry, 021:08.76. 2, Matisyn Stiern, Bonners Ferry, 21:57.39. 3, Melia Gilbert, Lakeland, 22:31.96. 4, Maddison Chapple, Lakeland, 22:47.55. 5, Alannah McLaimTaig, Priest River, 24:18.88. 6, Savannah Spalding, Lakeland, 24:21.09. 7, Braylyn Bayer, Bonners Ferry, 24:31.86. 8, Payton Sterling, Lakeland 24:48.54. 9, Ruby Law, Bonners Ferry, 25:08.70. 10, Samantha Guadagnini, Lakeland, 25:21.76.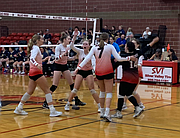 Recent Headlines
---