No emergency levy for KSD
by
JOSH MCDONALD
Staff Reporter
|
September 20, 2021 9:41 AM
KELLOGG — The Kellogg School board of trustees decided not to request emergency levy funds despite a surprising uptick in students across the district.
The unexpected growth of the student population had the Kellogg School District looking at its budgetary options for handling the growth, but decided to not go to the taxpayers.
The student population is 10% higher this year than it was last year, a jump that can be attributed to a larger-than-normal kindergarten class and several new families moving into the district.
This increase made the district eligible for an emergency levy, where the district could have approved a request and subsequently levied their district's constituents for over $700,000 without having to take the levy to any kind of vote.
KSD Board Chairwoman Bonnie Farmin said the decision to not request emergency funds was considered an absolute last resort if no other solution could be found.
"The board tries to put students at the forefront of all decisions, and (the board) asked that more information be gathered before applying for the emergency levy," Farmin said. "This includes available space for more classrooms, furniture, materials, staffing and budgets. Since there were other measures that could be used to accommodate the increase in enrollment, the emergency levy option will not be used."
According to new KSD Superintendent Lance Pearson, there was some initial surprise around the district office about even looking into the process due to the fact that the district's enrollment numbers had not seen much growth and was more in a holding pattern of slow and steady decline.
"It's so nice to have a big number come up," Pearson said. "I've worked in communities where the numbers are in a downward spiral and you can see the difference. In the long run, what it means next year is that we will receive more money from the state based on our numbers this year."
While Farmin was adamant that the decision to not request funds had nothing to do with the district's upcoming supplemental levy, for the taxpayers it may demonstrate a sign of fiscal responsibility by the district that they were able to find the funds in their existing budget instead of immediately digging deeper into the pockets of their residents.
The KSD has used the biannual supplemental levy to cover roughly 30% of its annual operating budget that isn't covered after the school receives its funding from the state.
The current levy in place was for $5.9 million over two years that enabled the school to operate in the condition it currently was without the possibility of adding any new programs.
The next supplemental levy will be voted on in May of 2022.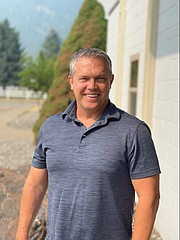 ---