'Today, I'm just a firefighter'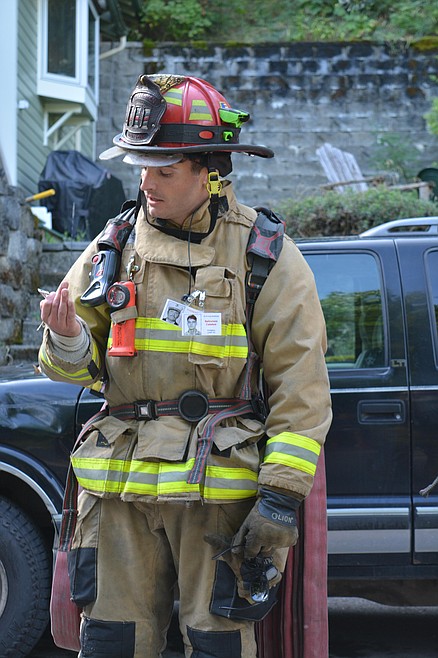 Victor Malsom of Shoshone Fire District One reads a snippet about the life of a fallen firefighter during the 9/11 memorial stair climb in Wallace.
CAROLYN BOSTICK/Press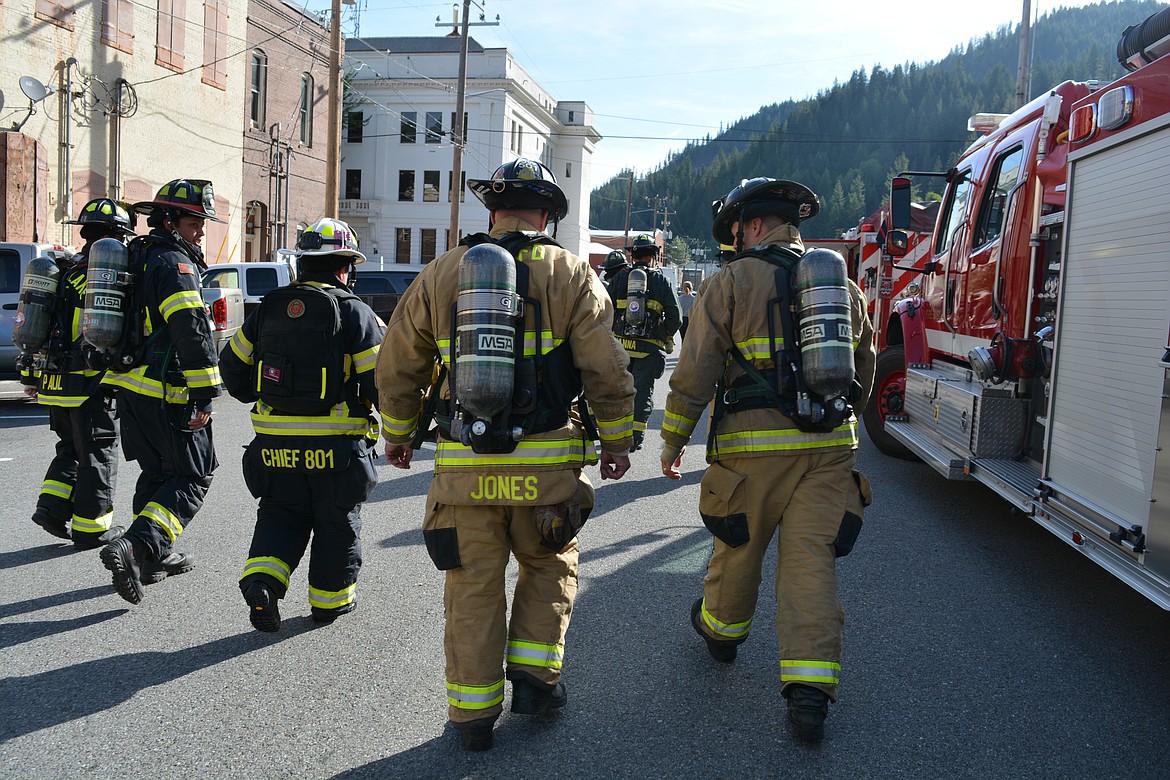 Spirit Lake Fire Chief Debbie Carpenter (center left) and Steven Jones of Coeur d'Alene Fire Department (center right) walk over to choose the firefighter remembrance cards that they carried with them during the 9/11 stair climb in Wallace.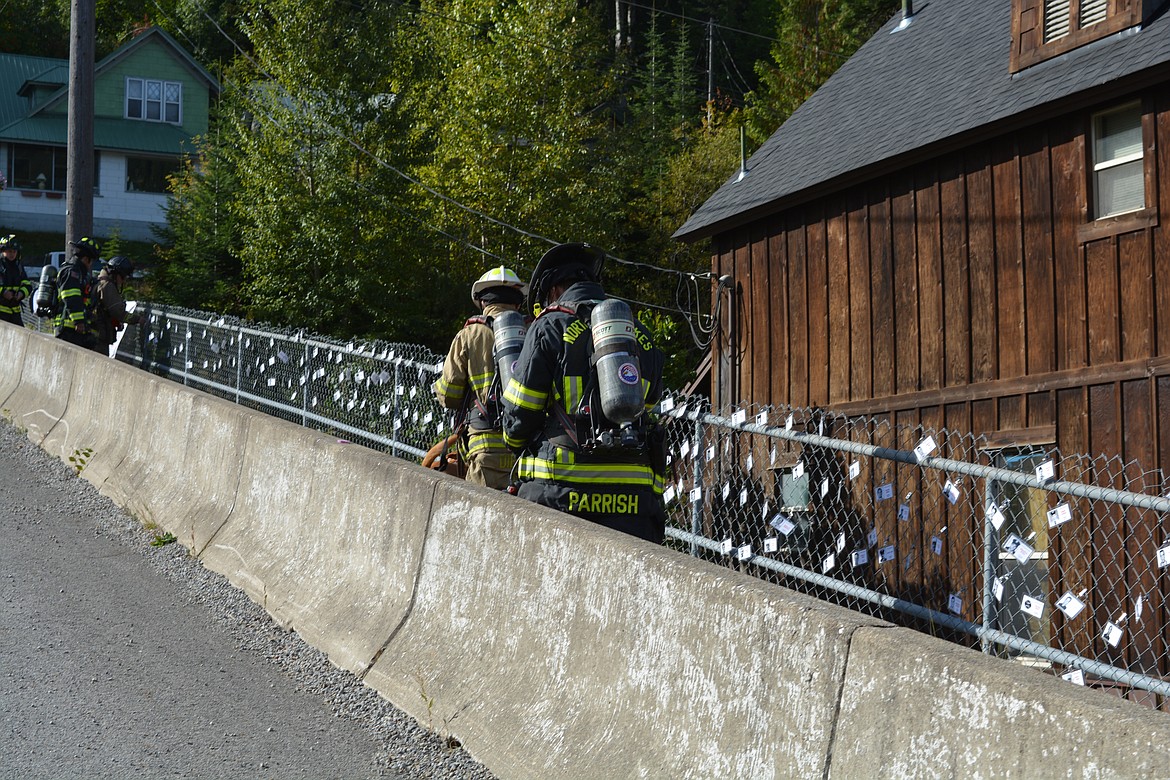 Northern Lakes Fire District firefighter Dan Parrish walks up the hill after selecting firefighter name cards to carry with him during a 9/11 stair climb in Wallace.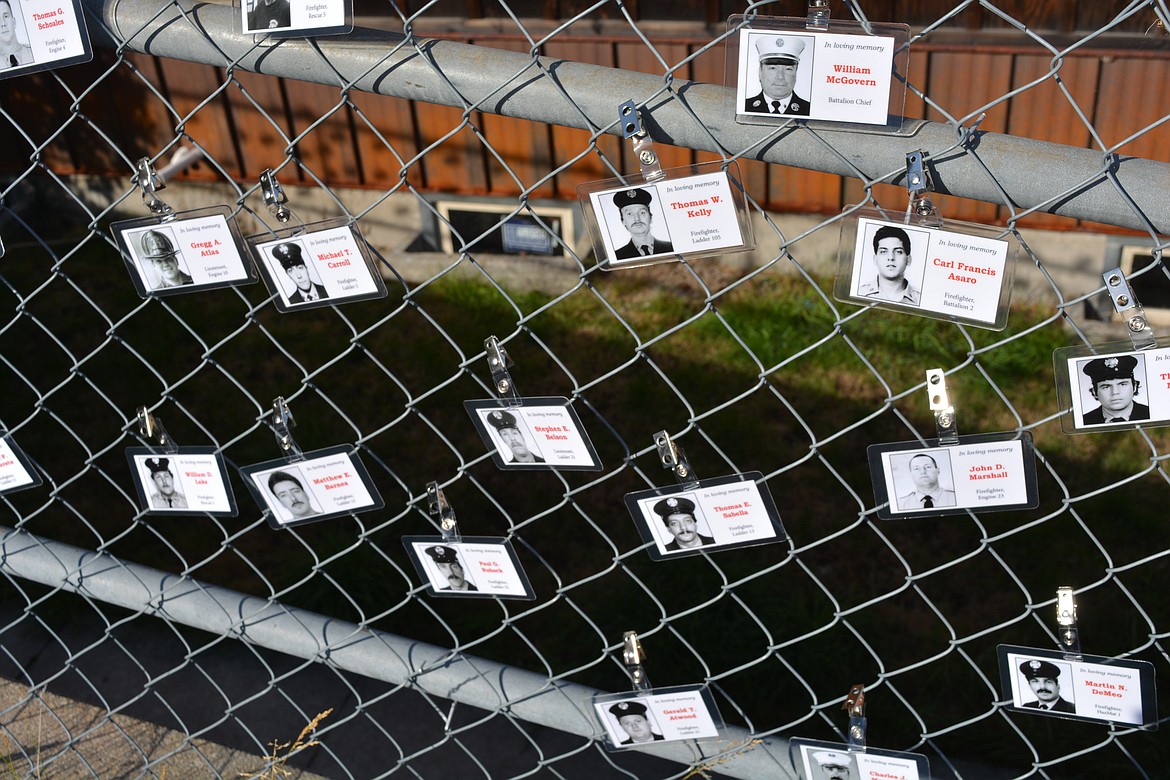 Names and stories of fallen first responders were secured to a fence leading up to the stairs used in the Wallace 9/11 stair climb memorial.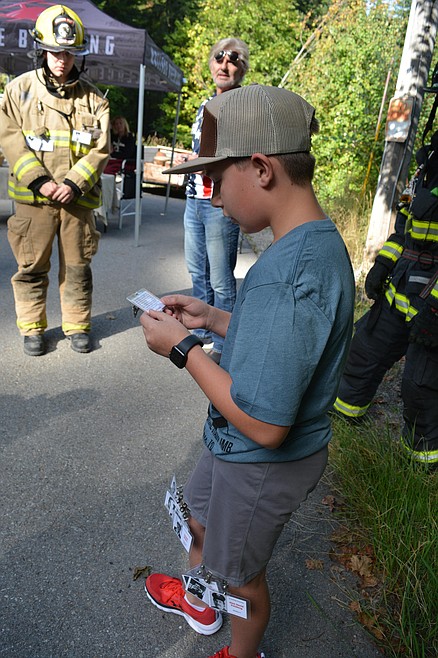 Caleb Morris reads from the remembrance card for "Gentle Giant" Timothy Patrick McSweeney, who fell trying to save others in the chaos following the 9/11 attacks.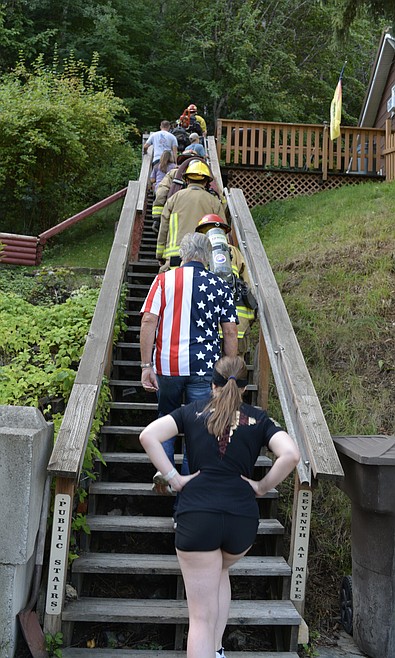 Participants in the 9/11 stair climb begin their first lap up and around flights of stairs Monday in Wallace. 343 fallen first responders were remembered during the climb as climber carried name cards containing some of the details of their lives.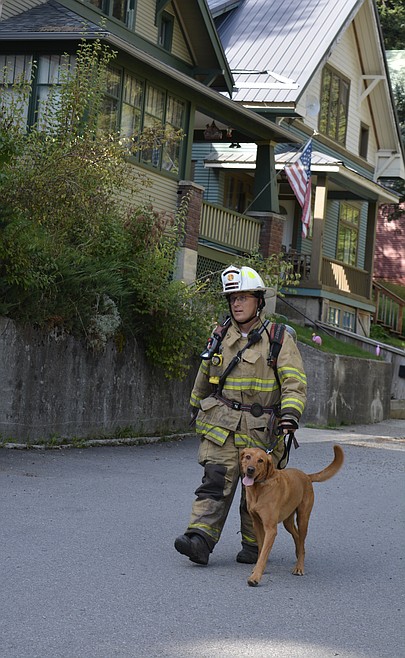 There was also a canine representative taking part in the 9/11 stair climb Monday morning. Shoshone County District 2 Fire Chief Scott Dietrich and Tamarack the search and recovery dog Tamarack made their way to begin another circuit.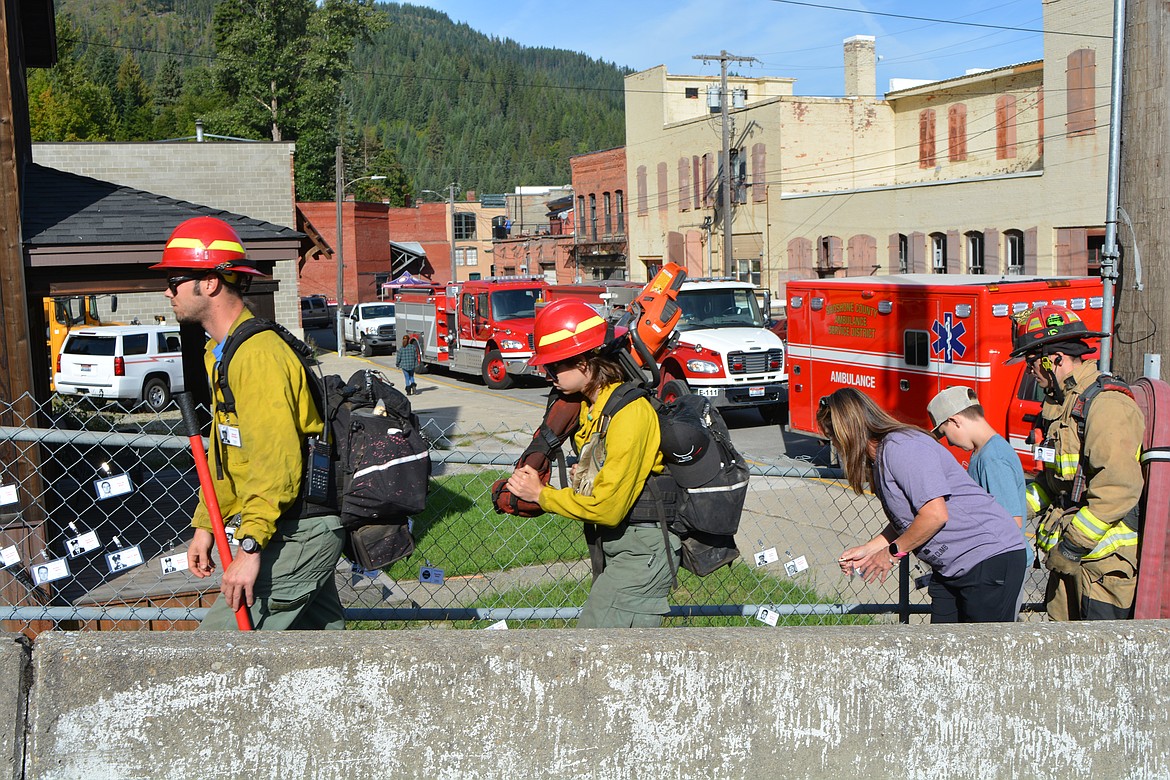 Members of the U.S. Forestry Service carry their firefighting gear up the hill to begin the stair climb Monday.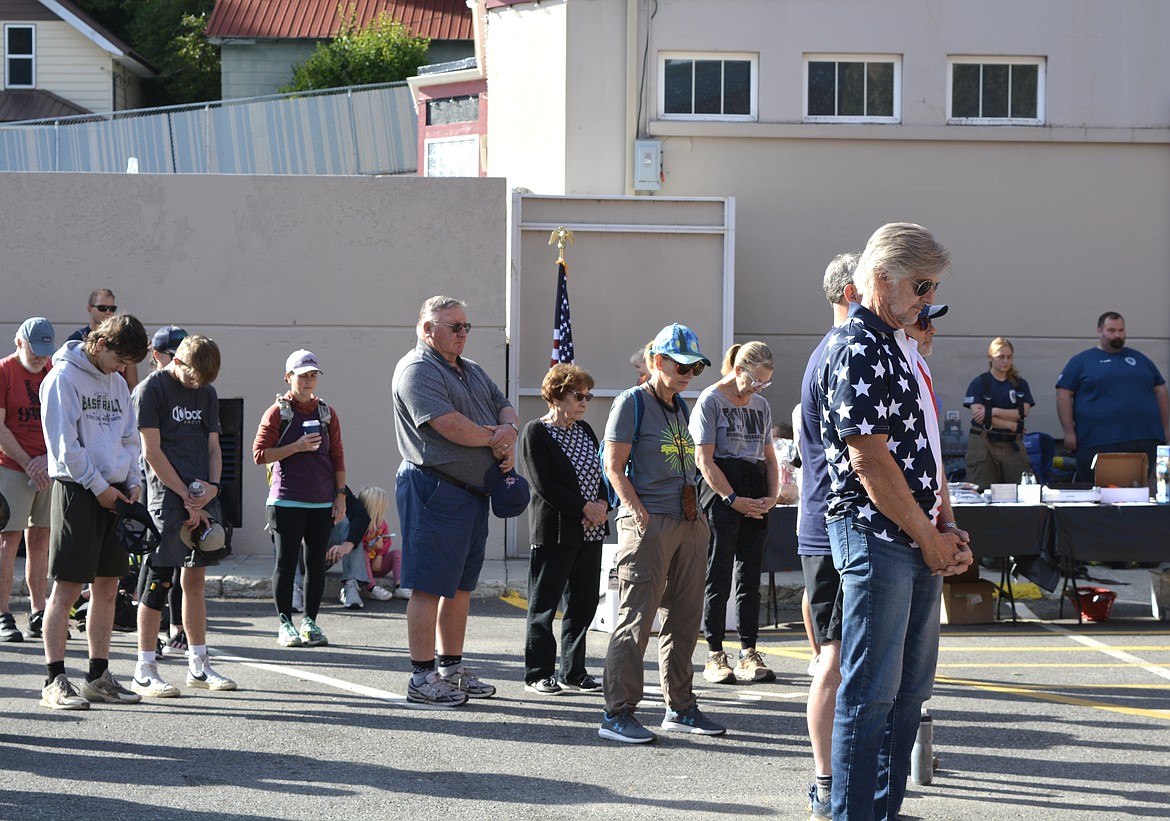 Timothy Fennell and other participants in the 9/11 stair climb pause for a moment of silence in memory of the fallen first responders.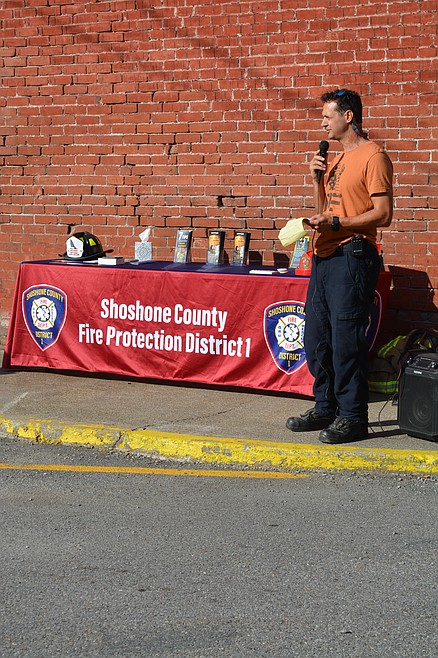 Shoshone County District One Fire Chief John Miller speaks to the participants before the 9/11 stair climb.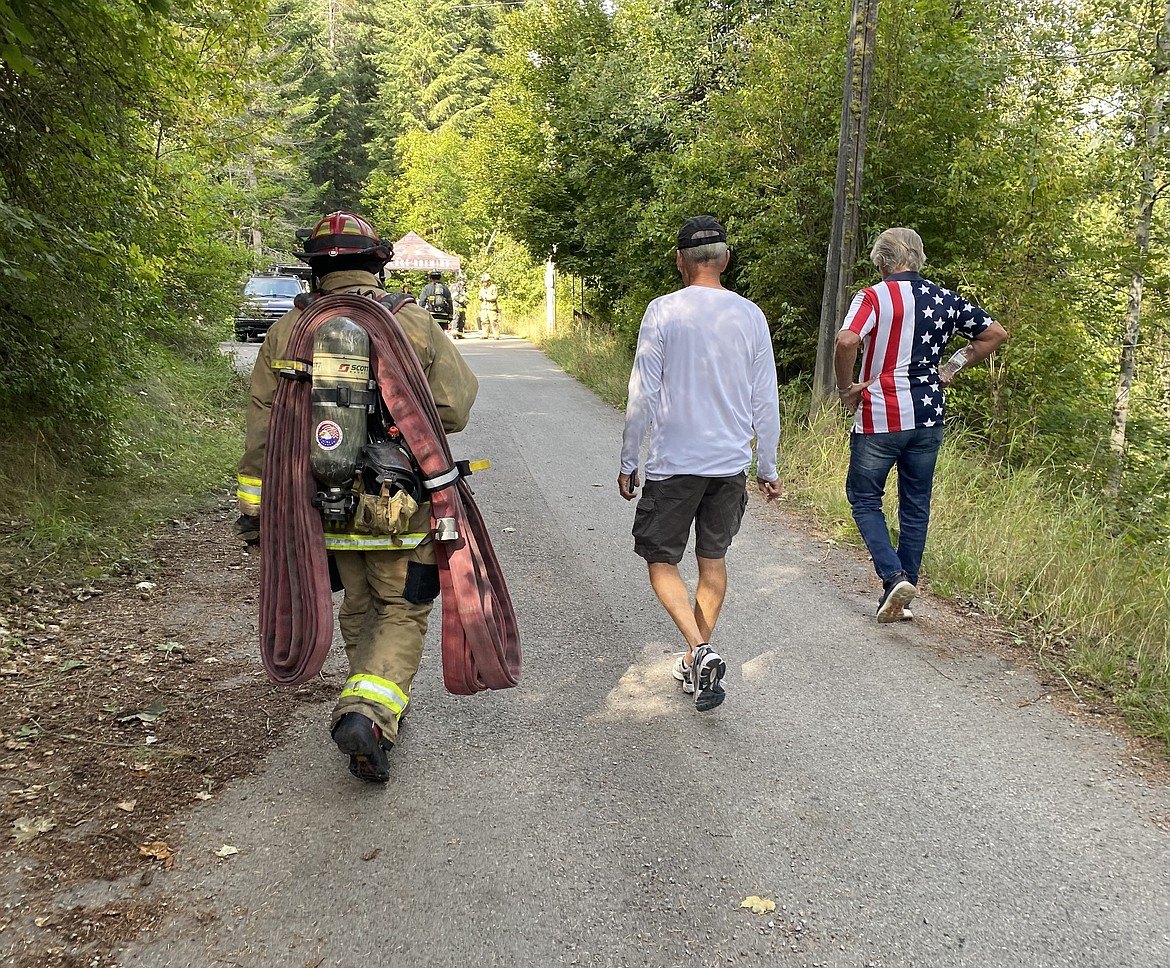 Victor Malsom (left) and Timothy Fennell walk to the descent to begin another lap in the stair climb. Malsom carried with him a fire hose to add weight to honor the fallen firefighters on Sept. 11 2001.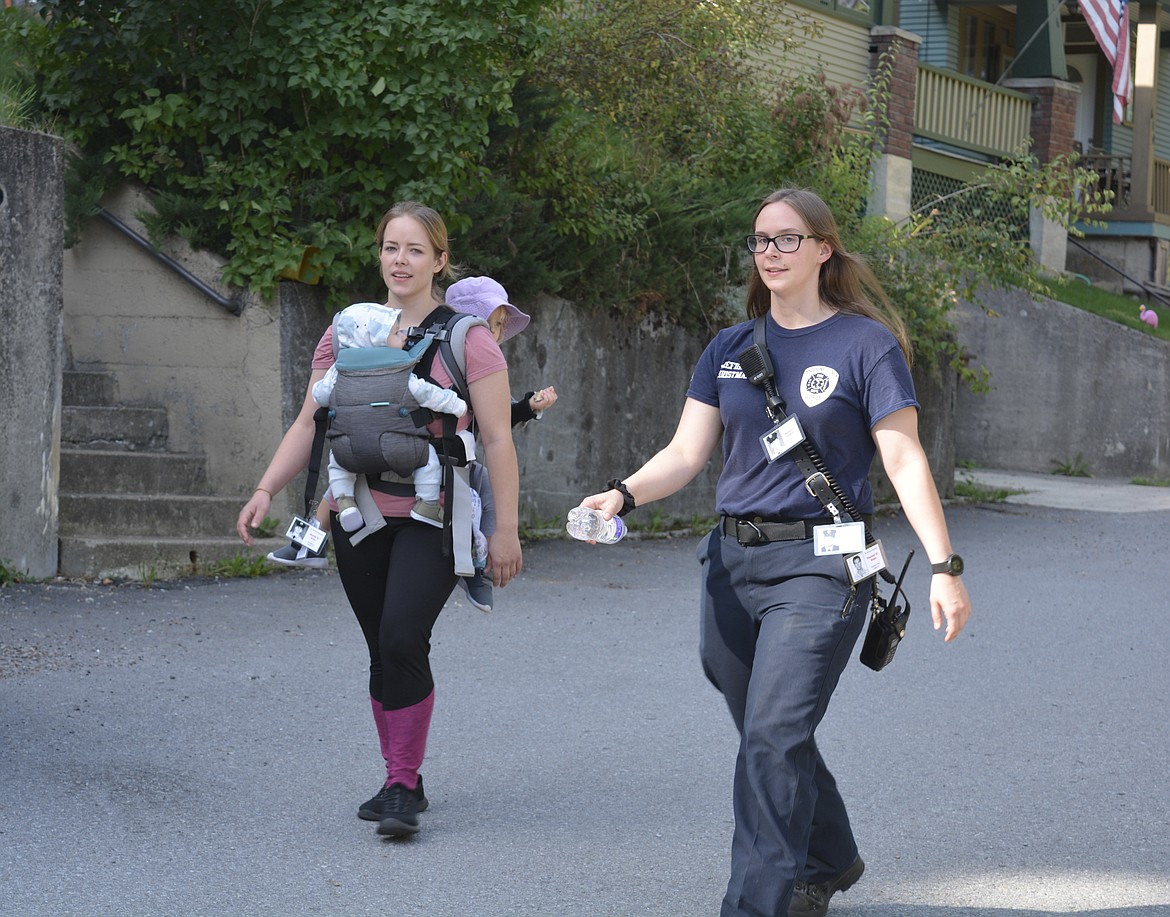 Melanie Shelton and Ashley Christmann of Shoshone District One complete a loop during the stair climb and prepare to start another. Instead of wearing her equipment, this year, Shelton carried her baby and toddler with her. She chose three cards to honor fallen first responders David G. Arce, Martin N. DeMeo, and Frank J. Bonomo.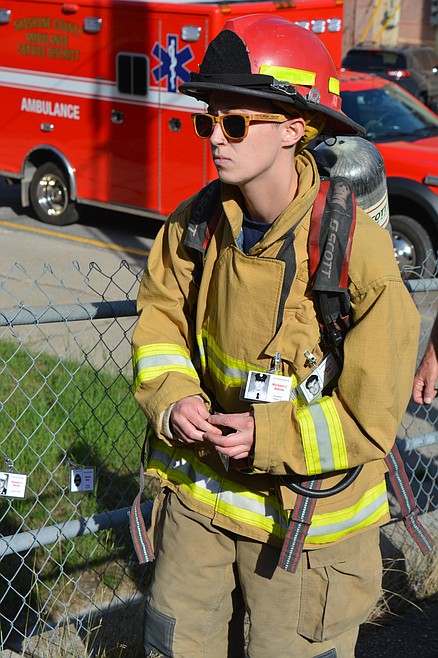 Marah Ashcraft prepared to make the 12 laps up and around flights of stairs to honor fallen firefighters. Ashcraft volunteers with Shoshone Fire District One.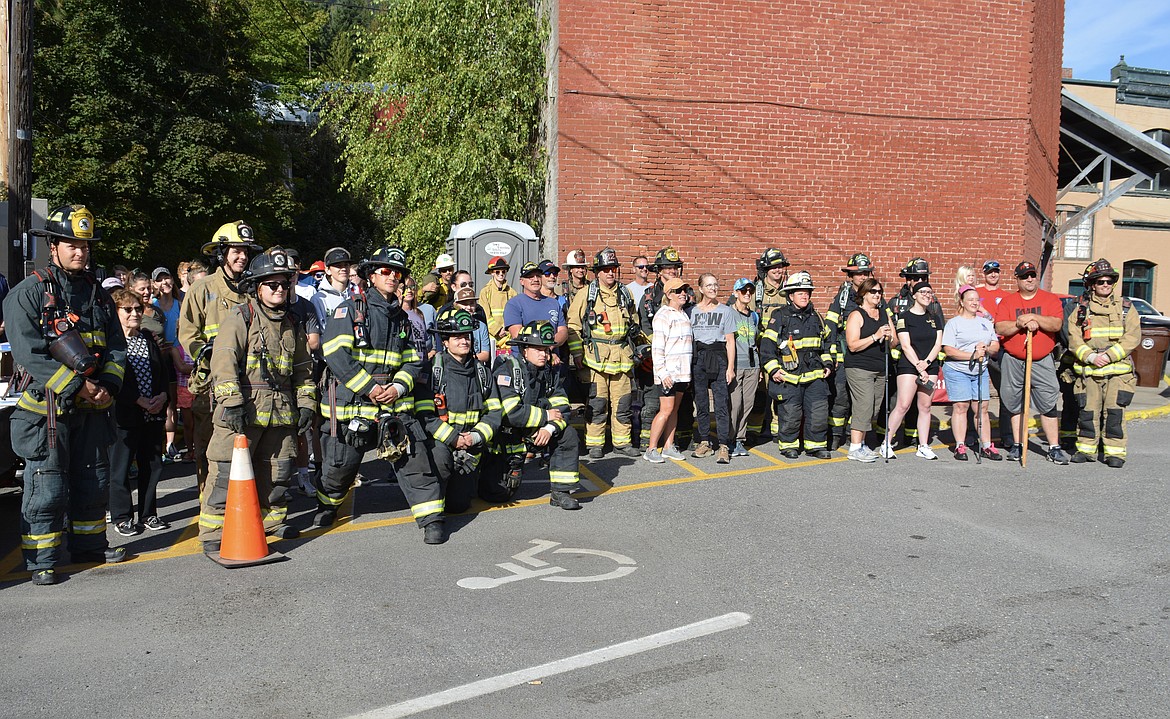 Participants gathered for a photo taken by drone at the Wallace 9/11 stair climb.
Previous
Next
WALLACE — The arduous climb began to the sound of bagpipes. Firefighters from around the region, members of the U.S. Forest Service and participating community members began their ascent up the two long flights of stairs in Wallace shortly after 9 a.m. during the 9/11 memorial stair climb.
The sky was clear Monday morning, casting a stark contrast to the New York City skyline that was choked with smoke following the 9/11 attacks in 2001. After ascending two flights of stairs to the top of the hill, climbers took a short break between each circuit. The pause was a chance for participants to catch their breath and honor the fallen.
Firefighters who completed the climb in the past indicated to newcomers that they have a tradition of reading aloud from one of their cards, closing with the phrase, "Never forget."
Catching on quickly as the first few firefighters went around the circle standing by the Wallace Brewing water station, young Caleb Morris pulled off one of his many name cards that he carried on his climb and read aloud the story of Timothy Patrick McSweeney, a 37-year-old career firefighter known as the "gentle giant" for his 6-foot 3-inch stature and six awards for heroism.
Another story told high on the hill was that of FDNY Assistant Chief Donald J. Burns, who set up a command center to organize first responders in the World Trade Center's South Tower only moments before its collapse. Burns was considered a walking encyclopedia by his coworkers because of his precise grasp of the complicated roadways and transportation systems that make up New York City. He was the commander of Tower One after the 1993 bombing of the World Trade Center.
Fire Chief Debbie Carpenter came from Spirit Lake to take part, saying that any leadership she has done in her district pales in the light of the service that the fallen first responders have given serving their communities.
"Today, I'm just a firefighter," Carpenter said.
Climbers were urged by Shoshone District No. 1 Fire Chief John Miller to "climb your own climb." Using gear or no gear, or walking as much as they could safely or comfortably undertake was part of the experience. For those able to complete the equivalent of the 110 flights of stairs that first responders climbed at the World Trade Center, that meant completing 12 laps through the steep wooden staircases.
Melanie Shelton opted to carry more precious cargo as her personal weight during this year's climb. Rather than wearing her Shoshone Fire District No. 1 gear, she had her baby strapped to her front and her toddler strapped to her back as she made her way up and down the hill throughout the morning.
"I got one for each of us," Shelton said of the remembrance cards. Cards for David G. Arce, Martin N. DeMeo, Frank J. Bonomo were reminders of why she was there.
Steven Jones, of the Coeur d'Alene Fire Department said he has helped sponsor the event through his side business in previous years, but this is the first time he's had a day off fall on 9/11 and been able to put his body to the test.
"It's mind over matter, one foot in front of the other," Jones said.
Recent Headlines
---