June 15, 2021
60' 1971 Knight Mobile Home for sale in Chateau Mobile Home Park space #65 in Post Falls. Everything will go including furniture. $24,000. 208-704-6386
June 15, 2021
Will buy your property! If you want a quick cash sale, or need cash to bring your property taxes up to date, will pay off the debt and pay you or allow you to stay on property. Call today 949-436-3105
June 8, 2021
FSBO -1991 Redmond 14x44 single wide manufactured home located in a 55+ community in Post Falls. 616 sq ft 1 bed 1 bath Vaulted ceilings with open floor plan, carport and storage shed. Appliances include ceramic top stove, refrigerator, washer and dryer. Central Air conditioning, new carpet, linoleum, and furnace. Close to shopping, medical faci...
June 5, 2021
FSBO Owners Contact 116 G, Smelterville 2BR, 1BA, Double Lots, 2 Garage's, Half Basement, 2 Gardens. $225,000 208-512-7252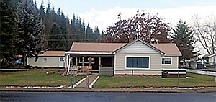 June 1, 2021
DINNING REAL ESTATE 208-267-7953, PO Box K, Bonners Ferry, ID www.dinningrealestate.com, 6422 Kootenai Street, Bonners Ferry.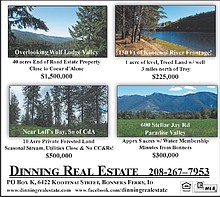 June 1, 2021
Northwest Montana & North Idaho land for sale! 1 acre to hundreds. Waterfront to remote lands. Contact us today! "The best investment on earth is earth." ~ Louis Glickman TUNGSTEN HOLDINGS 406-293- 3714 www.tungstenholdings.com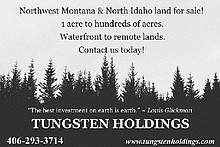 ---