September 18, 2021
BUSINESS OPPORTUNITY PROFESSIONAL HANDYMAN/CONCIERGE SERVICE "BE YOUR OUR OWN BOSS" Are you Interested in being an entrepreneur and business owner? Ready to step right into being the sole proprietor of a thriving all inclusive business that's in high demand with an impeccable reputation? This service business is already generating a very stable ...
September 18, 2021
Just starting out as a CPA, EA or Certified Bookkeeper? Have background experience in Tax Law and looking to establish yourself quickly in a community beautifully situated in North Idaho? This tax preparation business can open doors for you with unlimited potential. Turnkey practice established 1992 includes 150-175 loyal clients, office located...

September 4, 2021
NEW Construction $49.9K 16 x 32, two story house on skids. Interior is unfinished. Quality 2x4 stick frame construction with large custom windows. Price includes delivery within 100 miles. Located in Bonners Ferry, ID. 907-502-0086
September 1, 2021
DINNING REAL ESTATE 208-267-7953, PO Box K, Bonners Ferry, ID www.dinningrealestate.com, 6422 Kootenai Street, Bonners Ferry.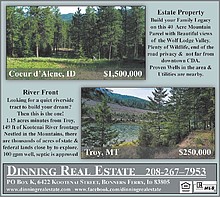 September 1, 2021
Northwest Montana & North Idaho land for sale! 1 acre to hundreds. Waterfront to remote lands. Contact us today! "The best investment on earth is earth." ~ Louis Glickman TUNGSTEN HOLDINGS 406-293- 3714 www.tungstenholdings.com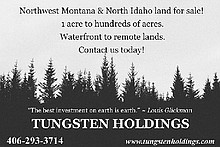 ---